A
5
min read
"A dream does not become reality through magic; it takes sweat, determination, and hard work." It took all of these in Dhananjaya's case. His tryst with GMAT continued for 18 months along with a 12+ hour daily work schedule. His 'never settle for less' attitude pushed him to re-take GMAT after a score of 740 (Q51 V38) in the first attempt and his hard work bore fruits when he scored a 760 (Q50 V42) in his second attempt. In this inspiring story, we will look at how Dhananjaya achieved his dream score and his GMAT tips for other aspirants.
Navigation Suggestions:
0:00 – Finding the right resources
2:12 – Balancing work with studies
7:16 – Learning the right approach from e-GMAT
13:52 – How Scholaranium boosted the score to 760
14:59 – Experience with other institutes vs e-GMAT
16:36 – Choosing a B-school and post-MBA plans[/one_third_last]
If you are a working professional like Dhananjaya and want to know how to balance studies along with a tight work schedule, refer to our article Study Plan for Working Professionals – Balancing Study with Work
1. Starting the GMAT Preparation
Rajat: Congratulations on the massive score! I am sure many students will benefit from your GMAT tips. How did you start preparing for GMAT?
Dhananjaya: Thank you Rajat. Before I talk about my journey, I would like to thank the e-GMAT team for creating a wonderful product. The GMAT Live Prep is a complete package with basics covered in the curriculum, practice through Scholaranium, and focus on application in Live sessions. I did not have to look elsewhere for my prep!
So, I started thinking about GMAT in January 2017. I decided to start with OG. I completed the entire OG and took a mock test to evaluate my test readiness.
To my utter shock, I was scoring in the 600 range. My scores were not consistent and kept varying from one test to another. I realized that if I wanted to score better in GMAT I needed a systematic plan and consistency in scores. It was only possible to achieve this by having a set process to solve questions.
I attended free sessions of various classroom coaching institutes in my city but did not find any of those up to the mark. A friend who scored well on GMAT recommended e-GMAT. I went through some of the Free Trial material and immediately signed up for the GMAT Live Prep course. I spent 12+ hours daily at work so most of my study happened before going to work in the mornings and on weekends.
Sign up for a free trial to get access to 10+ hours of video lessons, 400+ Questions and 7+ Webinars conducted by GMAT Club's top-rated instructors.
2. Balancing 12-hour workday with GMAT preparation
Rajat – So, how did you manage your GMAT preparation with your job?
Dhananjaya: Mine was a very demanding job. I was responsible for managing projects for the Chief Minister's Office of Rajasthan. Therefore, it required coordinating with almost all the stakeholders of those projects. So, my typical workday would start at 9:30 am but it would stretch till 10 pm.
To manage this I prepared in the early morning hours. I studied from 6 am to 8 am on weekdays. My weekends were free, so I used to study for more than 6 hours on weekends. As far as the topics are concerned, I realized that Quant is my strength. Hence, I used to prepare for Quant on the weekdays and Verbal on the weekends.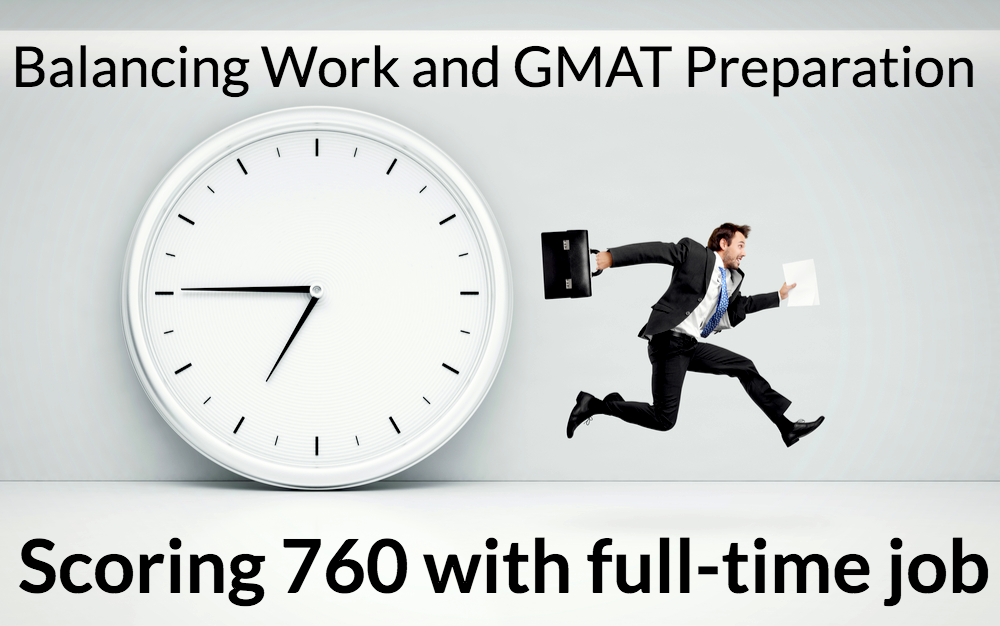 3. GMAT 760 Verbal Strategy & Role of OG
Rajat: How did you approach Verbal after purchasing the course? How was it different from learning from OG?
Dhananjaya: I had realized that while I can do Quant from OG as I was already good at it, I would need a more structured approach for Verbal. When I first attempted OG questions, I relied on answer choices to arrive at the correct answer or go by my gut feeling.
For example, in SC I would re-read the given statement by replacing the underlined part with all the answer choices and go by the one that 'sounded' most correct to me. This process led me to spend a lot of time on SC which left me with little time for other questions.
CR was the toughest section for me and I solved it purely by gut-feeling initially. Once I went through the course I learned the basic skills required to solve GMAT questions. I learned the nuances of what needs to be looked for in different question types. I followed the recommended processes in the course.
Is GMAT Critical Reasoning section your weakness? Attend this webinar to master the Pre-Thinking approach and tackle 700+ level CR Questions with ease.
In SC, I used the 3-step process to solve questions. The concepts covered in the course were critical in highlighting the various types of errors to look for in a sentence. Pre-thinking was crucial not only for CR but also for RC in my case. Pre-thinking made me develop a much deeper understanding of the question, which in turn helped me eliminate one or two answer options straight away! After completing the entire course, I moved to Scholaranium for practice.
4. Preparation Resources – Classroom Coaching vs e-GMAT
Rajat: Since you mentioned Classroom coaching, could you tell us the difference that you felt in free sessions of classroom coaching vs that of an online course?
Dhananjaya: The classroom coaching institutes that I went to didn't bother about building conceptual knowledge. Their teaching methodology included only solving questions and learning from those questions. There was no proper reasoning given on why a particular answer choice is correct. The quality of instructors was also not great and those instructors were always in a rush to complete a given topic.
All in all, I didn't think those institutes were up to the mark for GMAT preparation. With the e-GMAT course, I got the flexibility to learn at my pace. The focus was on building ability by strengthening the conceptual knowledge without overwhelming the student. For me, this was a big plus as it immediately increased my confidence in solving a question. Since I had purchased a live course, I could attend the live sessions conducted by instructors to enhance my learning. It was the best of both worlds!
5. GMAT Tips from a 760 Scorer
Rajat: That is good to know. What would be your GMAT tips for all the aspirants?
Dhananjaya: I have had a lot of learnings throughout my journey. Some of my GMAT tips are: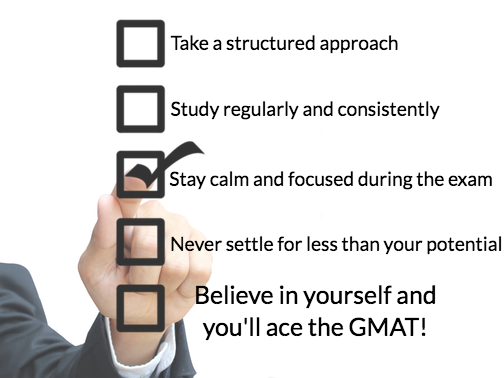 Have a structured approach towards GMAT. It will take time and effort but with the right resources and plan, you can achieve your target score.
Take time out regularly and consistently for studies to maintain momentum and maintain a healthy lifestyle for studies.
Stay calm and focused throughout the exam.
Never settle for less than your potential.
Believe in yourself, stick to the grind and you will crack it!
P.S. Please note, this article on Dhananjaya's GMAT tips has been compiled from the video interview and Dhananjaya's debrief on GMAT Club.
Dhanajaya used a great study plan to reach GMAT 760. If you feel, you lag behind in the planning part of your preparation, we invite you for a free webinar on GMAT Strategy. Learn the best way to prepare for GMAT by taking a free trial of our online GMAT preparation resource. You can write to us at acethegmat@e-gmat.com if you need any GMAT related advice. Do make sure you read the article mentioned above and send us your plan along with any queries that you have.