A
6
min read
Dipinty Ghosal (real name) scored a 730 on the GMAT on her second attempt. An engineer by profession, she pivoted to a career as a branding executive in a fast-growing European firm after working for Infosys.
She considered her 730 score a safe bet, even an advantage since two of her four target schools (Ross, Darden, Fuqua, and Tuck) went GMAT optional for the 2020 admission cycle. Dipinty was shocked when she was waitlisted within weeks of applying by Darden, Fuqua, and Ross (despite applying in R1).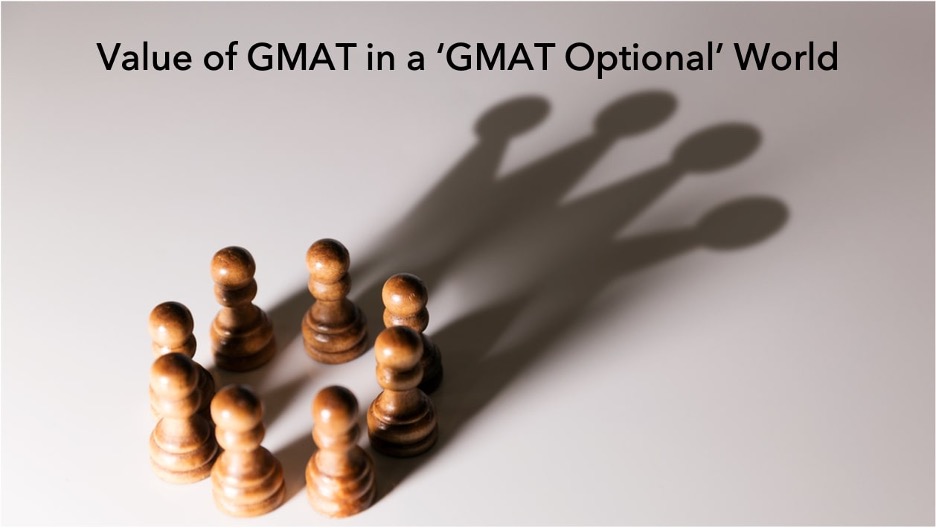 The schools told her that everything in her application was "average, indicating that there was nothing exceptional about her candidacy (including her96th percentile GMAT score).
Dipinty initially considered 730 as a safe bet as two of her target schools went "GMAT optional"
Not one to give up easily, Dipinty prepared for the GMAT again. She improved her score to 760 (99th percentile) and notified Tuck's admission office.
Based on her new 99th percentile score, Tuck – a school ranked higher than both Darden and ROSS – admitted Dipinty and offered her a $50K scholarship. A school that once seemed out of reach with a GMAT score of 730 now became a reality.
Fifteen hundred kilometers away Debashree, not willing to take a chance, improved her score to 760 (from 730 in her first attempt) before applying to the same schools; ROSS and Darden (both GMAT optional). Both these schools not only admitted but also offered Debashree a significant scholarship.
Debashree (GMAT 760) received admits with considerable scholarships from the same schools that waitlisted Dipinty (GMAT 730)
Value of the GMAT does not diminish in a GMAT optional year
Both Dipinty's and Debashree's experiences are consistent with the importance (top) business schools have given to a candidate's GMAT score.
Aayush had a similar experience. Aayush was shocked that despite excelling in face-to-face interviews with both ROSS and Columbia, both waitlisted him. He reached out to both the schools, seeking reasons. Both schools informed him that while his candidacy was excellent, his GMAT score was not up to par with their expectations.
Motivated, Aayush improved his GMAT score to 750 (98th percentile). Once notified of his 98th percentile score, both schools admitted Aayush and offered him a ~50% scholarship.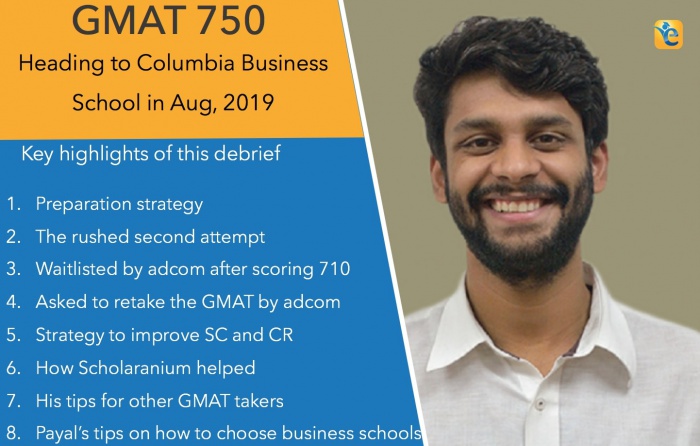 The story repeats for Nishant, whose low GMAT score was the primary reason TUCK rejected him despite the school liking his candidacy. Nishant improved his GMAT score to 740 and secured an admit with a scholarship from Columbia Business School.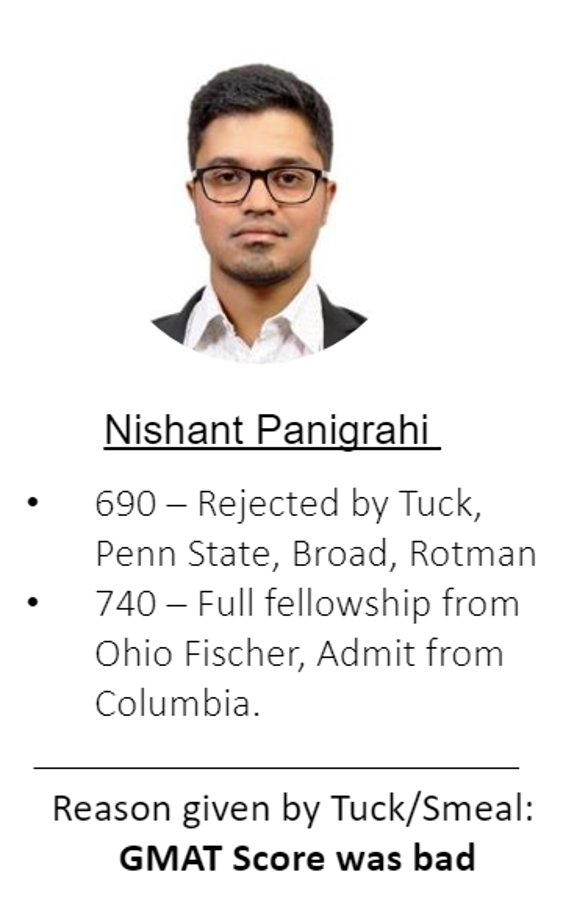 Rejected by every school in R2, Krishna received 5 full fellowships R3 once he improved his GMAT score from 680 to 720.
Similarly, Krishna was rejected by every school he applied to in R2 but received four full fellowships in R3 (yes, the dreaded R3) once he improved his GMAT score to 720. He will be graduating from Georgia Tech in 2021 and is planning to join Amazon as a Product Manager.
Bottom line: The facts above demonstrate two things
A sub-par GMAT score can hurt your chances even when you have a stellar profile (like it did for Nishant, Aayush, and Dipinty)
Even when a school makes the GMAT optional, it places significant value on a high GMAT score.
Considering that the 2020 admissions cycle is arguably the most competitive of this decade, your GMAT score is more important than it has ever been. Here's why
Fewer seats: Many students admitted in the 2019 admission cycle deferred their joining to Fall 2021. As a result, for the 2020 admissions cycle, many schools may have fewer open seats despite admitting probably the largest class
More competition: Most business schools have experienced a record number of applications in R3/R4 of 2019 and R1 of the 2020 admission cycles. As a result, most top schools are seeing more high-quality candidates than they have seen in the past and consequently have become more selective.
Most students understand these dynamics and hence are striving for higher GMAT scores than ever.
Jim Yi, an actuary by profession, who scored 700 with an excellent Q51 on his first try, improved his GMAT score to 770 in his second attempt. Jim credits his GMAT score for admits from Booth and Columba.
Similarly, Sowmya Kora and Aastha Chawla contend that their GMAT score played a crucial role in securing NYU Stern and Kellogg's admits.
Who stands to benefit from School's "GMAT optional" policy?
If most top schools value the GMAT so highly, why did they institute the GMAT optional policy? Who, in turn, stands to benefit from this option?
In my opinion (and experience), candidates who stand to benefit from the GMAT optional policy satisfy two criteria:
They have an extremely strong profile.
They have a proven ability to handle the coursework.
To benefit from the GMAT optional policy, candidates need to satisfy both of these conditions. Pedro González, a former e-GMATer, satisfies both these conditions.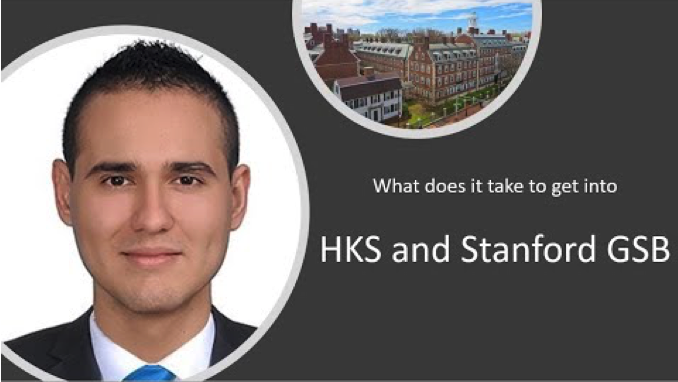 Pedro is an economist by education from one of Colombia's top undergraduate universities. Between 2016 and 2020, Pedro was a prominent member of the council of Economic development of Cali, the second most prominent city (population 2.2 million) in Columbia, where he helped draft the first public policy of economic development of Cali and collected data to estimate the first-ever monthly activity index.
Given his achievements, it is no surprise that both Stanford GSB and Harvard Kennedy school offered him admission despite a relatively modest 710 on the GMAT. Given his candidacy, the GMAT was a mere checkmark in his application.
What should be your target GMAT score?
Here is a framework you may use to estimate your target GMAT score.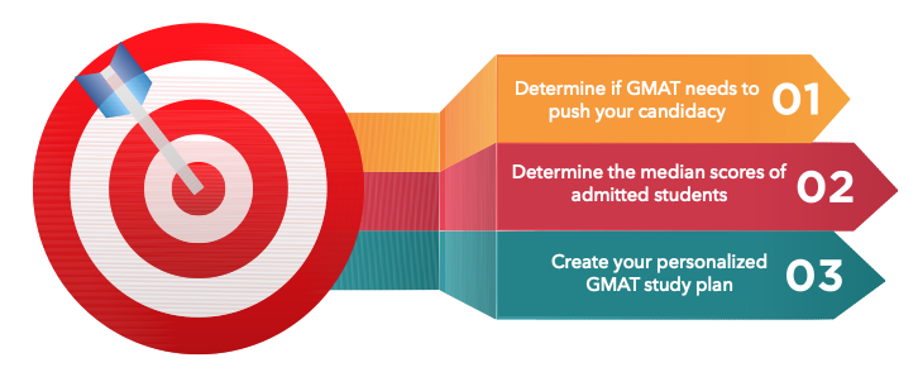 Step 1: Determine if the GMAT needs to push your candidacy
There are two scenarios in which you need a GMAT score to push your candidacy:
Condition 1: Your candidacy is at or below par compared to current admits at your target Business Schools.
Condition 2: You are aiming for a significant scholarship. Read this article to learn about GMAT scores and scholarships.
Use LinkedIn to compare your profile against that of other admits. Note, make sure you are looking as close to a profile twin as possible (same country/region, similar undergraduate, work experience, school GPA, extracurriculars, etc.). Look at the GMAT scores of admitted candidates. You may use GMAT Club's admission ticker as well.
Step 2: Determine the median scores of admitted candidates
Every school publishes median GMAT stats annually. Look at the average, median scores, and the 80-percentile spread. Schools, where the average score is significantly (10 pts or more) higher than their median GMAT score probably, are not as tolerant of low GMAT scores as schools where the average GMAT score is lower than the median score.
Google "what is a good score for <school name>" to determine what possibly is a good score for someone with your background. Note, you may be able to find this during your "profile twin" research in step 1.
Step 3: Create your personalized study plan
If you need your GMAT score to push your candidacy or if you need a significant scholarship, then aim for +20/+30 over the school's median score. On the other hand, you can get away with a par (or even sub-par) GMAT if you think you have an impeccable profile or are from an under-represented background.
Create your personalized study plan once you have zeroed in on a target GMAT score using the process above. e-GMATers created more than 15,000 personalized study plans in 2020. Write to us at rajat@e-gmat.com if you need help creating your plan.