A
7
min read
Update – Sowmya received an admit from NYU Stern School of Business and she has joined the class of 2022.
After her first GMAT attempt in 2016, Sowmya went on to improve her GMAT score by 120-points from GMAT 620 to 740. In the process, she improved her Quant score by 5-points (Q44 to Q49) and her verbal score by 10-points (V32 to V42). In this video interview, she shares her GMAT preparation journey and the strategies that helped her improve from a GMAT 620 to 740.
00:17 – First attempt
02:10 – Research on resources available
03:26 – Approach on verbal
07:31 – Time management
08:52 – Sticking to the schedule
10:11 – Taking inspiration from other success stories
Are you planning to pursue MBA at top business schools? Let us help you conquer the first step of the process i.e., taking the GMAT. Take a free mock test to understand your baseline score and start your GMAT prep with our free trial. We are the most reviewed online GMAT Prep company with 2600+ reviews on GMATClub.
Rajat: Congratulations on scoring a 740, a really impressive improvement from 620. Let's start with your first attempt when you scored a 620
Sowmya: Thank you so much Rajat. My first GMAT attempt was in January 2016. I had the idea of taking the GMAT in my mind right after finishing my undergraduate studies in 2013. In the beginning, I attended local classroom-based coaching in Bangalore. But as my work interfered, I could not take the test then.
In 2016, I decided to take the test as I had already gained more than 2 years of experience and I felt it is the right time to give it a shot. But I faced a lot of setbacks as I had not done any proper research and ended up with below par resources for preparation. Eventually, I scored 620 and got admitted to Great Lakes Institute of Management, Chennai. From there I got posted in Cognizant which almost ended my plans on attempting GMAT again.
Choosing the right GMAT preparation resources for the 2nd attempt
However, when I got a chance to move to the USA because of my marriage I decided to give the GMAT another shot and aim for the top B-schools here.
Before moving here, I took a break for 5 months which gave me the luxury of time to assess the resources available for GMAT Preparation. This led me to e-GMAT as the name popped up everywhere when I searched for GMAT. I tried a few demos and webinars of e-GMAT and found it more effective and convenient compared to the classroom sessions that I have tried earlier. The program was also very flexible as I could study for 6 to 7 hours continuously which was not available in the case of weekend classroom training.
Rajat: How was your approach in CR, SC different which helped you improve from V32 to V42 in this attempt?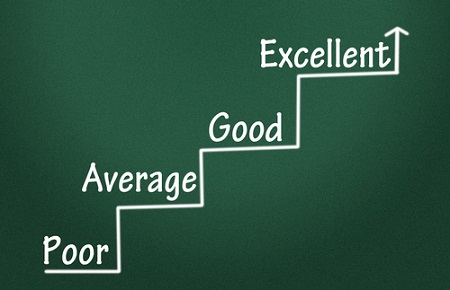 Sowmya: On analyzing the ESR of my 2016 attempt, I saw that I was better in RC and CR compared to SC. I improved these strengths of mine with the reading strategies and pre-thinking approach suggested by e-GMAT.
Approach for GMAT Reading Comprehension
In an e-GMAT webinar on RC, it was mentioned that the passage is written by someone real which made it more interesting for me to read through it. Being interested in the passage made a lot of difference when it came to attempting the questions that followed.
Approach for GMAT Sentence Correction
For CR, I clearly followed the pre-thinking approach as suggested by e-GMAT as it helped me avoid the confusions that usually arise while considering the answer choices and drastically reduced the time taken to attempt the questions to less than one minute. Considering SC, practice, and continuity of this practice holds the key for your performance.
According to me, focus is a really important factor in the verbal section. That's why I decided to start by attempting the Verbal section.
If you want to try out the e-GMAT course that helped Sowmya make the jump of 120 points from 620 to 740, sign up for our Free Trial. We can also help you with a personalized study plan and give you access to quality online content to prepare. Write to us at acethegmat@e-gmat.com. We are the most reviewed GMAT prep company on GMATClub with more than 2600 reviews.
Rajat: What was the strategy that you adopted for improving your Quant score from Q44 to Q49?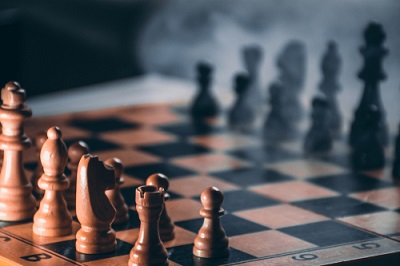 Sowmya: I had always believed that I was good at Quant from my school days itself. But I was disappointed when I scored only 44 in my first attempt. This was largely due to the quality of the resources that I used during my first attempt.
But e-GMAT helped me tackle the variety in the questions offered in the GMAT. I believe that understanding and strengthening the basics and coming to logical conclusions have a huge role to play on being successful in the GMAT. The main aspects to focus on Quant is the way of thinking, approach to a problem and relentless practice.
Rajat: You have done a phenomenal number of questions in both Quant and Verbal Scholanarium. How did you achieve that?
Sowmya: I had the luxury of time while I was preparing for GMAT. So I prepared a proper schedule with fixed goals like when I should complete e-GMAT questions, how many questions should I do per day to reach my goal and so on.
Rajat: Did you have a plan laid out for the whole process?
Sowmya: Yes, I had developed a plan and noted it down in my diary in which I set my daily goals such as doing 100 questions per day which I followed religiously.
Rajat: Tell me some instances where you had to push yourself to be able to stick to your routine?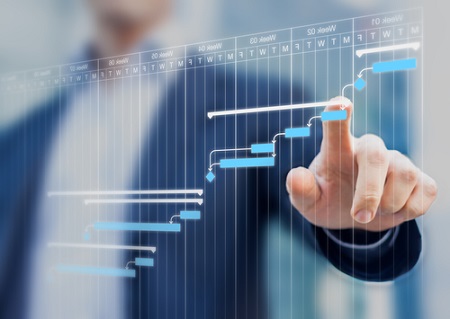 Sowmya: During the period of study, I was at home which meant that a lot of people including my family and friends were always around. So to stick to my plan, I had to either wake up early in the morning or study late in the night after everyone had slept.
Rajat: As someone who is newly married, how did you manage to find time to stick to your schedule?
Sowmya: In the first few months after marriage, I was at home. I moved to the US just 3 months back in March. It was here that I got continuity in my preparation. I knew that this is the proper time for me and I had to do it right this time.
Rajat: Your effort and dedication are commendable. I remember about a year and a half ago I interviewed a girl named Anupriya.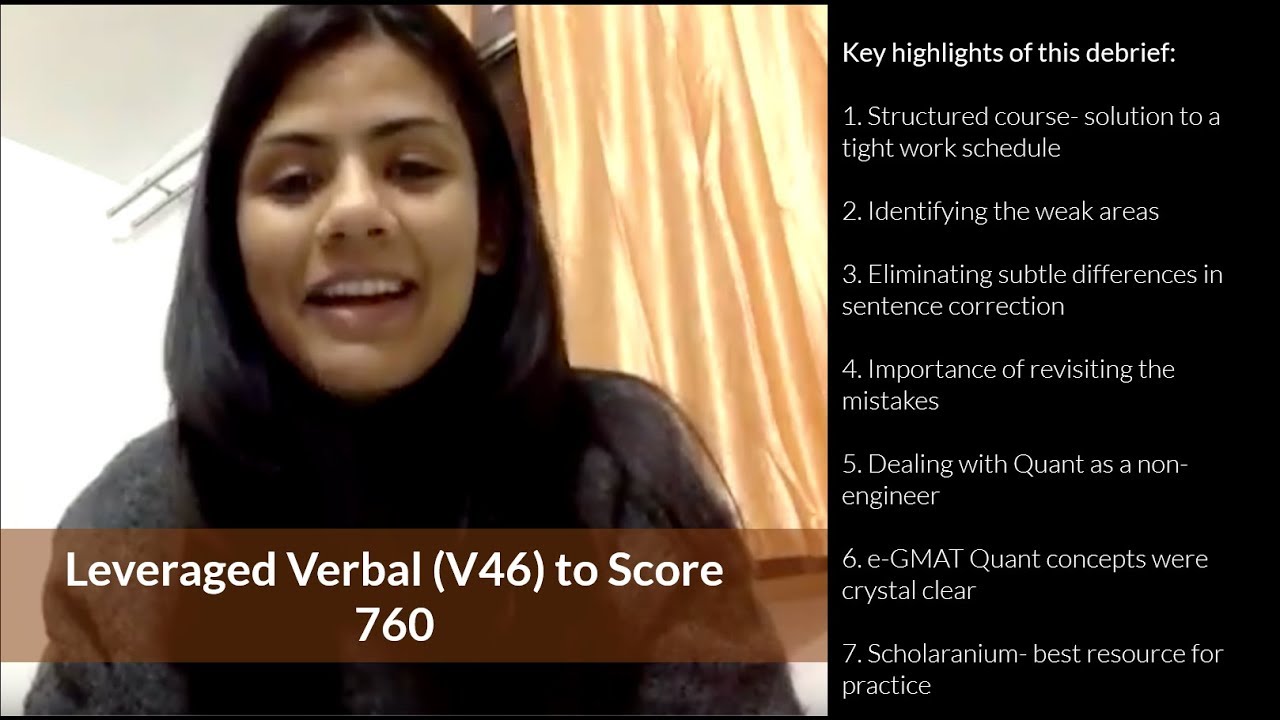 She just graduated from ISB and scored a 760 on her GMAT attempt. She prepared till 8 days before her wedding and continued with the preparation just 3 days after the wedding. She got married on the 2nd of January and took the test on the 14th of the same month. She received an admit from ISB on the 25th of January and is now set to head the branding department of a consumer goods company.
Sowmya: Yeah, in my experience, these interviews act as a morale boost for GMAT aspirants. I used to watch every interview that was posted by e-GMAT. The stories of these aspirants who scored more than 700 provided me with the confidence that I had a shot at something that I once considered unachievable.
Rajat: So what's next for you?
Currently, I am in the process of researching business schools. My post-MBA goal is to transition into a career in the financial services industry. MIT Sloan is one of my top choices as I loved the environment when I visited the school. However, I am unsure of my chances of scoring an admit as I belong to the highly competitive Indian engineer applicant pool.
Here are the Top 10 business schools for finance.
How Business Schools Determine your Applicant Pool
Rajat: Considering that you are a female applicant and also a soon-to-be green card holder, I think you have a very good shot at getting into MIT Sloan. 3 years ago, I spent 3 days at MIT for a conference. It's a great school to be in and I really think that you have a realistic chance of getting into it.
Sowmya: But the green card won't be available to me at the time of the Round-1 application deadlines.
Rajat: I have asked this question very categorically in a forum consisting of admission directors. The decision made by the business schools is based on your status post-MBA. As you will be a green card holder by then, you won't require any sponsorship which leads to you being considered as an American citizen. Thus, you will be considered as a female American IT professional and this gives you a huge advantage over other candidates like you as your score of Q49 will be very rare.
Sowmya: Thank you, Rajat for providing this insight into how business schools determine to which pool an applicant belongs.
If you want to try out the e-GMAT course that helped Sowmya make the jump of 120 points from 620 to 740, sign up for our Free Trial. We can also help you with a personalized study plan and give you access to quality online content to prepare. Write to us at acethegmat@e-gmat.com. We are the most reviewed GMAT prep company on GMATClub with more than 2600 reviews.