A
8
min read
Every test taker covets a 700+ score on the GMAT. Although scoring 90th percentile or above is not a guarantee that you will get into your desired business program, it certainly helps in keeping the application out of the rejection pile and getting noticed by the admission committee.
A good GMAT score is an indicator of your sound intellectual aptitude and academic readiness.What is a good GMAT score? Read this article to find yours in 5 steps
Sanchay's confidence in his abilities took a severe hit when despite working hard and consistently scoring above 710 in Official Mocks, he was not able to score more than 670 on his 2nd GMAT attempt. He was utterly clueless as to where he was faltering.
He realized that apart from the much-needed structured preparation offered in the e-GMAT course, he also needed a mentor to guide him through his GMAT journey.
Under the guidance of his mentor and an e-GMAT expert, Abha, he worked on building his test abilities. Her detailed analysis of his performance, skill data, and a tailored plan targeting his weaker areas helped him build his GMAT skills brick by brick. She constantly motivated him and worked with him to build his confidence to face the GMAT test without getting stressed. He also learned how keeping calm could help him beat the exam anxiety that had caused significant damage to him in his previous attempts.
In addition to the excellent content and xPERT AI, e-GMAT's support infrastructure is optimized to fulfil your needs at various stages of your learning. Read this article to learn how our support teamis dedicated to help you achieve your target score.
Watch the video to learn how Sanchay managed to get GMAT 720, a score in the top 10 percentile of the GMAT exam, in his third and final GMAT attempt.
Sanchay's experience with two GMAT attempts
Abha: Welcome, Sanchay. Congratulations on your 720(Q49, V40). Please tell us about your background and your decision to take the GMAT.
Sanchay: Thank you, Abha. Thanks for helping me out in the last 2-3 months.
I am an engineer by profession. My GMAT journey started in 2021. I attempted GMAT twice but did not score well. This year I reattempted with a structured approach. With your guidance during my preparation, I scored 720, which is very close to my target score.
Abha: Take us through your journey from the beginning. In Nov 2021, you decided to take your first GMAT attempt and scored 670(Q50, V30). After that, you enrolled in the e-GMAT course. What made you choose e-GMAT for your preparation?
Sanchay: I chose e-GMAT on my friends' recommendation. I did some research on the GMAT club and on the internet. I found e-GMAT to be the most positively reviewed GMAT prep company. The course structure is excellent; the pattern of SIGma-X mocks is also very similar to the actual GMAT exam.
I found e-GMAT to be the most positively reviewed GMAT prep company. The course structure is excellent; the pattern of SIGma-X mocks is also very similar to the actual GMAT exam.
Abha: When you started with the course and created your Personalized Study Plan. How did you go about preparing with the course? How did it change your approach?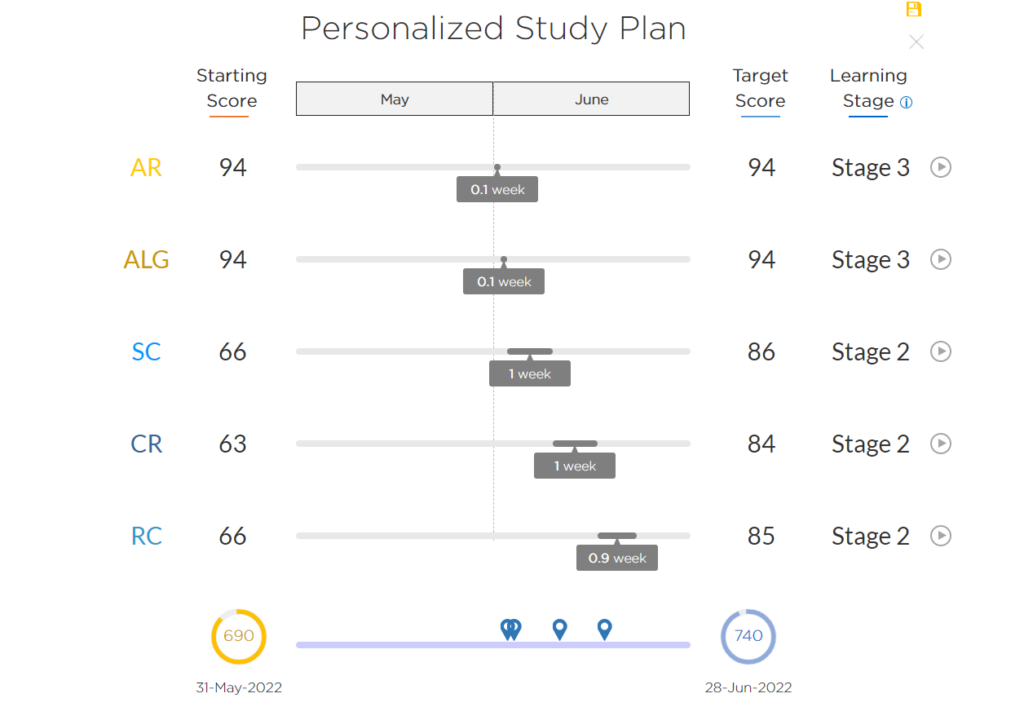 Sanchay: I scored 710 and 730 in the Official Mocks I took before my GMAT attempt. I was confident of my ability, but I was completely clueless as to where I was faltering.
GMAT verbal preparation
Sanchay: When I started the e-GMAT course, I focused on test readiness. I practiced questions on Scholaranium, maintained an error log, and worked on timing.
Abha: You followed the course flow, including the cementing stage for SC, CR, and RC. How did your approach change while attempting verbal this time compared to your previous attempts at the GMAT?
Sanchay: I started by making notes from the foundation course of the verbal section, Master Comprehension. It taught me how to comprehend long and complex sentences.
Earlier I could not get the meaning of long sentences in the questions and mostly made meaning-based errors. But with the help of the course, I learned to look beyond grammar and pay attention to the intended meaning. I could now identify the verb and the subject, ignore the 2-3 lines of modifiers and focus entirely on the final underlying meaning of the sentence.
With the help of the course, I learned to look beyond grammar and pay attention to the intended meaning. I could now identify the verb and the subject, ignore the 2-3 lines of modifiers and focus entirely on the final underlying meaning of the sentence.
With the help of the course, I learned to look beyond grammar and pay attention to the intended meaning. I could now identify the verb and the subject, ignore the 2-3 lines of modifiers and focus entirely on the final underlying meaning of the sentence.
Abha: What was your daily time commitment for GMAT prep? And were you consistent every day?
Sanchay: During weekdays, I'd study for 2-3 hours, and on weekends It was 4-5 hours. Due to my work commitment, sometimes, for 6-7 days, I could not even open my GMAT account. During those days, I'd revise my weaker areas with the notes I had made while traveling to work.
Abha: How did the Critical Reasoning course help you improve?
Sanchay: I mainly struggled with assumptions and boldface earlier. While solving CR questions, I'd get lost and be confused between the two best answer choices.
After the course, in assumption, I could negate all five options and focus only on the conclusion, and whether the negation of the statement led to the conclusion's breakdown. This approach was the central missing element in my previous attempts.
Read this article to learn How to pre-think assumptions in GMAT Critical Reasoning
Abha: Once you finished with SC and CR course, most of your concepts around reading or breaking the sentences were clear. Was there anything additional that you did for RC?
Sanchay: I'd already covered inference questions or understanding the passage's meaning in the CR course. However, I initially struggled to identify the passage's primary purpose in Reading Comprehension questions. To fix that, I started to make a summary with keywords for each passage instead of reading it all in one go before approaching the questions.
Sanchay's Revision strategy
Abha: While moving from one topic to another, what was your approach toward the error log? How did you use it during revision?
Sanchay: While going through the course, I prepared comprehensive notes on specific topics I faltered with the most. For example, in SC, I was doing badly in parallelism and modifiers.
Similarly, I also created customized topic-wise error logs, listing the questions I got wrong. This was very helpful in identifying my error patterns and gaps in my knowledge.
Abha: What kind of gaps were these, specific to topics or around missing process steps while solving questions?
Sanchay: Those were mostly process steps. For example, in the verb-ing modifier, what is the action modifier, and when is it acting as a result? I could understand this only after I had the error log with me.
Abha: How did cementing stage add value to your learning?
Sanchay: During the five months of preparation for my last attempt, I spent two months going through the course content and the remaining three months on cementing stage and SIGma-X mocks.
Giving due time to practice immediately after building the concepts helps identify the gaps and cement the freshly learned concepts so that you don't forget them.
Watch this video to learn about the 3-Stages of Learning and how does cementing stage help in concept retention.
Abha: As you finished building your concepts, you started focusing on the quizzes to improve process and timing. Did you have any strategy or review pattern that helped you optimize your efforts with the practice?
Sanchay: While I learned to follow processes and methods to solve problems correctly, I realized I needed to work on applying the structured methods in a timed environment. In Scholaranium quizzes, I'd focus too much on the ticking timer and falter. That was my biggest challenge.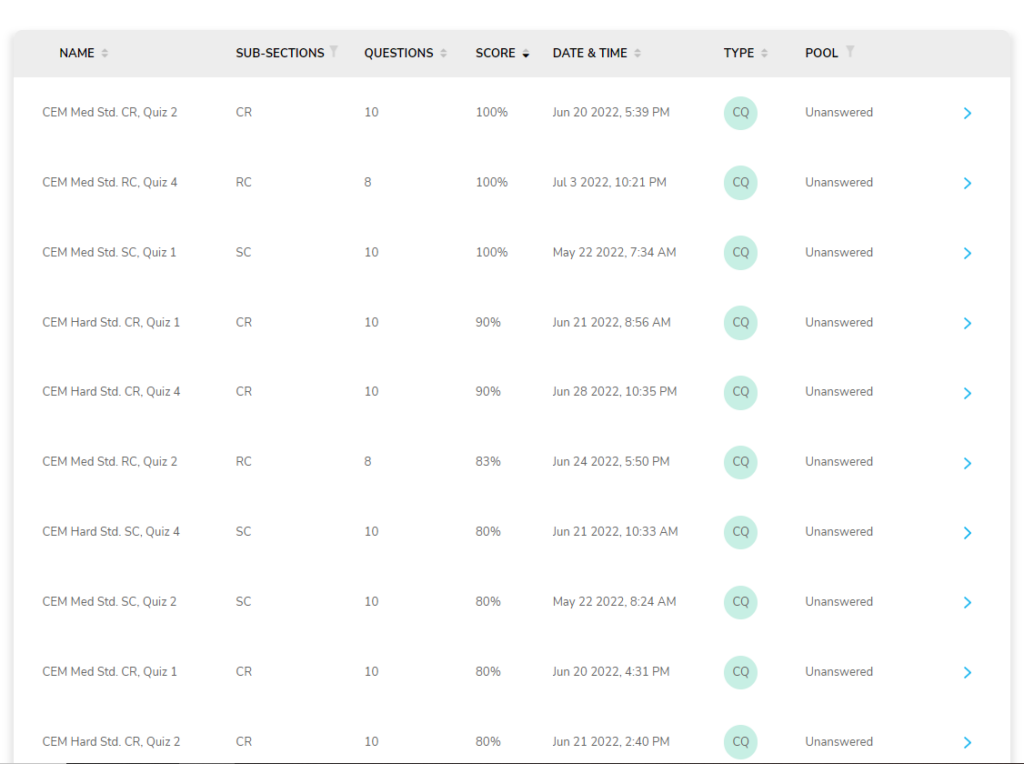 After doing multiple Scholaranium quizzes recommended by you, I learned that if I followed the structure with a calm mind, I did not have to worry about timing.
I also changed my mindset towards those sets of questions. As I encountered questions where I faltered the most, I'd mentally be prepared and cautious for the errors I already knew I was likely to make.
Sanchay's Test readiness
Abha: What factors did you consider while deciding the exam date?
Sanchay: I trusted you entirely for this decision. I made sure I updated you on my progress and kept checking with you if I should book the exam. I had earlier planned for July last week to attempt my GMAT, but you asked me to practice more and wait until I was ready.
It's very important to pick a correct GMAT date because the goal of taking the GMAT is not only to ace it but also to secure an admission from a top business school. Read this article to learn How and when to schedule your GMAT test date?
Abha: You scored 730(V40) and 740(V41) in the two mocks you took before your GMAT attempt. How did you perform in the actual GMAT test?
Sanchay: It was in the online mode, and despite following the structure and methods, I scored a 690.
I found the in-center exam better than the online mode. The proctoring system in the online setup felt very distracting.
Abha: You booked for the offline test in another ten days. When you started preparing again after your GMAT 690 attempt, did you study selectively? How did you prepare during those days?
Sanchay: My first step in preparing after the break was to revise all the notes I had made earlier. Next, I targeted the areas I knew I faltered the most before moving ahead to the mocks.
I needed to focus on the meaning-based approach and keep calm primarily. For the three and a half hours of exam duration, I had to stay relaxed and follow the structure I had in the mocks.
Abha: What was your mock strategy? How many did you take?
Sanchay: Before my 2nd attempt, I took two SIGma-X mocks and did not take any Official Mocks. I took just one mock a day before the final GMAT exam to get into the exam mode and scored a 740, a confidence boost.
GMAT exam day and tips to score GMAT 720
Abha: On the final GMAT test day, what sequence did you follow, and what was your approach this time?
Sanchay: I always followed the same sequence of verbal first with a fresh mind, as it was the weaker section for me. I did not change anything except for the fact that I slept for 8-9 hours and went with a very relaxed mind to the exam.
Click here to get GMAT Exam Day Tips – Checklist for the D Day
Abha: What would you recommend to other GMAT aspirants targeting a similar score as yours?
Sanchay: The first thing is to keep six months aside for GMAT preparation. Having some buffer time in your preparation allows you to get through the unexpected scenarios demanding your time and attention.
My biggest mistake was rushing through the course and not paying enough attention to practicing with quizzes. Test readiness and mental preparedness made a tremendous difference this time for me. I'd suggest that you give at least 30-33% of your time to finish the course and, for the remaining time, practice with Scholaranium quizzes to get your accuracy right.
Abha: For a working professional like you, giving the 1-2 hours regularly wasn't easy. Do you think consistency and productivity during study time have the maximum impact on the results?
Sanchay: I would suggest that you prepare without thinking about the exam. In my case, it added to the nervousness and reflected in my results.
The last week before the exam day, I worked for hectic 16-17 hours, and deviation from the GMAT test acted positively. Increasing the number of study hours for a test like GMAT does not result in improved scores.
Two days before the exam, your preparation is over, and nothing can be changed. Relaxing and not overthinking the exam is best; trust your ability. A big thanks to you, Abha, for guiding and motivating me throughout the journey.
Abha: That's a critical element of e-GMAT strategy support, where we ensure you're ready before you go for the exam. We have your performance data, and predictable analysis of your accounts helps us understand your readiness. Based on that judgment, I was able to help you.
Best of Luck. Thank you for taking the time out and joining us today.