For its 2019 -2020 MBA application, Oxford Saïd Business School essay consists of only 1 required essay. In addition to its essay question, applicants are required to respond to five career goal-related questions.  Once the candidate has submitted the online application, they receive a link for an online assessment where they need to provide responses to multiple video essay prompts. In this article, we analyze and share tips on how to approach the Oxford MBA essay questions.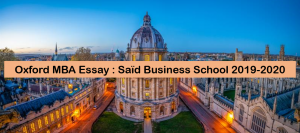 Here is an outline of the article:
Oxford MBA Application deadline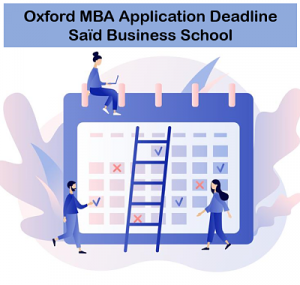 To get admitted to Saïd business school, the applicant needs to submit an online application. There are four application rounds, and the deadline for each stage is:
| | | | |
| --- | --- | --- | --- |
| Oxford Saïd MBA program (one-year full time) | Application Deadline | Interview decision | Final decision |
| Round 1 | September 06, 2019 | September 20, 2019 | October 18, 2019 |
| Round 2 | November 01, 2019 | November 15, 2019 | December 13, 2019 |
| Round 3 | January 10, 2020 | January 31, 2020 | March 20, 2020 |
| Round 4 | April 03, 2020 | April 24, 2020 | May 29, 2020 |
Know more about the Oxford Saïd Business School MBA program – Class profile| Employment report | Notable Alumni.
Oxford MBA Essay 2020
Saïd Business School asks for a single written essay in their online application. In addition to the essay, there are five post-MBA career goal related questions.
Re-applicants need to submit an additional essay where they would highlight the improvements in their candidacy since they last applied to the Oxford MBA program.
After submitting the online application form, applicants will receive a link to an online assessment where they respond to four video essay prompts followed by a live written essay prompt.
Let's have a look into the Oxford MBA essay questions for 2020–21:
Oxford MBA Essay 1
Is there anything not covered in the application form that you would like the admissions committee to know about you? (250 words max)
As stated by the admissions committee, among other characteristics, they are looking for evidence of the following while reviewing the application:
Leadership potential
Good communication skills
Analytical skills
Fit with the oxford MBA community
Highlighting the above characteristics in response to this essay prompt will be a good strategy, however, applicants should keep in mind that the question clearly states to include information which is not reflected elsewhere in your application. Thus, make sure that you take time to consider everything the admission committee already knows about you from other parts of the application form and provide a holistic view of your candidacy.
This essay can also be utilized to communicate any issues or problems in your application form, for e.g. a low GMAT score or a gap year in your employment. Make sure you highlight the reason behind the situation.
The essay question doesn't state whether you should talk about your personal or professional life. Thus, you can pick either or both to answer the question.
In case your profile is free from any questionable components, you need to still provide additional key information for the school to decide whether to include you in its next class. Thus, it's left for you to decide whether to include a story about an unfavorable part of the application or to highlight any significant learnings /accomplishments.
Once you complete your essay response, you need to upload the same in the online application portal. Here's a snapshot of the Oxford MBA essay: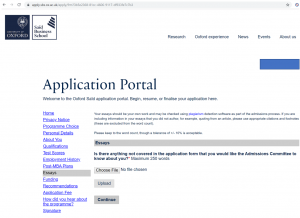 Career Goal questions
As discussed earlier, the Oxford MBA application includes five career goal questions that are related to your short-term goals after completing the MBA program. Under this section, the candidate needs to select the option most aligned to their short-term career goals, i.e., Employment, Entrepreneurship, others (like family business), or returning to current employer.
Here's a snapshot of how the post-MBA plan section looks like: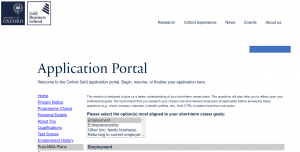 Note: You can choose more than one option, and no matter which option you choose, the questions asked are a variation of your post-MBA plans and 'why MBA.'
The applicants should also keep in mind that it's not expected by the admissions committee to craft a full-length essay to the responses. Thus, you should focus on concisely providing the information.
Let's have a look at the five career- goal questions asked if you choose 'employment' option as your short-term career goal: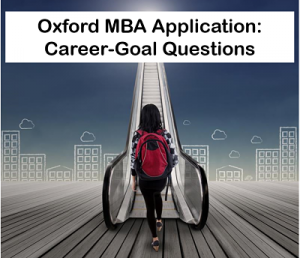 Describe below your immediate plan after graduating from the MBA
In this question, the admissions committee expects you to have a goal in mind after your graduation. It is recommended to be straightforward while detailing your intentions. If your career goals are in line with your resume, i.e., you have prior experience or knowledge in the field you want to work for, then you don't need to provide much explanation towards why you choose this career path.
But, let's say if you are changing careers, then you need to provide context to your story and explain as to what led you to decide that path and why you are a feasible fit for it.
How does your preferred sector in your preferred location recruit MBA talent, and what do they look for in a candidate? Describe the research you have done
After responding to the first question, you need to select your preferred sector and location upon graduating and then respond as to how your preferred industry and location recruit MBA talent and what they look for in a candidate.
The admissions committee wants to know that you have done significant research towards the chosen career path and are ready to pursue an MBA to achieve your goals.
In short, the response to this question will help the admissions committee in knowing your thoughtfulness, and reasoning behind your goals.
Reflecting on your answer above, how do you meet these requirements?
In response to this question, you need to specify what skills/knowledge/experiences you have gained over your professional career that will help you to pursue your post-MBA goals. Highlighting these qualities and experiences will give the admissions committee confidence in your ability to be successful in your chosen post-MBA career.
What do you plan to do between now and starting your MBA to prepare and maximize your chances of success?
As pointed out in the mbaMission blog, the admissions committee at Saïd business school are looking for individuals who want to do more than attending classes and securing a job post-MBA. In this question, you need to show that you are willing to put effort and go after what you want. Thus, highlight the things that you are doing towards achieving your goals is a good strategy for this question.
Should you not be successful in securing your first choice of role, what is your alternative?
This question wants to know whether you have a plan B for your career goals. The university wants to make sure that you have thought of alternative career choices post-MBA. Thus, demonstrating that you have identified and considered an alternative path towards your goal is an excellent way to respond to this question.
According to mbaMission, you need to outline an option that is aligned and consistent with your interests.
Questions asked for 'entrepreneurship' as your short-term career goal:
Describe your business idea and the steps you have taken so far to develop/launch your plan.
How will an MBA help you to develop further or start your business?
What do you plan to do between now and starting your MBA to achieve success?
What is your alternative if you are not successful in developing/launching your own business?
Questions asked for 'Others' (including family business) as your short-term career goal:
Describe your plan after graduating with an MBA
How does an MBA fit into your plans, and how will it enhance your short-term direction?
How will you develop your career goals before starting your MBA?
What research have you already conducted, and what further research you will do?
How will an MBA help you get equipped for the future?
Questions asked for ' returning to current employer' as your short-term career goal:
Is your current employer planning to sponsor your MBA?
Describe the role you will be returning to and provide any other information in regards to the role.
Oxford MBA essay for Re-applicants
Apart from the above essay prompt and career goal questions, re-applicants need to submit an additional essay answer:
What improvements have you made in your candidacy since you last applied to the Oxford MBA? (250 words max)
By asking this question, the admission committee wants to know how you have improved your profile as compared to last time. Highlight things such as:
Improved GMAT score
Worked on a new project/assignment
Extra classes
Increased community involvement
Development of new skills
And many more
Oxford MBA Online Assessment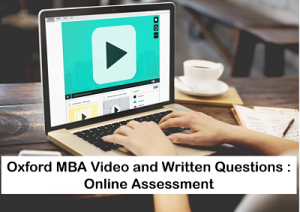 A link to an online assessment portal will be updated on your application portal once you have submitted your form. According to the application requirement section of the Saïd business school, to get a sense of an applicant's personality and see how they think on their feet, the following questions need to be submitted:
Two motivation-based questions (same questions for every applicant)
Two competency-based questions (randomized questions)
Live Written Response (randomized question)
The motivation-based questions are an opportunity for you to demonstrate your motivation for pursuing an MBA and why an Oxford MBA program the right choice for you. For example, "why is an MBA the next step for you?".
The competency-based questions allow you to demonstrate your skills and qualities that oxford university looks for, which is decision-making, leadership, problem-solving, and strong communication skills.  For example, "Tell us about a time where you have overcome a challenging situation personally or professionally. What was your approach to resolving the issue?"
At last, there is a live written response within the Kira talent platform. This question will allow the applicants to demonstrate their written communication skills and will help in knowing how well they can think on their feet. For example, "Apples are more versatile than bananas. Discuss."
Before going live with your responses, the portal will provide you with adequate time to prepare and practice for your video interview questions. The online assessment will take up to 30 minutes, and you will need a desktop/laptop with functioning webcam, internet connection, and microphone.
Are you aspiring to pursue an Oxford MBA? A 730+ GMAT score can increase your chances of getting an admit. Sign up for our free trial today!
Here are some additional articles for writing MBA Application: