Harvard MBA Scholarship is offered based on financial need, and they do not offer merit-based scholarships. The University accepts students not based on their ability to pay tuition but based on their achievements and other talents. Approximately $33.3m per year is donated to support the Harvard MBA scholarship program.
The first scholarship fund created at Harvard was in 1643 – a gift from Ann Radcliffe, Lady Mowlson. According to the Financial Aid Team at Harvard, offering only merit-based scholarships is important because it lets everyone enter HBS on the same level.
This article will talk about the Harvard scholarship program and other financial Aid available for MBA students.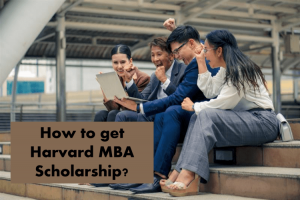 Here is an outline of the article:
Harvard MBA Scholarship: Financial Aid
The Financial Aid at Harvard Business School (HBS) can be divided into three types, also known as MBAid Journey: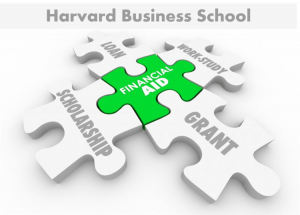 Harvard MBA Scholarship
Types of Harvard Financial Aids
Tuition Assistance
Includes Need-based scholarships, student loans, fellowships that can help students meet the cost of attending school.
Summer Fellowships
Financial support for summer internship opportunities between first and second year
Career Support and Exploration
Financial assistance programs after graduation such as loan reduction and loan repayments
Let us first discuss the types of Tuition Assistance offered by the Harvard MBA program.
Types of Harvard MBA Financial Aid 1 – Tuition Assistance
To help students meet the cost of attending school, tuition Assistance at HBS includes need-based scholarships, fellowships, and student loans. HBS is one of the few schools that offer need-based scholarships.
As stated by Harvard's Financial Aid Team, "to ensure the learning environment includes diverse perspective, Harvard offers need-based assistance driven by alumni funding."
Thus, the financial Aid at HBS follows two guiding principles:
Increase the opportunity and access for promising students regardless of their academic background
Enhance a learning environment for everyone
Did you know a GMAT score of 730+ yields incremental $500K in ROI? Start your GMAT Preparation by Signing up for our FREE Trial and get access to FREE online GMAT preparation resources. We are the most reviewed GMAT preparation company on GMATClub with more than 1870 reviews.
Harvard MBA Scholarship: Need-Based Scholarships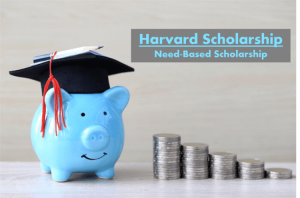 The admissions at Harvard are merit-based, whereas financial Aid is awarded based on demonstrated need. Here are some features of Harvard MBA need-based scholarship:
HBS MBA offers need-based scholarships to make education a reality for many people who do not have means to fund their advanced degrees on their own.
Harvard MBA Scholarship is a gift that does not need to be paid back, and nearly 50% of the class receives it. The average scholarship amount is $40,000 per year or $80,000 in total.
The majority of them are in the $30-50k range per year, which is available to both domestic and international students. Besides, all students are encouraged to apply for a Harvard Scholarship after being admitted to the program.
When a student qualifies for a scholarship, an individualized aid package is created to meet their demonstrated needs.
Depending upon the degree of need, the financial aid package may cover up to 100% of tuition and expenses.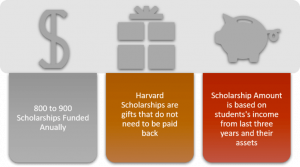 How is the Harvard MBA Scholarship need determined?
While determining the scholarship amount, HBS approaches financial Aid as a shared investment in the student's future, which is a shared responsibility. Thus, Harvard does not offer full scholarships. There has to be a contribution from the students.
The scholarship amount is calculated based on the student's income from the last three years and any assets they have. For example, students with higher earning contribute a higher rate towards their education than students with lower earning.
Thus, an MBA student is required to have prior work experience so that HBS can assume a portion of their earning will be saved.
The school also expects that students might have to take student loans if they do not have means to fund their MBA degree on their own.
HBS students can cover the full cost of attendance through a combination of resources
Every financial aid package is different and a combination of – HBS Scholarships, Savings, and student loans. HBS helps you meet your full-financial needs based on the combination of the three:
Harvard Scholarships (and other HBS funding/fellowships, if eligible)
Savings and External Sources
Student loans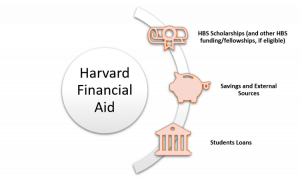 HBS Alumni primarily funds the need-based scholarships. It's one way many of the Alumni have chosen to make a difference by paying it forward to the next generation of the HBS Alumni. Approximately $33.3m per year is donated to support the Harvard scholarship program.
The HBS often pair Alumni with MBA students with similar aspirations, and in this way, scholarship fosters personal and meaningful connections between them.
Aspiring to get an admit from Harvard University? A good GMAT score can increase your chances! Start your GMAT Preparation with the most reviewed company on GMATClub. Get started with our free trial today and access free GMAT resources and quality content.
Harvard Scholarship: Other Types of Awards offered with Harvard MBA Scholarship
Apart from the need-based Harvard scholarship, the school provides a small number of other awards for students with specific interests and backgrounds. Even if the student is not able to receive financial Aid, they can apply to these awards after they receive their acceptance letter.
Harvard MBA Scholarship with Complementary Fellowships
Here are other types of awards that compliments the need-based Harvard scholarships:
Harvard MBA Scholarship with Complementary Fellowships
Amount
Awarded to
John C. Phelan Forward Fellowship
$15,000/year
Students from lower-income backgrounds who financially support their parents/siblings
Junior Achievement Fellowship
$10,000/year
Students with Junior Achievement experience
Horace W. Goldsmith Fellowship
$10,000 for the first year
Students demonstrating non-profit leadership
The Robert S. Kaplan Life Science Fellowship
$10,000/year
Students demonstrating a commitment to the life science
John H. McArthur Canadian Fellowship
$10,000/year
Students with Canadian Citizenship
Summer Venture in Management (SVMP) Fellowship

Travel fellowship

$10,000/year
Given to SVMP alumni
George Leadership Fellowship
$10,000 in the third year
Students in the third year of the Harvard Kennedy School joint degree program
Harvard MBA Scholarship with External Funding Option
Harvard University encourages its students to explore all external funding options, above and beyond any scholarships received by students from Harvard.
Students can get external funding up to $30,000 from outside school to reduce their student loan amount without impacting their Harvard Scholarship award.
If a student receives more than $30,000 funding, then their Harvard scholarship amount will be reduced so that the funds can go where it is needed most.
Harvard MBA Scholarship combined with Students Loans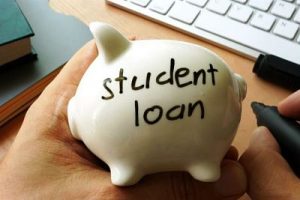 As stated earlier, each student's financial aid package is different and may include a combination of scholarship awards, savings, and student loans.
As per Harvard's website, when they determine a student scholarship, they assume the student will take out a loan.
The student loans can be in combination with fellowship awards, savings, external scholarships. Besides, last year the average student graduated with loans of approximately $90,000.
The detailed information about applying for loans is provided once the student gets an admit. Student loans are available for both Domestic and International students.
Domestic students can apply for private, federal, or a combination of both the student loans. On the other hand, International students can apply for student loans depending upon whether or not they have a U.S. co-signer.
Here are the employment statistics for Harvard MBA Class 2019:
| | | |
| --- | --- | --- |
| Functions | Percentage | Median Salary |
| Business Development | 9% | $135,000 |
| Consulting | 22% | $165,000 |
| Finance | 29% | $150,000 |
| General Management | 16% | $130,000 |
| Marketing | 13% | $135,000 |
| Strategic Planning | 6% | $135,000 |
| Others | 4% | $140,000 |
Here are few related articles on Harvard MBA Program: Class Profile and Employment Statistics, GMAT score required, Harvard MBA Essay Tips, Harvard vs. Stanford – Which is better for an MBA? And 7 steps to get an admission into the Harvard MBA program.
Harvard Scholarship: How to apply for Harvard MBA Scholarship?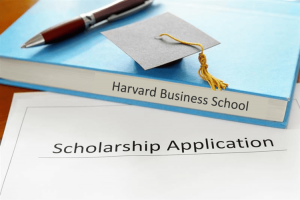 To apply for a Harvard MBA scholarship, students need to fill out the HBS financial aid application after admission to the Harvard MBA program.  They will be able to access the financial aid application once they get admission and will receive all the specific information about how to apply.
It is advisable to apply for need-based Financial Aid as soon as they are able.
To qualify for a need-based scholarship at Harvard, students need to submit income tax information from the previous three years as well as other information related to their assets.
Once the financial aid application is submitted, it takes 3-4 weeks for the student to receive the decision letter by email. Also, students need to re-apply in their second year to confirm eligibility for their second-year scholarship.
Harvard MBA Scholarship for Indian and International Students
The need-based Harvard scholarship is available for both domestic and international students. Regardless of which round an international student gets admission, he/she can apply for the scholarship. International students need to fill out I-20 paperwork, which they need to bring for their visa appointment.
They do not need a U.S. co-signer, and some lenders work with Harvard International students.
Here are a few articles related to US Visa:  H-1B Visa Rules, F1 students visa for MBA in USA, and Post MBA Work visa in the USA for International Students.
Harvard Scholarship – Cost of Attendance
The scholarship and financial Aid board use the following cost of attendance to determine the Financial Aid Award.
The annual cost of attendance assumes a Nine-month academic year and a moderate student lifestyle.
| | | |
| --- | --- | --- |
| Harvard Cost of Attendance | Single | Married/Dependent |
| Tuition | $73,4 | $73,440 |
| Student health fee (SHF) | $1,240 | $1,240 |
| Student Health insurance Plan | $3,922 | $3,922 |
| Student Spouses/Dependents | – | $8,118 |
| Course and Program materials Fee | $2,550 | $2,550 |
| Living expenses (9 months) | $15,820 | $20,140 |
| Room and Utilities (9 months) | $14,130 | $22,050 |
| Total | $111,102 | $131,460 |
Here are Tips to make your MBA pocket-friendly.
Other Types of Harvard Financial Aid – Summer Fellowship | Career Support and Exploration Funds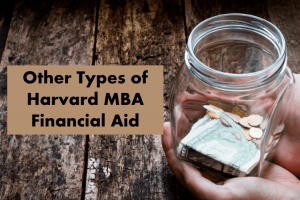 In addition to need-based Harvard scholarship, HBS offers a portfolio of fellowships designed to support the students throughout their MBA called the MBAid Journey.
Harvard Summer fellows program offers students the freedom to realize their unique career vision without feeling limited by compensation levels, location, industry, or role.
The funding is available for students starting new ventures who have not raised significant capital, as well as students joining existing organizations. The Summer Fellows receive up to $60 per week.
Here are the three types of Summer Fellowship at Harvard Business school:
| | |
| --- | --- |
| Types of Summer Fellowship | Features |
| Rock Summer Fellows | For students founding their venture or start-up. Offers peer-exchange network and grants access to the expertise and resources of the Rock Center for Entrepreneurship |
| Social Enterprise Summer Fellows | For students pursuing an internship in community development, arts & culture, international relief, non-profit consulting, and other social enterprises |
| HBS General Summer Fellows | For students joining both small and large organizations in a wide range of for-profit industries |
Harvard Business School has a strong commitment to career exploration, and to avoid any debt burden, they offer career support funds and fellowships. The below table represents the Career support and Exploration Funds that can be combined with your Harvard Scholarship:
| | | |
| --- | --- | --- |
| Career Support and Exploration Funds | Amount | Awarded to |
| Leadership Fellows | $50,000 | For graduates entering one-year positions at select non-profits and public-sector organizations for a total salary of $100,000 |
| Go: Africa Fellowship | $50,000/year | For graduates who are employed full-time in Africa or are founding a venture in Africa. |
| Search Fund Fellowship | $50,000/year | For graduates pursuing self-funded search |
| Rock center Loan Reduction for Entrepreneurs | $5,000-$20,000 | Helps the private sector employees and entrepreneurs whose salaries are below the MBA average |
| Social Enterprise Loan Repayment Assistance Program (SELRAP) | $5,000 – $10,000 | For Alumni working in social enterprise. Harvard helps in repaying the MBA debt for up to 10 years after graduation. |
Want to pursue an MBA at Harvard? Learn what GMAT Score is required to get an admission into Harvard Business School. 
Kick start your GMAT preparation with the most reviewed company on GMAT Club. Try out our Free Trial and get access to Free GMAT resources.