A
6
min read
This article answers all your questions about the new GMAT Exam Format and Timing, GMAT Exam Structure, GMAT Sections, and GMAT Question Types. To start with, here's how GMAC defines it – "The Graduate Management Admission Test (GMAT) is a computer adaptive test (CAT) intended to assess certain analytical, writing, quantitative, verbal, and reading skills in written English for use in admission to a graduate management program, such as an MBA." You can take these GMAT sections in three different orders, on the basis of your preference.
According to the Graduate Management Admission Council (GMAC) which owns the GMAT test, GMAT is a trusted and preferred part of the admissions process of more than 7,000 business and management programs worldwide.
This article covers the following sections: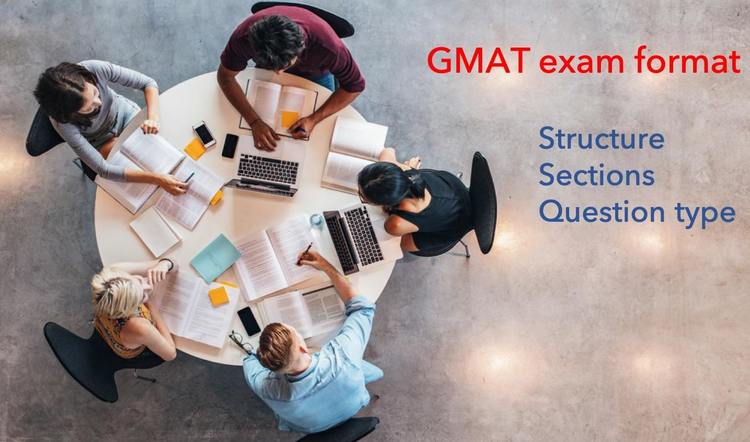 The best way to understand the GMAT exam format is by trying the test out for yourself. That's why we recommend taking our FREE GMAT mock test to familiarize yourself with the GMAT exam format and to get a baseline score. Our mock test is designed to give you detailed insights into your performance, highlighting your areas of strength and weakness.

Don't just take our word for it, hear from our successful 700+ scorers on how our mock tests have helped them in their journey towards achieving their desired GMAT score.
GMAT – Computer Adaptive Test

| GMAT Exam Format

GMAT is a Computer Adaptive Test (CAT). This means that the testing software adapts to your performance as you progress through the test. Therefore, your performance on each question will determine the difficulty level of the next few questions in the exam. Consequently, the GMAT score is calculated on your ability level i.e. on the basis of the difficulty level of questions that you solve correctly and not just the number of questions that you get right.

Note – Only Verbal and Quant sections are computer-adaptive. IR and AWA are not adaptive in nature. Read our deep-dive on how the Computer Adaptive GMAT Works. Understanding the test is the first step towards acing it.

Each section starts with medium difficulty level questions. Based on your response, you will then receive an easier or more difficult question. Your score is a composite result that considers the difficulty of each question you got right and wrong. Because each question you answer directly affects the next question you get, the CAT does not allow you to go back to questions you've already answered. It only shows one question at a time and does not allow you to see the next question until you've answered the current one. Therefore, you must review each response before confirming and moving on to the next one.

Attention test takers- GMAC has recently announced a new version of the GMAT test called the GMAT Focus edition. This new test will be launched in the later part of 2023, while the current version of the test will be available till at least early 2024. Read this article to know all about the GMAT Focus edition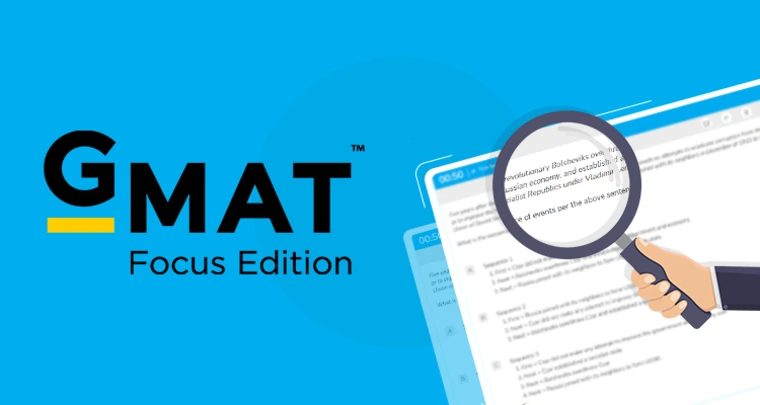 GMAT Format 2023 – Section-wise Distribution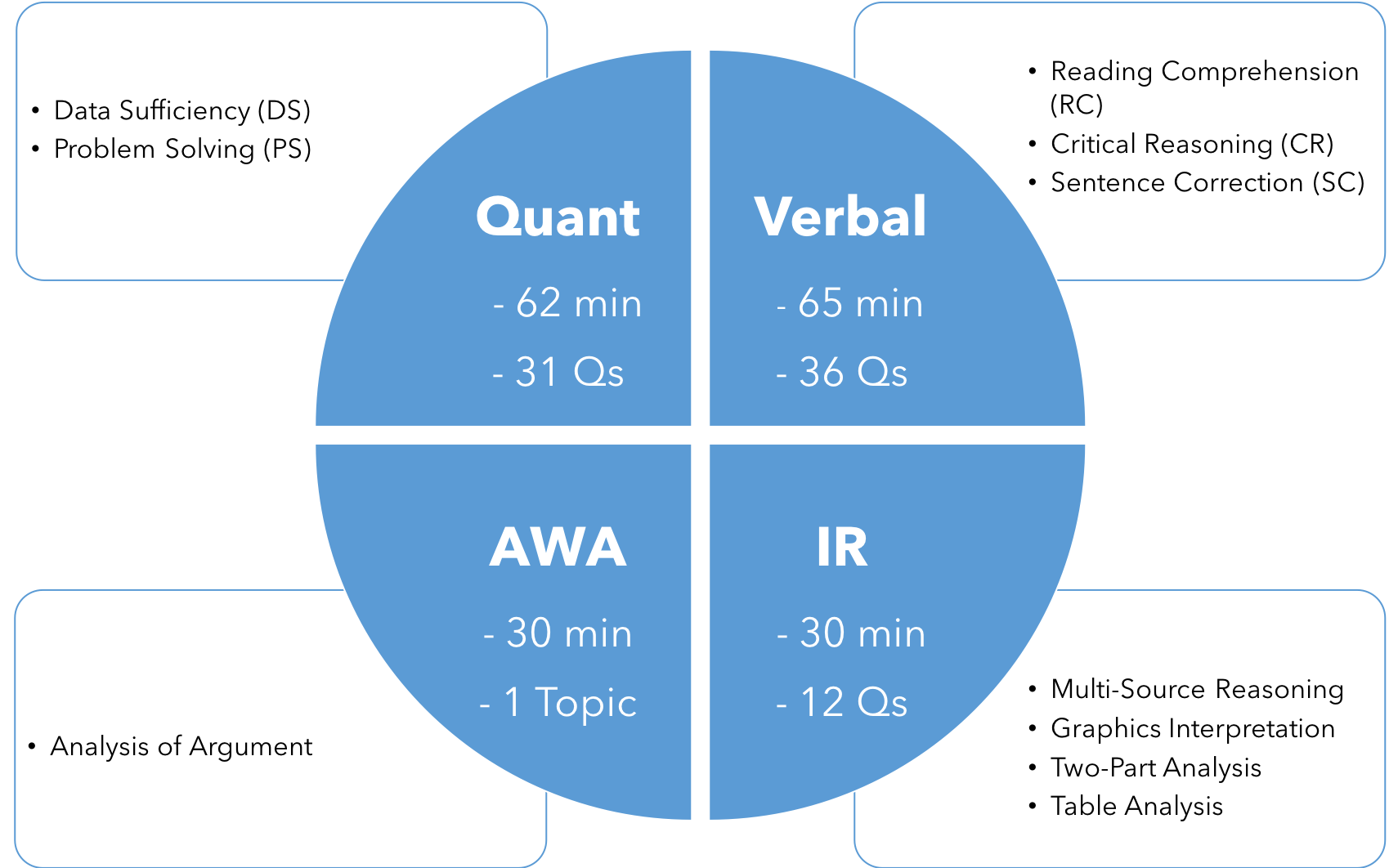 GMAT Sections:
Analytical Writing Analysis
Integrated Reasoning
Quantitative
Verbal
Here's a brief overview of each of these sections in the format of GMAT:
AWA – "The Analytical Writing Assessment (AWA) measures your ability to think critically and to communicate your ideas. During the AWA, you are asked to analyze the reasoning behind a given argument and write a critique of that argument".

Duration: 30 minutes
Analysis of Argument for 1 Topic

IR – "The Integrated Reasoning section of the GMAT measures your ability to evaluate information presented in multiple formats from multiple sources – skills you need to succeed in our technologically advanced, data-driven world."

Duration: 30 minutes
12 Questions of the following question types:

Multi-Source Reasoning
Graphics Interpretation
Two-Part Analysis
Table Analysis

Quant – "The Quantitative section measures your ability to analyze data and draw conclusions using reasoning skills. The mathematics needed to understand and solve the questions in this section of the GMAT exam is no greater than what is generally taught in secondary school classes."

Duration: 62 minutes
31 Questions of the following question types:

Problem Solving (PS)
Data Sufficiency (DS)

Verbal – "The Verbal section measures your ability to read and understand written material, to evaluate arguments, and to correct written material to conform to standard written English."

Duration: 65 minutes
36 Questions from the following topics:

Reading Comprehension (RC)
Critical Reasoning (CR)
Sentence Correction (SC)
If you are wondering how to understand GMAT Scores & Percentiles, here is what you should read!

If you are planning to take the GMAT, we can help you with a personalized study plan and give you access to quality online content to prepare. Write to us at acethegmat@e-gmat.com. We are the most reviewed GMAT prep company on gmatclub with more than 2500 reviews. Why don't you take a free trial and judge for yourself?
GMAT Format/ GMAT Exam Pattern
| | | | |
| --- | --- | --- | --- |
| GMAT SECTIONS | NUMBER OF QUESTIONS | TYPES OF QUESTIONS | DURATION |
| Analytical Writing Assignment (AWA) | 1 essay | Argument analysis and communication in the form of a critique | 30 minutes |
| Integrated Reasoning (IR) | 12 multiple choice | Two-Part Analysis, Multi-source reasoning, Graphic interpretation, Table analysis | 30 minutes |
| Quantitative | 31 multiple choice | Data Sufficiency, Problem Solving | 62 minutes |
| Verbal | 36 multiple choice | Reading Comprehension, Critical Reasoning, Sentence Correction | 65 minutes |
Now that you have an idea of the GMAT Exam Pattern, let's focus on the other aspects of the GMAT Structure.
Prior to July 11, 2017, all test-takers had to take the test in that exact order as defined by GMAC. However, this is no longer the case. We'll now discuss the order in which you can take the GMAT sections.
GMAT exam pattern – Section Order Selection

| GMAT Structure

Begin your GMAT preparation with the only prep company that has delivered more 700+ scores than any other GMAT club partner. Achieve GMAT 740+ with our AI driven tools that you personilzed feedback at every step of your GMAT journey. Take our free trial today!
The original order before GMAC introduced the "Select Section Order" feature was: "Analytical Writing Assessment, Integrated Reasoning, Quantitative, Verbal". Now, there are three options from which you can take the GMAT: The Select Section Order feature was designed to allow GMAT test-takers to put their best foot forward and take the test based on their strengths and testing preferences. This is GMAC's attempt to help you build comfort and confidence on exam day. You can choose the order in which you want to take the GMAT sections, just before your exam begins.
Original Order – Analytical Writing Assessment, Integrated Reasoning, <Break 1>, Quantitative, <Break 2>, Verbal
Verbal, <Break 1>, Quantitative, <Break 2>, Integrated Reasoning, Analytical Writing Assessment
Quantitative, <Break 1>, Verbal, <Break 2>, Integrated Reasoning, Analytical Writing Assessment
As per GMAC, "There is no "correct" or "recommended" section order to select. This choice gives you more control and flexibility." For more details, please refer to this article on GMAT Exam Format – Select Section Order.
GMAT Structure – GMAT Exam pattern

Order 1
Order 2
Order 3
Analytical Writing Assessment
Verbal
Quantitative
Integrated Reasoning
8-min break (optional)
Quantitative
Quantitative
Verbal
8-min break (optional)
Verbal
Integrated Reasoning
Integrated Reasoning
Analytical Writing Assessment
Analytical Writing Assessment
If you're looking for the right strategy to ace the GMAT, attend our GMAT Strategy webinar, where we help you create a plan to achieve your target score on the GMAT.
GMAT Exam Format or Pattern – Latest Update & Impact
In the new GMAT format, the GMAT test is shorter by 30 minutes (made effective from April 16, 2018). GMAC has reduced the total time duration of the GMAT from 4 hours to 3.5 hours. The change in this new format has been made in the Tutorial Screens and the Quant and Verbal Section (scored out of 800).
In this article on the new GMAT exam format update, we have tried to answer all your questions about the latest update in the exam format and its impact on scoring and sectional break up. The article also addresses a major concern among the re-takers – "Is RC the most important section on GMAT Verbal now?". Attend our Verbal Verbal RC Strategy Webinar to know the answer.
This article covers most of the basics of the GMAT Exam that you need to know. For further reading, please visit the official GMAT site. You can also read the following articles on:
If you have any doubts regarding the format of GMAT EXAM, GMAT Exam Structure or need help with planning your GMAT Prep, feel free to write to us at acethegmat@e-gmat.com. Register for our free trial to get more than 400 practice questions.
Before you start your GMAT Preparation, watch this video:
GMAT Format FAQs
How many sections are there in the GMAT Exam?
There are four sections on the GMAT. They are:
1. Quant
2. Verbal
3. Integrated Reasoning
4. Analytical Writing Assessment
How many sections are on the GMAT Online?
GMAT Online has 4 sections. They are Verbal, Quant, Integrated reasoning, and AWA.
What's the duration of GMAT and GMAT online?
The duration of in-center GMAT and online GMAT is 3 hours and 7 minutes, excluding two optional 8-minute breaks.