A
7
min read
Can the GMAT test center you select affect your GMAT score? Though it may seem unlikely, the test center you choose can have an impact on your performance and score in the GMAT. Below are a few examples of this:
In this article, we explore the factors you should consider while selecting a test center. The questions and topics we will cover are:
What are the available GMAT Test Centers & Locations?
1)  How to book the GMAT Test Center Location?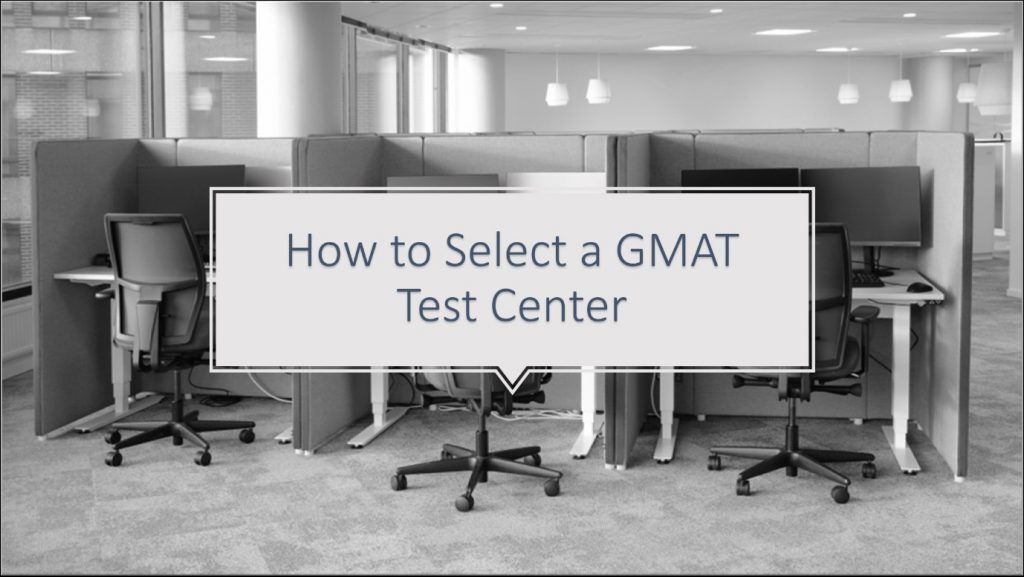 The GMAT is administered on-demand at testing facilities in 100+ countries around the world. In India, you can attempt the GMAT at 39 locations in 34 cities. It is advisable to book a GMAT test center at least 2-3 months in advance, as this ensures that your desired date and time slot is available.
Below is a list of some of the test centers located in India
| | | | |
| --- | --- | --- | --- |
| 1 | Maharashtra | Mumbai | Pearson Professional Centers-Mumbai Building No.9, 1st Floor Solitaire Corporate Park,167 Andheri JB Nagar Link Rd, Chakala, Andheri(East) Mumbai Maharashtra 400093 India |
| | | | Details |
| 2 | Karnataka | Bangalore | Unisoft Technologies Above Chef Bakers, 123/1, Shop No. 188, Next to McDonald's, ITPL Main Road Kundalahalli, AECS Layout, Brookefield Bangalore Karnataka 560037 India |
| | | | Details |
| 3 | New Delhi | New Delhi | Pearson Professional Centers-New Delhi, 4th Floor, Building No.18, Ramnath House Yusuf Sarai Community Centre, Above HDFC Bank, New Delhi Delhi 110049 India |
| | | | Details |
Click here to download a PDF containing details of GMAT Test centers in India
1.1) Booking your GMAT test date is a straightforward affair, we will illustrate the step by step procedure below:
Navigate to select and book GMAT Test Date and Centre.
If you already have an MBA.com account, you can log in. If not, you can create an account and proceed further.
Follow this link to find a test center near you and view available dates and slots.
Here you can filter test centers by Pin Code, city, state, etc. and select up to 3 test centers to compare available dates and slots.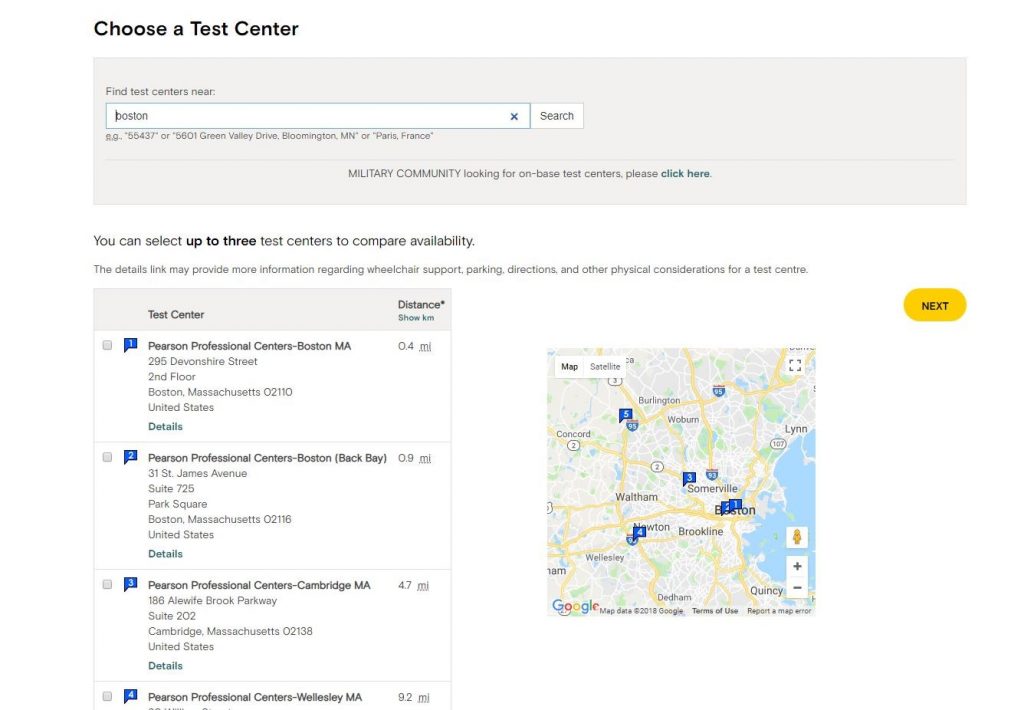 You can proceed to book the slot by making the payment and filling out other details as required. The milestones in this process are visible on the bar at the top of the page.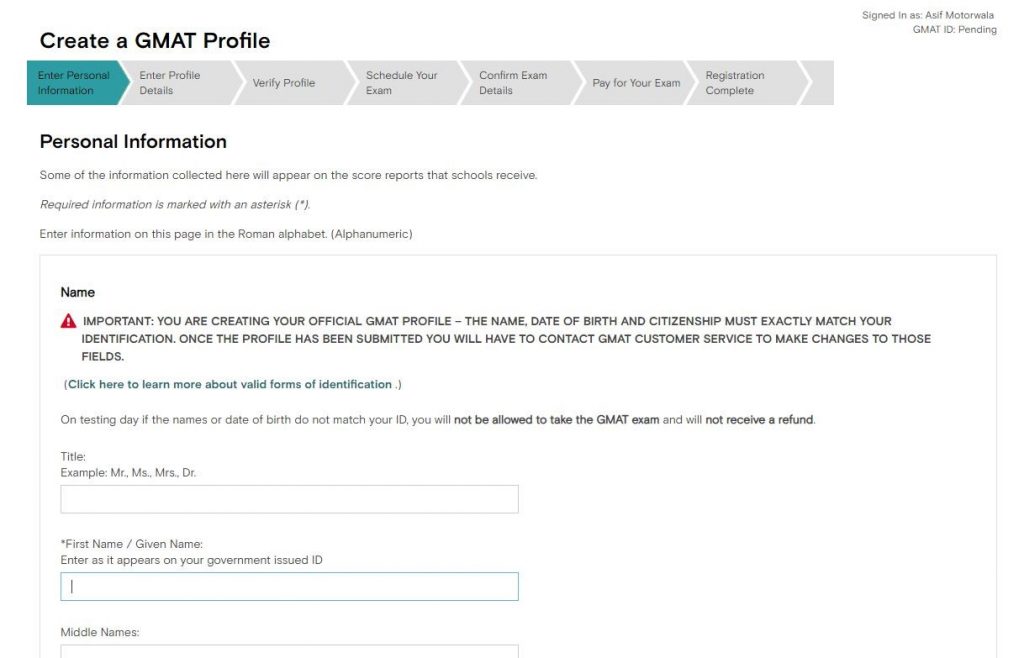 A few important points to keep in mind while booking your test date are:
Profile details entered should match the form of identification that is accepted at the test center facility. (g. date of birth, the spelling of your name, etc.)
The accepted form of ID's may vary according to the country. (eg. in India a passport is the only accepted form of ID)
You can find more details in the GMAT handbook here.
Planning to take the GMAT? We can give you access to quality online content to prepare. Write to us at acethegmat@e-gmat.com. We are the most reviewed GMAT prep company on gmatClub with more than 1830 reviews (as on June 3, 2019). Why don't you take a free trial and judge it for yourself?
2) Factors to consider while selecting a test center
Now that we have looked at the process to book a test center and date, let us explore the factors you should consider. Selecting the appropriate test center requires considering factors such as:
Proximity
Location
Reviews
Availability
2.1) Proximity
The proximity to your location is an important factor you should consider in selecting a GMAT center. Ideally, if you have an option to choose between multiple test centers in your city, then you should select the center closest to you. This minimizes the traveling time required to reach the test center. Also, depending on your time slot (morning or afternoon), you would need to take into account the traffic situation on your way to the center.
To Summarize:

Select the closest test center (reduces travel time)
Plan to reach the test center at least 30-45 minutes in advance (to complete check-in and other formalities on time)
2.2) Location and Accessibility Via Public Transport
Location is another important factor that needs to be considered in selecting a test center. If there are multiple options available, you should decide based on the following factors:
Convenience (to reach the test center),
If it is in an office complex or business park?
Accessibility via public transport
Quick Tip: Make sure you visit your test center at least once before your actual exam date. This ensures that there are no surprises on test day. And helps you in familiarizing yourself of the time required to travel to and reach the test center. Ideally, this should be done at the same time of the day as your actual test appointment.
If there are no test centers in your city/town, then you may have to travel to another city to take the test. Make sure you consider the cost of traveling and accommodation to another city in this case.
2.3) Reviews
Another important data point that can be used to select a test center is the reviews of the test center posted by exam takers.
GMAT Club – a community/forum dedicated to MBA Aspirants and GMAT Exam takers, have a dedicated section for verified reviews of GMAT test centers.
These reviews should help you in getting a better idea of the test center facilities and its administration.
Here are a few test center reviews:
2.4) Availability
GMAT test centers are generally closed on weekends and during certain public holidays. However, this may vary according to the test center. Hence, it is advisable to check slot availability on weekends and holidays.
3)  Facilities available at a GMAT Test Center
The GMAT is administered at Pearson Vue testing facilities and contains the following basic facilities for all test takers:
Partitioned or separate testing stations with a computer, keyboard, and two button mice.
Lockers for storing personal belongings for the duration of the test.
Separate check-in area with a work-space for test administrator.
Erasable markers and notepad. (Additional markers and pad will be provided on request)
Ear plugs for helping with noise isolation during the test.
Below are a few images of a test center environment:

Writing medium provided at GMAT test center
Due to reasons of security and privacy, the scratchpad and pen provided at the test center are different from regular writing materials. You are not allowed to take these outside the test center and are to be returned once you are done taking the test.
The scratchpad provided (also called a noteboard) consists of 5-6 sheets of legal-size paper. It is taller than a regular sheet of paper. The sheets are laminated which means they are of a different texture than regular paper. You are also provided with a wet erase pen (marker) with a fine tip to write with.
Thus, the combination of laminated paper and wet erase marker make the scratchpad reusable. However, if you have filled up your booklet, you should not reuse or try to erase the noteboard yourself. You can request for a new scratchpad at any point during the exam. Just raise your hand during your test and ask the invigilator for a replacement.
It is also advisable to ask for a replacement scratchpad or noteboard in the break between sections during your test attempt. This will save you time if your scratchpad gets filled up during the test.
Many GMAT test takers have been inconvenienced or have performed poorly due to the lack of familiarity with the writing medium provided during the test. Thus, to ensure there are no nasty surprises on your test day, make sure you are familiar with the same. You can practice using this test simulation booklet and marker, which is exactly similar to the one provided on the test.
4) Is there a variation in test difficulty according to the test center?
In short, NO. The GMAT is a standardized test and is conducted in a highly secure environment. The percentile scores are calculated based on the results of people taking the test all over the world. And the GMAC goes to extreme lengths to ensure a fair testing experience for all candidates across geographies.
Here are some of the measures taken by GMAC to ensure fairness for all GMAT Test Takers:
GMAC thoroughly trains writers of GMAT questions to avoid topics and questions that may favor or disadvantage particular subgroups of test takers.
Before including new questions in the GMAT, they are reviewed by independent panels of fairness experts. If any issues about sensitivity or bias are identified, the question is revised or discarded.
New questions are initially included only on a non-scoring basis. Statistical analysis is then performed on the responses to the question. If the question is found to favor one sub-group over another, it is further reviewed by experts, and then it is either revised, discarded or approved.
Thus, there is no variation in test difficulty across test centers.
Hear what former VP of R&D at GMAC, Mr.Lawrence M. Rudner has to say about the fairness of the GMAT.
5) Important test taking policies
A few important test-taking policies as mentioned in the GMAT handbook are:
No personal items except the following allowed inside the testing room:

ID
Locker key
Prescription Eyeglasses
Sweater or Jacket
Certain comfort items, which are pre-approved, will be allowed inside the testing room. All other personal belongings should be stored in the locker provided.
Important Do's and Dont's
You are prohibited from accessing your smartphone or notes during the entire duration of the exam. Doing so is a serious violation and can be reported to the GMAC as misconduct.
Once reported this misconduct may appear on your test result scorecard.
Two breaks of 8 Minutes each are provided between any two sections during the test.
You can visit the restroom and help yourself to the refreshments carried by you during these breaks.
You are not allowed to leave the test center for the complete duration of the test.
If you need any assistance during the exam, you must raise your hand, and the staff will attend to you within 30 seconds as they monitor the test area via overhead cameras. You are not permitted to leave your testing station without the presence of the test administrator.
Weapons are prohibited inside the testing center and cannot be stored inside the lockers provided either.
We hope this article helps you understand the process of booking a GMAT test date. If you have any other questions, please write to us at acethegmat@e-gmat.com.