A
5
min read
Yale School of Management (SOM) stands out among even the most favored B-Schools for finance and non-profit professionals and is famous in the business community as the highest-ranked school on ethics and values (higher than Harvard, Wharton, Kellogg, Stanford, MIT, Duke…). As for the leaders that Yale University nurtures, for 20 years from 1989 through 2009, all US Presidents had earned at least one degree from Yale University; even Hillary Clinton is a Yale graduate.
 Needless to say, Yale SOM has always been very selective, and with rankings climbing up, they are on an upswing. Their average GMAT score has been more than 720 in the last 5 years.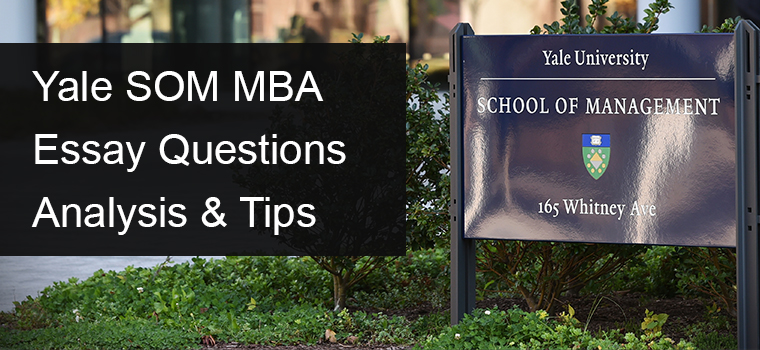 Yale SoM MBA Application Deadlines
Following are the application deadlines for the Yale School of Management MBA program's 2023 intake.
| | | |
| --- | --- | --- |
| Round | Deadline | Decision |
| Round 1 | Sep 13, 2022 | Dec 6, 2022 |
| Round 2 | Jan 5, 2023 | Mar 24, 2023 |
| Round 3 | Apr 11, 2023 | May 18, 2023 |
Read more about Yale SoM MBA Program Class Profile | Employment Reports | Notable Alumni
Yale MBA Essay Questions 2023
Before we go into the Yale MBA Sample Essay Structure, and how applicants should attempt answering the essay, considering certain important points would help: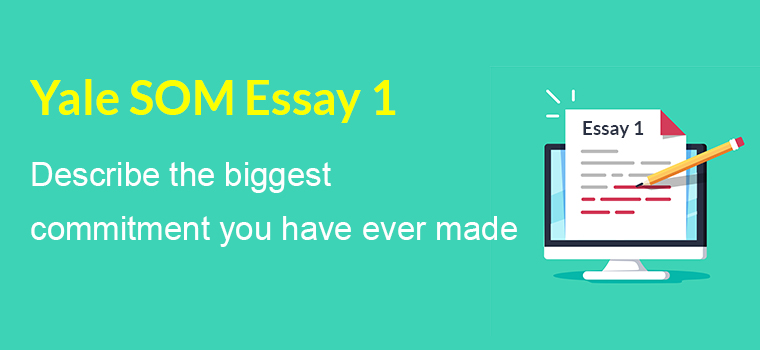 Yale SOM MBA Essay 1 (Required)
Describe the biggest commitment you have ever made. (500 words maximum)
The single essay question, as retained for the fourth year running, gives you very limited space to make an impact. This is diametrically opposite to schools which ask you tons of questions and thus give you lots of space and many opportunities to make an impact. Demonstrating strong passion and commitment, therefore, and packing your 500 (or less) words with the right substance is key. Let's get into some specifics.
What does SOM say?
Quoting the SOM website, "…the mission of the Yale SOM is to Educate leaders for business and society. (Pursuing the positive and ambitious change by these leaders) may take the form of launching a business that can refashion its market, advancing far-reaching and rigorously considered policy initiatives, or steering a multinational corporation with a keen awareness of and respect for its impact on workers, communities, and the environment".
Important? Yes, Very! Actually, these few lines pack invaluable suggestions on the scope of WHAT you can focus on for your essays. Have you, for example, helped launch a business that refashioned its market to provide inclusion to the underprivileged or the marginalized? Or have you supported advancing far-reaching and rigorously considered policy initiatives that have brought about lasting impact? Or have you taken initiatives to steer a project or a team in a large corporation to bring in overall awareness of and respect for its impact on workers, communities, and the environment?
If your answer to any of these is a yes, you are the perfect candidate Yale is looking for. This thought-provoking essay, says Assistant Dean Bruce DelMonico, tries to delve deep into what the applicants care about in the world. And as we have demonstrated from Yale's own website, caring for impact does NOT necessarily come from working with a Non-profit. As long as you are able to show the impact that came from deep thought to improve the overall society, you can answer this question well.
Do only Past actions qualify? What about my plans for the future?
Just as your resume does, here too, your past actions speak louder than future plans. Your past action, therefore, should provide a good indication of your approach to follow your passions in your future plans and follow-throughs. In other words, what you have made your biggest commitment earlier, will also define who you are and whether you will fit the Yale definition of leaders.
I get the basic idea, but can I talk about my commitment to a personal cause?
The actual content or theme for this essay can be professional OR personal (remember "business and society"?).
Think very carefully about WHAT you would quantify as your biggest commitment. Your first thoughts may start with talking about a commitment to a person, or to the development of a skill or towards living according to certain values.
Depending upon the culture and context, such a commitment may even seem to be a legitimate answer; yet, it is very important to remember this is a B-school application.
While your commitment to your parents/ spouse/partner and how you have taken care of them may show your good values, it does not show the leadership example that SOM would love to read about.
(In the past we have worked on compelling stories even with these factors, but those have been exceptions, and it is better to understand the right spirit of the question first).
On the other hand, your commitment to a certain cause with a larger impact, for example, to ensure education for the underprivileged may go better on the WHAT. Other valuable examples can be in the domain of energy conservation or preventing cruelty to animals. Yet others may offer their career plans and connect their aspirations to the larger commitment already demonstrated in life.
How about a larger commitment that is partly professional, partly social?
Choosing larger commitments, with 2-3 connected professional and personal fallouts is technically ok, but remember you would really need a miracle to fit the entire answer within the word limit of 500 words. We also advise prudence and judgement when dealing with sensitive topics or criticizing ideologies in the answer.
It's complex, but I got it; How to proceed?
The most important piece in this answer and the differentiating factor would really lie in the HOW. In thinking about the how deliberate the situation/factors that led you to make this commitment, any group/s you involved to help you fulfill the commitment, the adversities that truly tested your resolve, how the final results panned out in the face of those obstacles and any future plans to pursue the passion further (different geography, larger-scale, etc.)
If you have been able to work on these aspects well, you should have a powerful answer to the biggest commitment, but not before you have written and rewritten at least tens of drafts. Make sure therefore to start early, and give yourself tons of time. In the end, whether or not you actually apply to SOM, rest assured that the self-introspection this answer brings is an immensely satisfying and fulfilling process.
Best of Luck!
P.S. Know a Yale alum well? You may get an application fee waiver when applying to Yale.
P.P.S. Yale University pays the study loans for students who follow careers in non-profit (Including UN, World Bank, and such).
Also, read our detailed Essay Analysis for Wharton and Kellogg
Here are some tips on how to write an essay by Kris Mercuri, Director of Admissions at Yale SOM
About the author
Admit Square Consulting has mentored applicants from diverse backgrounds to apply to top MBA programs. With a proven track record of 10+ years, and admits to universities such as Stanford, MIT, Kellogg, Cambridge, INSEAD, etc., Admit Square was awarded the Most Successful International MBA Consulting Company in India at the India Education Awards, 2019. With a team of Consultants from top business schools such as MIT, Yale, LBS and Oxford, Admit Square offers 100% Money-back Assurance on its services. You may send your details to info@admitsquare.com for a free profile evaluation.
Here are a few other articles you may like to read: