Columbia business school, at the very center of business, has retained the short answer question, Essay no. 1 (career goals), and Essay no. 2 (fit) for the application cycle 2020-21. CBS has changed Essay no. 3. Instead of your 'favorite leader,' CBS now desires to know about your favorite book, movie, or song. Like previous years, CBS allows applicants to submit an optional essay to explain any areas of concern in their application.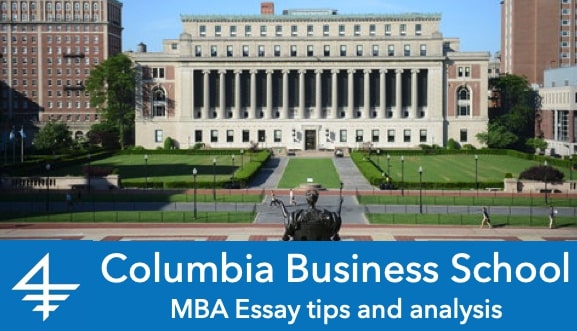 In this article, Poonam Tandon from myEssayReview, who has been helping students with their MBA applications since 2011, shares her tips on the Columbia MBA essays for 2021 intake.
But before discussing individual essays let's take a look at Columbia MBA deadlines for the 2021 admissions.
Columbia MBA Application Deadlines
Early Decision/January Deadline:     October 2, 2020
Merit-Based Fellowship Deadline:    January 6, 2021
Final Regular Decision Deadline:      April 9, 2021
Deferred Enrollment Deadline:        April 15, 2021
Columbia MBA Essays
Here is Poonam's analysis of Columbia Business School essay topics for 2021 intake:
Short Answer Question
What is your immediate post-MBA professional goal? (50 characters maximum)
This is a straightforward question about the candidates' career goal immediately after graduating from Columbia Business School. In a mere 50 characters, including space (approximately eight words), you have to mention the job you wish to have after completing MBA. Please make sure that your post-MBA goal aligns with your long-term goal that you will discuss in essay #1. Since the character limit is so stringent, you may not stress yourself writing complete sentences.
Please reveal your true goals, and not what CBS wants to hear I would encourage you to look at CBS' examples of possible responses:
Examples of possible responses:
"Work in business development for a media company."
"Join a strategy consulting firm."
"Launch a data-management start-up."
Let's take a closer look at other essays now.
Columbia MBA Essay 1
Essay #1: Through your resume and recommendations, we have a clear sense of your professional path to date. What are your career goals over the next 3-5 years, and what, in your imagination, would be your long-term dream job? (500 words)
CBS is going with this prompt again this year and begins this essay prompt by clearly stating not to repeat the information already given in resume and recommendations. In other words, the Admission Committee is shoving you away from wasting their time in repeating your résumé!
Though the question asks only about short-term and long-term goals, a bit of context about professional history is required to explain what has led you to your career goals. Now, if you must mention some of your achievements, it should be done only to carry your career path forward.
You may build your essay from the immediate post-MBA goal already stated in the short answer question. Talk about your career goals over the next 3-5 years, sharing how you intend to progress from your short-term goals to the long-term dream job.
Also, make sure to keep the short- and long-term goals aligned. Notice the phrases in the essay question "dream job" and "in your imagination;" CBS is urging you to be creative, imaginative, and think big, and is interested to know your dream job- your long-term goals. You may not need to conform to prescribed norms; you could be the one who may pave the way for others.
You may tend to get a bit too carried away with "dream job." But you should resist the temptation and be as realistic and grounded as possible while detailing out your goals.
Try to highlight how things may change for the community or people around you when you succeed in getting your dream job. Your plans could be ambitious, but they should be viable and realistic. So, you should also stress your ability to fulfill your dream.
Although CBS does not ask how MBA from CBS will help you reach your goals, we believe that you can wrap up the essay with a comment on (only one sentence) how CBS will open the doors to your dream career path. You don't want to go into details since you will talk about CBS in detail in the second question.
Columbia MBA Essay 2
Essay #2: Why do you feel Columbia Business School is a good fit for you? (250 words)
Essay #2 picks up from where Essay #1 left off. After detailing out your career aspirations, you will now explain how CBS is aligned with your goals.
The best way to write an effective response is to do thorough research of  Columbia's intellectually driven alumni from varied backgrounds, curriculum, experienced faculty, clubs, extracurricular activities, strategic location, and recruiting strengths.
And then, discuss how you intend to use the resources and offerings of the CBS MBA program to reach your short-term and long-term goals already mentioned in the short answer question and essay #1.
It is a good idea to highlight strengths listed on the CBS website, "Only Columbia Business School gives you the opportunity to shape your career in the very center of business. There's something about being positioned in New York City, where access to leaders across the industry is truly advantageous. Here you will learn to take on challenges and respond dynamically. You'll gain skills to succeed in fast-moving, competitive environments anywhere. Hone your strengths. Find your best career path. Realize success."
CBS takes great pride in its strategic location, i.e., New York. So  you should put across your plan to make the best use of CBS being at "the very center of business." Having access to the leaders across the world is emphasized by CBS as it is one of the key benefits of the program.
You may indicate how you can make use of CBS's close ties to the business, non-profit, and government communities to succeed in the fast-moving competitive environment.
Make a list of the opportunities you hope to get at CBS and in New York City, and then link each of these to your goals. Reviewing CBS's website, conversing with the alumni, attending CBS events for prospective students, and visiting campus (if possible) could all work to your advantage by setting your case apart.
Writing an impactful essay, highlighting how the strategic location and resources at CBS can be an excellent choice for accomplishing your short-term and long-term goals in only 250 words is not an easy task.
To meet the stringent word limits, you need to be extremely precise in presenting your case and make every word count.
Columbia MBA Essay 3
Essay #3: Tell us about your favorite book, movie, or song and why it resonates with you. (250 words)
This question is brand new for 2020-21, replacing last year's question about a leader you admire. This essay prompt is an opportunity to offer the Ad Com a peek into your personal side- your values, beliefs, interests, and experiences.
The main focus of this 250 -words essay should not be on the book, movie, or song but on your reasons for loving that. It does not matter whether you choose a movie, a song, or book or which movie, song, or book you choose. The key here is why that piece resonates with you. Here, the "why" becomes more important than the "what."
You may begin by providing some background information about the theme of the book, movie, or song you have chosen (approximately 60-70 words) and then go on to explain why that piece is so meaningful to you that it became your favorite.
By describing why the piece resonates with you, you are sharing your emotions, feelings, values, fears, and dreams, which in turn reveal the personality traits that make you who you are. And please do not quote from other people's critiques or views. Be original and authentic. Do not write anything that you think the Ad Com will 'like' to hear; instead, be candid in sharing your thoughts and views.
Optional Essay
Is there any further information that you wish to provide the Admissions Committee? If so, use this space to provide an explanation of any areas of concern in your academic record or your personal history. This does not need to be a formal essay. You may submit bullet points. (Maximum 500 Words)
An optional essay is an opportunity for you to share relevant information with the Ad Com that you could not provide in other parts of your application, essays, and resume. The optional Essay is meant to address any weakness in your profile.
For example, if you have a lower than average GMAT score, any grades below a C on your transcript, academic probation, or a significant employment/education gap, you can explain that in this essay.
Also, if you cannot get your recommendation letter from your current supervisor, you should explain that in the optional essay. Your response should be positive, straightforward, and fact-focused and should not sound like you are making excuses for a weakness in your profile.
To provide a context for a weakness in your profile, make sure your reason is genuine to convince the Ad Com that your low grades or employment gap occurred due to unforeseen circumstances beyond your control. First, explain the facts, then show how you have addressed the issue, and finally, conclude by explaining why this will not impact your ability to handle the academic rigor of the program.
This question is entirely optional. If you don't have any area of concern, you may not write this essay.
Free Resources
Since 2011, MER (myEssayReview) has helped many applicants get accepted into the top 20 MBA programs, including CBS. (Poonam is one of the top 5 most reviewed consultants on the GMAT Club.)
Do you have questions about your application? E-mail Poonam at poonam@myessayreview.com or sign up here for a free consultation.
About the author
Poonam, one of the top 5 most reviewed consultants on the GMAT Club, is a master storyteller with more than three decades of experience in successfully helping students craft compelling stories for undergraduate and graduate school programs.
A Ph.D. in English, with three decades of teaching experience in India and the US, Poonam launched myEssayReview (MER) in 2011 to provide highly personalized and dedicated consulting services to Business School applicants. Since then, she has helped hundreds of students around the world get into top MBA, EMBA, part-time MBA, and specialized graduate programs. A full-time consultant, Poonam is passionate about her work and is highly committed to each of her students' success.
Aspire to get into the Columbia's MBA Program? A 740+ GMAT score can greaty improve yur chances of an admit as well as a scholarship. Kickstart your GMAT preparation by Signing up for our Free Trial! For any queries, write to us at acethegmat@e-gmat.com. We are the most reviewed GMAT prep company on gmatclub with more than 1900 reviews.