A
5
min read
An MBA is a significant investment in yourself and your future and MBA scholarships can significantly help in easing the financial burden of attending a top MBA program. In this article, we cover scholarships and other forms of financial aid that help Indian and other international students pursue their dream MBA programs at the top business schools around the world.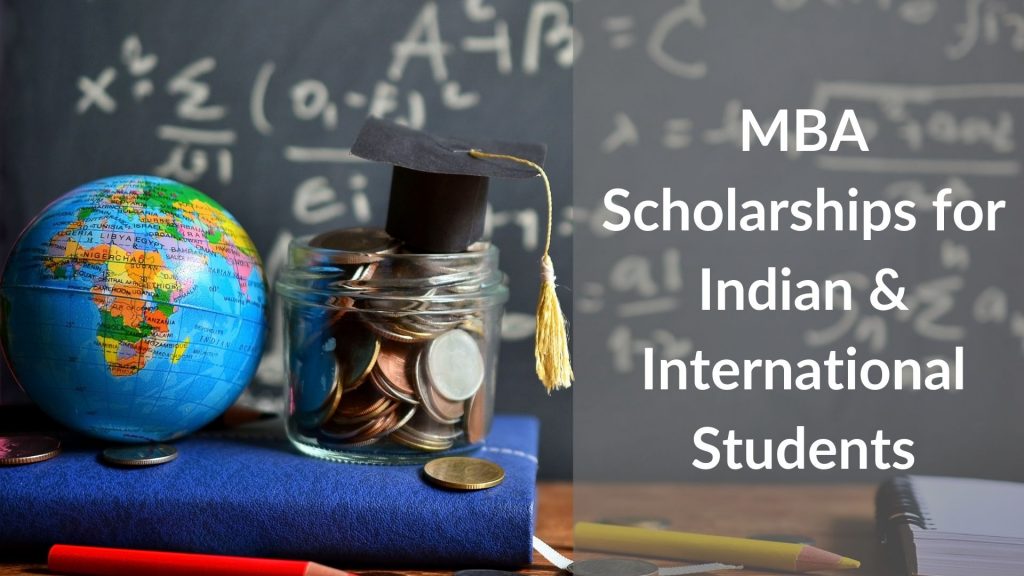 Here is a brief outline of this article:
Types of MBA Scholarships for Indian Students and International Students
Following are the different forms of MBA scholarships and other forms of financial aid offered to Indian, international and other students at business schools:
Merit-Based Scholarships
Need-Based Scholarships
Diversity and Gender-based Scholarships
External Scholarships
Merit-Based MBA Scholarships
Merit-based scholarships are generally offered to students with outstanding academic performance based on undergraduate GPA, standardized test scores or exceptional professional achievement. Merit-based MBA scholarships are also offered to students who show demonstrated commitment and service to the community.
A few merit-based scholarships offered by top business schools are:
Need-Based MBA Scholarships/Fellowships
A few top business schools such as Harvard and Stanford provide only need-based scholarships and fellowships to students who have received an admit. At Harvard Business School need is determined based on the candidate's income from the last 3 years, along with any other assets.
At Stanford Graduate School of Business need is defined as:

Stanford GSB offers the following full-tuition fellowships to students with specific backgrounds:
Diversity & Gender-based MBA Scholarships
Diversity and Gender-based MBA scholarships help promote diversity in the student body of MBA programs. These scholarships help increase representation and advance the interests of traditionally underrepresented communities in MBA programs.
Some examples of diversity-based MBA scholarships are:
External MBA Scholarships
Many organizations that traditionally employ MBA graduates also offer MBA scholarships to students. Apart from the financial awards such scholarships also provide access to resources such as special programming and access to networking and recruiting resources.
Some examples of External MBA scholarships are:
McKinsey Emerging Scholars Program
External MBA Scholarships are also offered by several non-profit and charitable organizations such as:
Other Forms of Financial Aid
Besides MBA scholarships, there are several other forms of financial aid available to both Indian and International students to help with financing their MBA program costs. Other popular forms of financial aid include:
Teaching Assistantships/Research Assistantships
Loans
Research and Teaching Assistantships
Assistantships are a way of financially assisting your educational expenses by working in part-time positions within the university. Depending on the type of assistantship you may either be offered a monthly stipend and sometimes a reduction in the tuition amount.
Teaching assistantships involve assisting a professor in administrative or teaching tasks such as grading assignments, conducting office hours, etc. Teaching assistants generally help professors with undergraduate or in some cases graduate-level courses.
Research assistantships involve assisting members of the faculty with a research project. The nature of work depends on the specific research project.
Financing Business School through Loans

There are many different types of loan options available to international students to finance their business school education. Apart from traditional loans which generally require a co-signer or collateral, organizations such as Prodigy Finance provide collateral-free loans without the need of a co-signer.
How to research MBA scholarships?
The best place to start your MBA scholarship research is generally the business schools program website. There is generally a dedicated section which deals with the various aspects of financing your MBA. At the end of the article, we have provided links to the MBA scholarship and financing options available at some of the top business schools.
How to apply for an MBA Scholarship?
Depending on the type, there may be several different ways to apply for MBA scholarships. Most merit-based and need-based MBA scholarships do not require an additional application and you are automatically considered for them once you submit your business school application.
However, certain fellowships such as the Stanford Reliance Dhirubhai Fellowship have their own competitive selection process and require an additional application. Regardless of the type of MBA scholarship or fellowship, the following tips will help you in securing MBA Scholarships:
Apply early to your target programs
Research about MBA Scholarship/Fellowship options available
Prepare and send additional application material if required
List of MBA Scholarships for Indian Students and International Students at Top Business Schools
Following is a list of MBA scholarships and fellowships available for Indian and international students at the top business schools:
A good GMAT score can significantly increase your chances of securing an MBA Scholarship/Fellowship at your target business schools. Prawee secured scholarships of $180,000 cumulatively with a 740 GMAT score. Kick-start your GMAT preparation by signing up for our Free Trial. We can also help you with a personalized study plan and give you access to quality online content to prepare. Write to us at acethegmat@e-gmat.com. We are the most reviewed GMAT prep company on GMATClub with more than 2490 reviews (as on Dec 23, 2022).