A
6
min read
As a part of Purdue University, Krannert School of Management is the place to study for students interested in learning business and management skills with a focus on big data, technology, and other STEM subjects.
Purdue University is ranked #12 among public universities by U.S.News and world report (2019). It's the number 1 destination for international students in several STEM disciplines. The Krannert School of Management gives entrepreneurs of tomorrow a unique opportunity to understand businesses from this unique perspective.
The Krannert School of Management's two-year MBA is ranked #9 in the world by the Wall Street Journal 2018, and in 2019 the financial times ranked the same program #16 for MBA among public universities.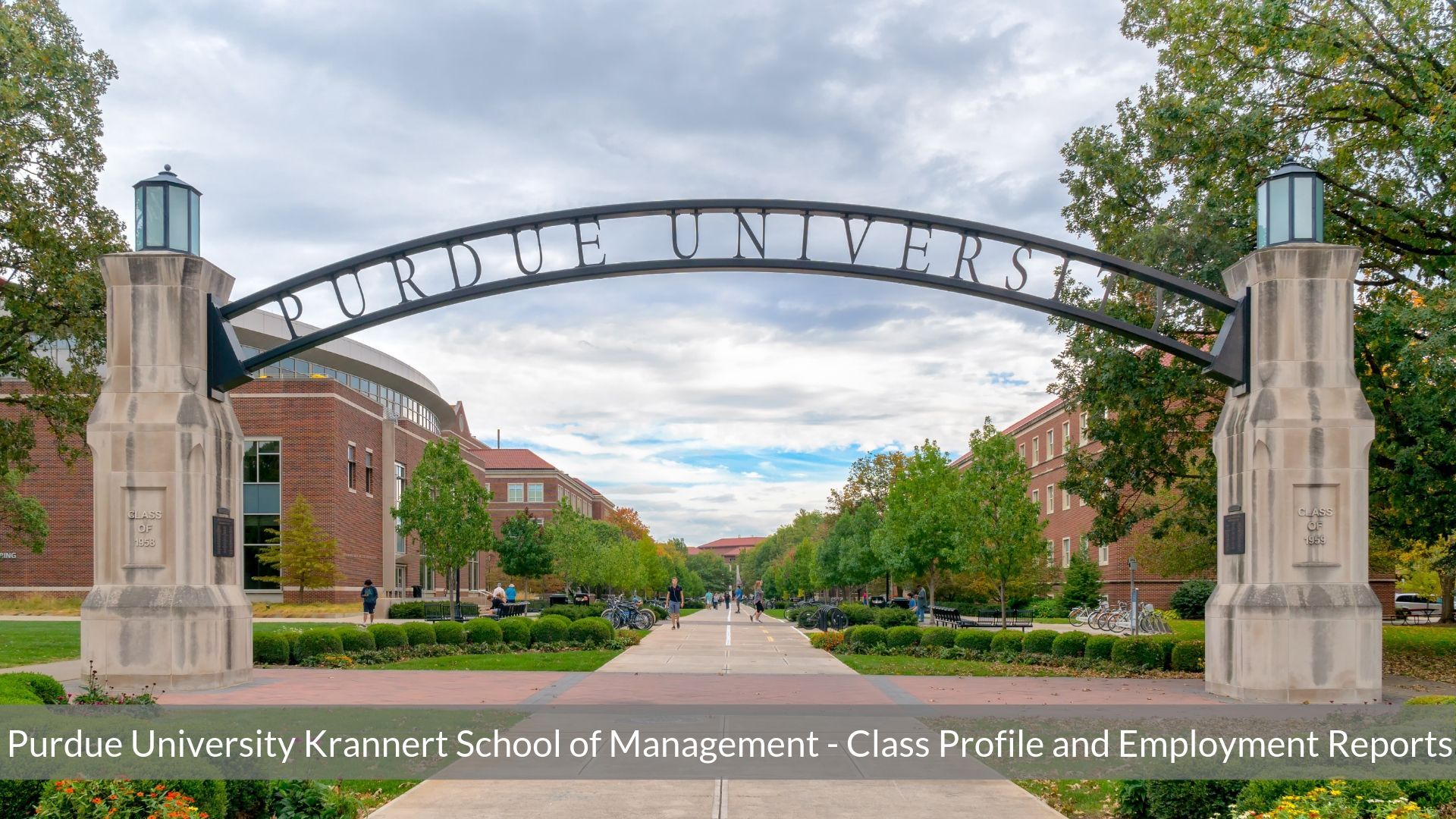 If Purdue University's Krannert School of Management is your target business school, this article will help you in researching the class profile, and career prospects its full-time MBA program can offer you.
Following is a brief outline of this article:
Krannert School of Management MBA – General Information
Location – Krannert Building
403 W. State Street
West Lafayette, IN 47907-2056
Dean: David Hummels 
Admissions Office –
Purdue MBA and MS Programs Office
Rawls Hall, Suite 2020
100 S. Grant Street
West Lafayette, IN 47907-2076
Email: krannertmasters@purdue.edu
Phone: (765) 494-0773
Social media – Facebook, Twitter, LinkedIn, Instagram, YouTube
Krannert School of Management MBA Program: Class Profile | Cost of Attendance | Median Salary
Below are the details of the Krannert School of Management's full-time MBA program's class profile, cost of attendance, median salary.
| | | |
| --- | --- | --- |
| S. No. | Krannert School of Management – Purdue University | Numbers |
| 1 | GMAT score | 634 |
| 2 | Mean GPA | 3.46 |
| 3 | Class Size (enrolled in the class of 2018) | 46 |
| 4 | Program Cost (per semester) | $11,209 (for residents of Indiana)$21,092 (for non-residents of Indiana) |
| 5 | Employment rate | 80% |
| 6 | Domestic employment rate | 94% |
| 7 | Median starting salary – graduating class of 2018 | $80,000 |
| 8 | Median signing bonus – graduating class of 2018 | $10,000 |
| 9 | Average base salary – graduating class of 2018 | $86,626 |
| 10 | Average signing bonus – graduating class of 2018 | $13,879 |
Here is the list of the total cost (tuition fee + living expenses) of top MBA programs across the world.
Krannert School of Management MBA – Class Profile 2019
Here is the Purdue MBA class profile 2019:
| | |
| --- | --- |
| Enrolled | 46 |
| GMAT  score | 634 |
| Undergraduate GPA (Mean) | 3.46 |
| Mean TOEFL | 104 |
| Average age | 27 |
| % of women in the class | 24% |
| Average months of work experience | 51 |
Did you know that your GMAT score holds 16% of weightage when it comes to MBA Application? Kick start your GMAT Preparation with our Free Trial and get access to quality online content and free GMAT resources.
Krannert School of Management: 2018-2019 MBA Application Deadlines
With so many programs it is important that students applying for Krannert School of Management pay close attention to the MBA admission guidelines.
The application must be filled using Purdue's Graduate School online application. Applicants need to submit the following:
A statement of purpose
1 required essay (1 optional essay)
2 recommendations which must be submitted online
Transcripts of academic work
1 video essay
GMAT or GRE test score (the GMAT test score is preferred)
And a non-refundable application fee ($60 for domestic applicants and $75 for international applicants).
Here are few articles that can help you with your MBA Application: How to make an impressive MBA Application Video Essay, MBA essay: 5 types of essays explained with examples, GMAT score required for MBA.
For international students, there are a few added admissions requirements for Purdue MBA:
They must give their English language proficiency test (TOEFL or IELTS) results and a certified official copy of diploma/degree certificate which is equivalent to a four year U.S. Bachelor's degree.
As always, the competition is tough, and it is very important that you have your application ready by Round 1 or Round 2.
Learn here why applying in Round 1 or Round 2 is important.
Purdue MBA 
Admissions deadlines
Round 1 (Early Round)
September 1 – November 15, 2018
Round 2 (Priority Round)
November 16, 2018 – January 15, 2019
Round 3 (Final International Round)
January 16 – March 1, 2019
Round 4 (Final Domestic Round)

 

 

March 2 – May 1, 2019
Krannert School of Management: Employment Report Class of 2019
Unlike other MBA programs, Purdue Krannert's graduates opted in large numbers for the Manufacturing industry (34%) and for the Consumer Products industry (22%). The usually favored industries like Consulting and Financial Services just took in 12% and 4% of the MBA graduates.
Here's a detailed look at the employment statistics by industry, job function, and location.
Purdue MBA Program: Employment by Industry
Manufacturing and Consumer Products industry recruited over half the full-time MBA class of 2019 at Krannert. In the third spot came Consulting with 12% of the accepted job offers.
Below is the detailed employment report of the outgoing class of 2018 of Krannert School of Management.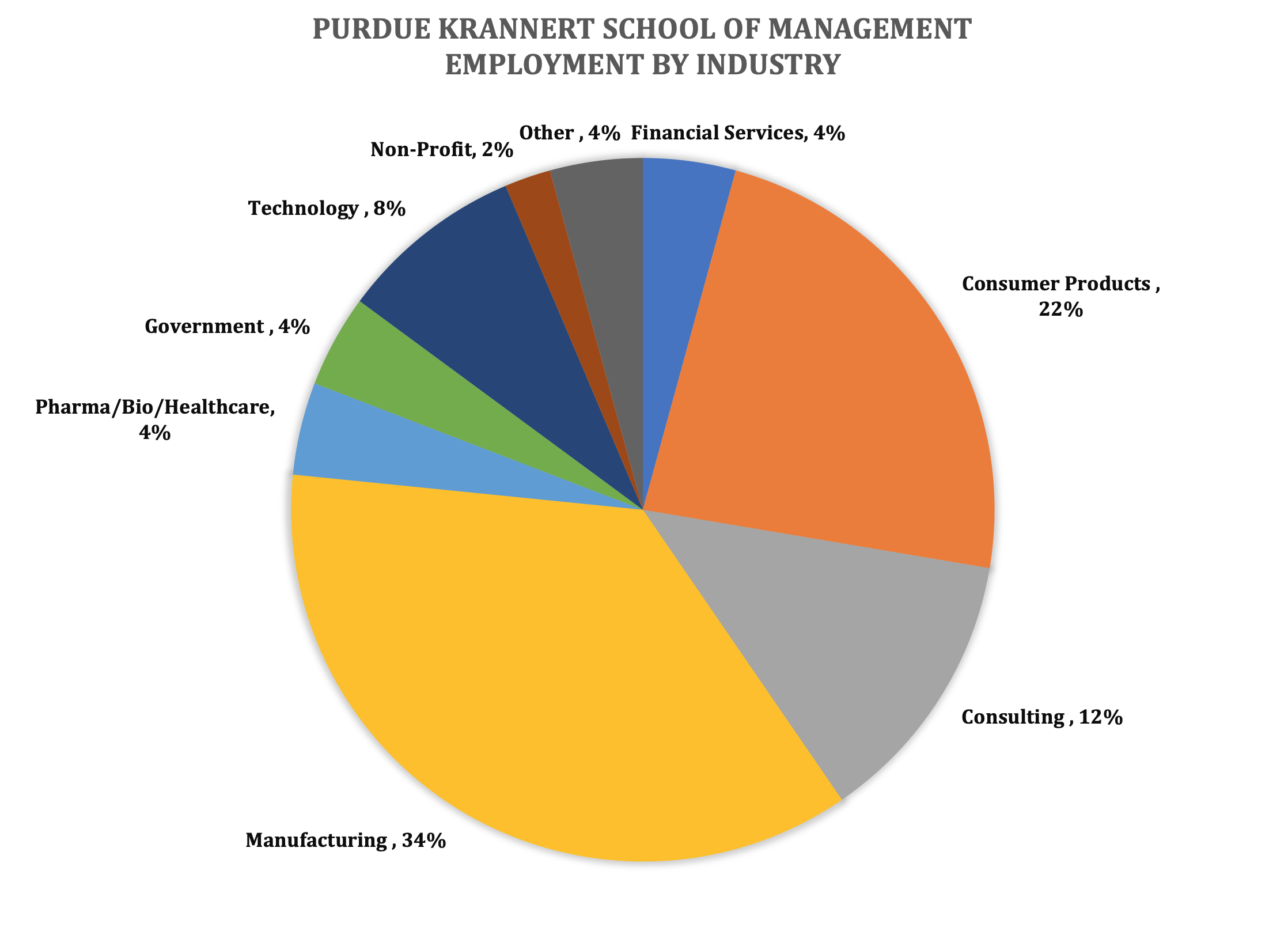 | | |
| --- | --- |
| Industry | Percentage of Class |
| Financial Services | 4% |
| Consumer Products | 22% |
| Consulting | 12% |
| Manufacturing | 34% |
| Pharma/BioTech/Healthcare | 4% |
| Government | 4% |
| Technology | 8% |
| Non-Profit | 2% |
| Other | 4% |
Purdue MBA Program: Employment by Function
Purdue Krannert's outgoing MBA class of 2019 were recruited heavily for roles in Operations and Supply Chain Management – 34% of the class took up these roles. The second most popular function turned out to be Marketing / Sales with 22% of the class entering these job functions. However, in keeping with industry standards Consulting – which only accounted for 10% of the class – paid the best salaries. The average salary for consultancy roles was $ 99,967.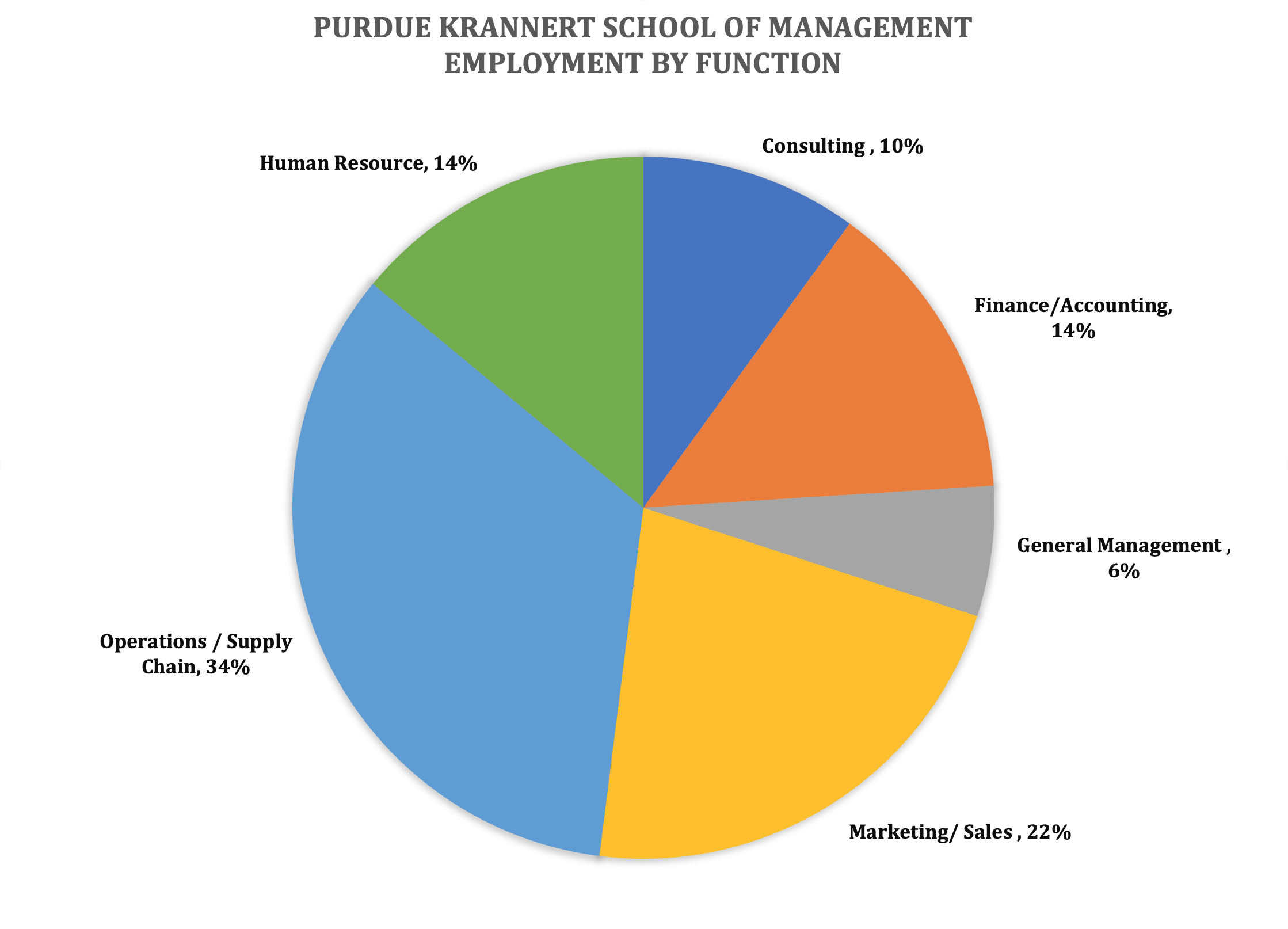 | | | |
| --- | --- | --- |
| Function Breakdown | Percentage | Average Salary |
| Consulting | 10% | $99,967 |
| Finance/Accounting | 14% | $86,233 |
| General Management | 6% | $91,000 |
| Marketing/ Sales | 22% | $80,500 |
| Operations / Supply Chain | 34% | $90,429 |
| Human Resource | 14% | $81,000 |
Krannert School of Management: Major Employers of the Class of 2018
Accenture
Amazon
T. Kearney
Bank of America
CGN Global Consulting
Dell
Deloitte Consulting
Eaton
Elanco
Electronic Arts
Emerson
Expedia
ExxonMobil
EY
Ford
General Electric
Hormel
Intel
MasterCard
Meritor
Nationwide
Northrop Grumman
Nucor
PepsiCo
PricewaterhouseCoopers
Proctor & Gamble
Roche Diagnostics
Rolls-Royce
Shell
Shire
Sprint
The Clorox Company
The Hershey Company
United Technologies Corp.
USAA
Vanguard Investments
Krannert School of Management: Notable Alumni

Following are some notable alumni of Purdue University Krannert School of Management:
Kendell Abrams, ServiceNow Business Analyst, Acorio
Spencer Abrams, Customer Success Manager, Aha!
Brandy Ake-Dora, Client Insights Consultant, IRI
Thomas E. Arenberg, Senior Executive (retired), Accenture
Jody Banks, Human Resources Director, UCB
Matt Bauke, Supply Chain Consultant, West Monroe Partners
Dianne Beever, Consultant, Independent Management
Whitney Brooks, Account Executive, Nutanix
Bob Burlas, Regional Vice President and General Manager, Pomeroy IT Solutions
Sungwoo (Benjamin) Cho, Executive Planning Director, Kwangwoon University
Steve Creel, Director of Finance, Eaton Corporation
Jeff Durr, Senior Client Partner, Korn Ferry
Jon Ferency, Finance Business Manager, Roche
Elizabeth Forman, Owner, Endwell Associates
Jeff Hazlett, Director of Portfolio Performance, GPB Capital
Marc Hochman, Partner, A.T. Kearney Inc., COO, A.T. Kearney Procurement & Analytic Solutions
Susan Jischke, Global Classification Lead, IBM
Rose Kelly-Falls, VP, Sourcing and Customer Engagement, Proxima
William Klenk, Executive Director (retired), Off Highway and Hybrid Electric Business, Allison Transmission
Lauren Libert, Program Manager, Humana Inc.
Don MacKay, Retired, Director of Business Integration, Sears Holdings Corporation
Caitlin McPherson, Associate Brand Manager, ConAgra Brands
Mary Pat Meade, Director, Alpha Performance Group
Priya Padmanabhan, Compensation Business Partner, Salesforce
Jeff Powers, Retired Executive, IBM
Scott Sandefur, GMNA Labor Relations – Vice President, General Motors
Mary Slater, Strategy and Business Consultant, Downstream Management Consultancy at Shell Oil Company
Matt West, Chief Financial Officer, Griffith Foods
David Woodruff, Business Unit Executive, IBM Corporation
Other MBA programs you should consider
Here are some other programs to consider if Purdue University's Krannert School of Management is your target business school. We have listed the programs by stretch, match, and safety. Note that these options are presented on the basis of the school's brand image and ranking status as a general yardstick.
Stretch Schools: Michigan State (Broad), Wisconsin School of Business, Arizona State University (W.P. Carey), Vanderbilt (Owen)
Match Schools: Maryland (Smith), Boston College (Carroll), Texas A&M (Mays)
Safety Schools:  Pittsburgh (Katz)
Begin your GMAT preparation with the only prep company that has delivered more 700+ scores than any other GMAT club partner. Achieve GMAT 740+ with our AI-driven tools that you personilzed feedback at every step of your GMAT journey. Take our free trial today!