A
4
min read
To score a 740 on the GMAT on the first attempt is commendable. Many test-takers believe that breaking the 700-barrier requires a brute force approach and exhaust themselves during the test. However, Arjun was able to score a 740 on the GMAT by focusing on building ability by mastering the concepts and learning the efficient application of those concepts.
Arjun was able to score a 740 in his first GMAT attempt within 3 months by:
Realizing that him having an English background does not guarantee a good score in GMAT verbal
Putting time in research to figure out the most effective material to prepare for the GMAT
Learning other's GMAT journeys and leveraging their experience to prepare better
Learning Concepts and its application
In this article, we take you through the GMAT Journey of Arjun and provide insights on how you can ace the GMAT in your first attempt. You can even watch the video debrief of his interview below:
00:00 – Introduction
00:50 – How Arjun began his research on GMAT Prep?
01:40 – Starting the preparation on the right note
02:08 – Low score in GMAT Sentence Correction
03:55 – How he approached his prep after scoring low in SC
07:10 – Leveraging GMAT Club to keep his practice going
09:30 – Improving ability in GMAT SC
10:45 – How he overcame his struggle with GMAT Critical Reasoning
15:05 – Data on how Arjun went about his GMAT preparation
21:00 – 770 on the first mock was a shock and felt false
Here is the outline of the article:
Starting the preparation on the right note and getting to 740 on the GMAT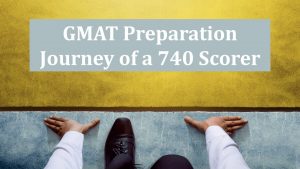 Arjun started his GMAT Preparation by researching the GMAT Exam's basic structure – its Syllabus and Exam Format.
Been the most reviewed GMAT Online Prep company on the GMAT Club, he came across the e-GMAT course while going through GMAT Club debriefs.
Arjun: Most of the debriefs I went through in GMATClub highlighted that they started their preparation with GMAT Official Guide or other test prep companies and then moved to e-GMAT's course. I thought of skipping the first step and directly opting for the e-GMAT to shorten my prep time, which was the right decision.
A low score in GMAT sentence correction on Scholaranium
Arjun: Once I was done with my GMAT Preparation resource research, I took the GMAT Sentence correction section on Scholaranium and got a low score. This made me realize that having an English background will not guarantee a good score in GMAT Verbal. I needed a structured plan, which e-GMAT offered. Create your personalized study plan for GMAT in 5 minutes.

740 on the GMAT – Preparation Strategies
Learning the concepts
Arjun: I first started with the sentence correction module after opting for e-GMAT's course. The Sentence correction module teaches you how to comprehend sentences based on a meaning-based approach. The most fundamental aspect of SC is to identify the intended meaning of the sentence. Once I knew that I was able to solve difficult level questions by applying a meaning-based approach.
After SC, I moved to the critical reasoning module that helped me build critical inference and assumptions through the pre-thinking approach. I used to struggle with critical reasoning. Before, e-GMAT course, I did not know why I got a question correct or incorrect. I lacked a basic understanding of assumptions. I focused on the assumption module that e-GMAT's verbal course has, which gave me a foundation. Once I was done with the CR module, pre-thinking came instinctively to me.
Finally, I took the reading comprehension module, a mash-up of sentence correction and critical reasoning learnings.
Cementing learnings
Arjun: After learning the concepts, I:
Took custom quizzes through the e-GMAT Platform where I could filter and solve high difficulty level questions. E-GMAT has interesting application quizzes with problems that are different from what is available with other prep companies
Solved difficult questions from the Official Guide and GMAT Club
Looked at the reasoning behind a wrong answer choice
Check out the GMAT Official Guide 2021 review.
Scholaranium quiz
Arjun: Once I felt confident about my GMAT verbal preparation, after cementing my learning, I took the Scholaranium quiz to know where I stand.
Here is the data on Arjun's performance on e-GMAT's Platform:
| | | |
| --- | --- | --- |
| GMAT Verbal Course | Concept Quizzes | Practice Quizzes |
| Critical Reasoning | 95% | 84% |
| Sentence Correction | 86% | 84% |
GMAT quant preparation
Arjun: I started my preparation through e-GMAT's concept modules and then took quizzes. I followed a similar process when I prepared for GMAT Verbal.
Learn the concepts and then practice it through e-GMAT's custom quizzes, taking Official Guide questions, and solving the GMAT Club questions.
Advice on taking the mock test before the exam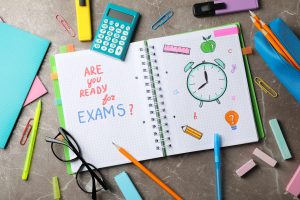 Arjun: I only took the GMAT Official Mock test before the exam. I scored GMAT 770 (Q49, V47) for the first mock, which was a bit misleading. I would advise people not to take the first two official mock of GMAT seriously. If you are practicing through the GMAT club, you are bound to get a higher score in the official mock test.
Once I took a couple of mock tests, I realized that I had not mastered all the concepts, and the GMAT score of 770 was because I had practiced questions from GMATClub.
Here are the GMAT Official Mock test scores for Arjun:
| | |
| --- | --- |
| GMAT Official Mock Test | Scores |
| First Mock Test | 770 |
| Second Mock Test | 740 – 750 |
| Third – Fourth | Maintaining 750 |
Looking for a Mock test that can accurately analyze your performance? E-GMAT's Sigma Mock test provides in-depth insights about subsection performance and helps set a target for each subsection to prepare accordingly. Try it out for FREE by signing up for our FREE Trial!