A
6
min read
Full-time working professional Aryan scored 740 on his 3rd attempt. He took the self-prep route for his first two attempts and used various resources such as the Official Guide, Official Mocks, and learning content on YouTube to prepare for the GMAT exam.
After getting disappointed twice, he was clueless about how he got a low score on the GMAT despite scoring well in the Official mocks, and all other mocks he took on the internet. He then realized that he needed more tools to go beyond the 90th percentile.
He realized he needed a structured course and strategic guidance to reach his target.
Aryan chose the e-GMAT course after reading positive reviews on GMAT Club and decided to take the free trial. That's when he felt that the course could finally help him get to his maximum potential. He trusted the course and followed his mentor's advice diligently., This ultimately helped him reach the 97th percentile on the GMAT. 
If you are planning to take the GMAT, we can help you with a personalized study plan and give you access to quality online content to prepare. We are the most reviewed GMAT prep company on gmatclub with more than 2465 reviews and are the only prep company that has delivered more than 700+ scores than any other GMAT club partner. Why don't you take a free trial and judge for yourself?
Watch the video to learn about Aryan's learnings during his GMAT journey and how he went from V32 to V40.
Many students who choose to self-study and trust the free GMAT prep material available online often end up wasting time and getting unsatisfactory results. Amongst the many much-needed learning methods the free course materials lack is the fact that these materials almost always focus solely on content and syllabus rather than on the process skills one requires to solve the hard level question on the GMAT.
Aryan: "If I had taken e-GMAT earlier, I'd not have had to take the two additional attempts at all."
With consistent Q50 in both prior attempts, he was confident of his quant abilities and focused entirely on the GMAT verbal section for his preparation. He believed his self-prep approach to be effective as in all the mocks he took. whether it was the Official Mocks or other GMAT prep mocks available online, he'd score as high as 740.
Aryan: However, on the actual GMAT test, it seemed they (GMAT) were asking something entirely different from what I was doing in my mocks. In both attempts, the verbal section was shocking to me.
He managed to score 710 on his second attempt. However, he was convinced of his potential to score much higher. He gathered that there was more to the test than what official guides and mocks had to offer.
After reading multiple positive reviews on the GMAT club, he decided to put his trust in e-GMAT, which he also credits for his success.
Aryan: I first attended the free session of e-GMAT. I enrolled with e-GMAT to help me jump from 710 to 740+. As I watched a few videos of SC, CR, and RC methods, I realized that if I followed the course correctly, it could help me get to the correct answer through a very step-by-step process.
Improve your chances of success by 4X to score a GMAT 740+. Register to begin with the most comprehensive Free trial with.
10+ hours of Video Lessons
400+ Practice Questions
7 Live Sessions
Free SIGma-X Mock
GMAT preparation before and after
Aryan only had 30 days to prepare for his final GMAT test. He decided to go all in for this last attempt. As a full-time working professional, he'd spend 1-2 hours on weekdays and 3-4 hours on weekends.
While navigating the course, he learned to implement various key strategies to tackle hard-level questions efficiently. He would constantly take his mentor's advice and follow the given plans that helped him improve his accuracy and timing. He also made minor tweaks in his approach to further personalize his preparation to his learning style.
I completely trusted the course and my mentor for that. Because I knew they had been in this field for a long to know the best. With the help of e-GMAT, I could identify the areas I was lagging; it helped me target my learning gaps and improve.
How does the process help in saving time?
Aryan: I used to believe that rules and processes were limited to only Sentence Correction., Critical Reasoning, and Reading Comprehension questions depend on how well you understand the passage. But after learning e-GMAT's methods, such as the meaning-based approach and pre-thinking, I discovered the science and rationale behind them.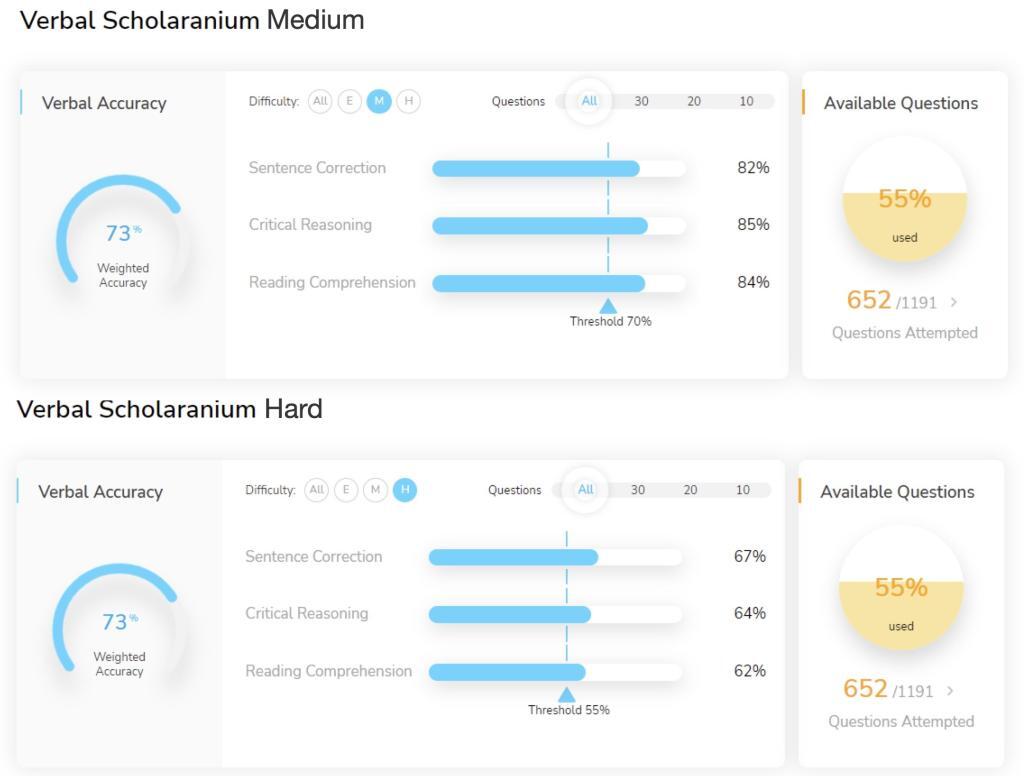 I also used to believe that following any process or method takes longer to reach the answer. It was true initially, but even then, methods could guarantee the correct answer.
It is essential to apply the process well in the first go. If you skip a step in the process to save time, you would be required to go back and forth to solve the problem, resulting in more time getting wasted.
For example, in CR, if you follow the process correctly, you will take about 55 seconds to read the argument, 15 seconds to pre-think the assumption, and another 35 seconds to select the correct answer, thereby taking 1 minute and 45 seconds to solve the question. Now, if you try to rush in the first step, you'd falter in the second step and would not be able to pre-think the assumption and have to go back to reread the argument.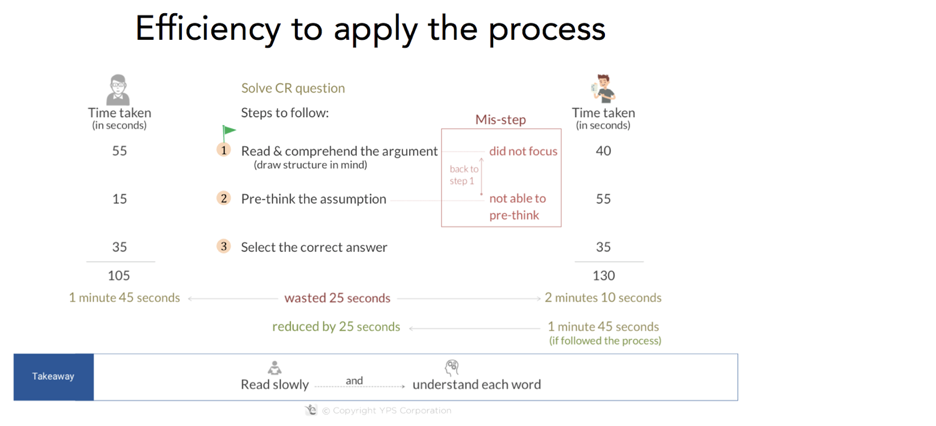 While practicing with Scholaranium, SIGma-X mocks, or even during the actual GMAT exam, I could reach the correct answer in time following the step-by-step process. I did not have to go by the "feeling" or the "sound" of any answer choice anymore.
Cementing, practicing, and mocks
Aryan: "I made the mistake of solving too many mocks but did push enough on building the concepts. Only solving problems doesn't help."
Aryan believed that practicing with as many questions as possible would help build GMAT-level abilities. His mentor Abha instructed him not to attempt too many mocks relentlessly. What's been seen to be most effective is when students review and analyze each question and make necessary corrections in the concepts or processes.
Aryan: More than mocks, I found Scholaranium's cementing and practice quizzes helpful. I used the course only for verbal, but if you've made the verbal course so well, I am sure the quant would be equally good too.
As he finished going through the 3-stages of learning, Aryan had a systematic approach, targeting different questions. The knowledge built over his preparation for the two previous attempts and the newly learned methods finally helped him bridge various knowledge gaps.
e-GMAT support and data analysis
As a part of e-GMAT support, the strategy expert Abha would regularly help Aryan with a plan targeting his weaker areas. Practicing with prescribed shorter quizzes and doing strategic reviews helped him improve significantly.
Aryan: Scholaranium gives detailed skills data specific to each question's topics, difficulty level, and the errors I made for each question. It helped me identify the areas I was faltering to target and come back stronger. Earlier, while solving official mocks, I'd not get any breakdown or analysis of my performance.
Scholaranium and SIGma-X mock results gave him a fair understanding of his ability and set an accurate expectation for the actual GMAT exam.
Aryan: I do not know how earlier, but with official mocks, I could score up to 740. The official attempt would show a very different result. But with e-GMAT preparation, I faced the same type and difficulty level in the actual GMAT as I'd studied in the course.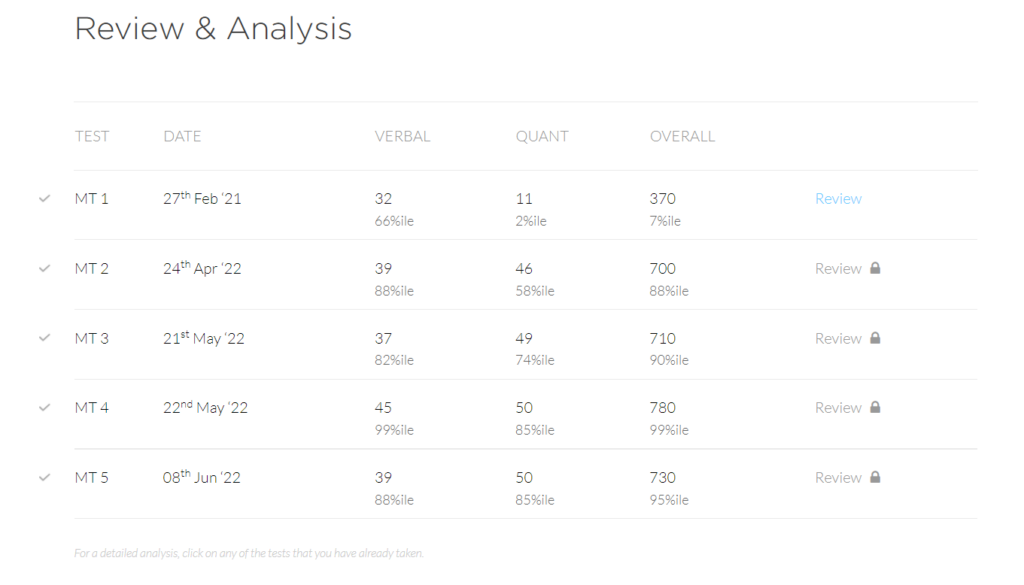 Aryan's tip for GMAT aspirants
Aryan: Even if you think self-perp will be enough and you have the ability to crack the GMAT yourself. I suggest taking external help such as coaching or a course like e-GMAT because wasting time in 2-3 attempts may not be the best idea.
Aryan's GMAT journey ended with a satisfying 740 score, with which he could finally take the next step for his MBA admissions.