A
6
min read
MiM programs have gained a massive amount of popularity over the past few years among candidates who do not want to wait to get into the top MBA programs. Such is the popularity of the MiM program that several top business schools in the US have started offering their own including Duke Fuqua, Northwestern's Kellogg School of Management and Michigan Ross.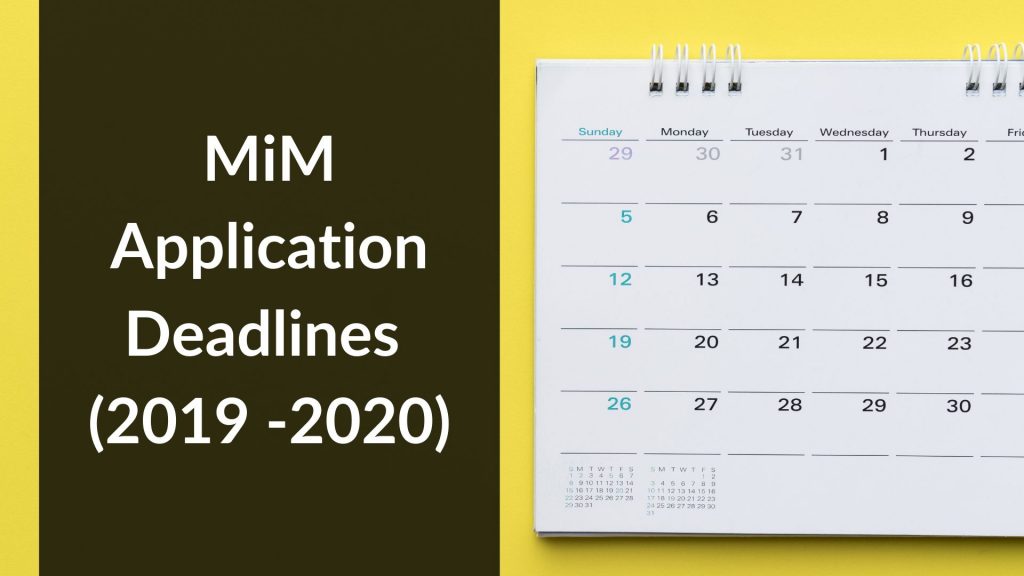 In this article, we have collated the application deadlines to the top MiM programs in Europe and the U.S.
Here is a brief outline of this article:
Increasing Popularity of MiM Programs
According to the 2018 GMAC application trends report, applications to MiM programs have increased by 2.61%. In fact, 52% of the MiM programs surveyed reported an increase in application volumes in 2018. This is in stark contrast to the decline in application volume to traditional full-time 2-year MBA programs of which 70% reported a decrease in 2018.
There are several factors that make MiM programs attractive to candidates who want to pursue a graduate management education. Some of the advantages are discussed in the next section.
Advantages of MiM programs
MiM programs require very little or no prior work experience, hence candidates can enjoy some the same benefits of a top MBA program without taking a career break.
The tuition cost of MiM programs is comparatively lower. Hence, pursuing an MiM program is a cost-effective option.
An MiM program provides the opportunity to study and work in the country of your choice.
Many MiM programs require the mandatory completion of an internship which provides valuable international exposure and work experience.
Read this article to learn more about the differences between MiM and MBA programs
Career opportunities for MiM Graduates
An MiM degree from a top business schools offers graduates a plethora of career opportunities in industries such as finance, consulting, marketing and technology. Employers of MiM graduates from the top programs include finance industry heavyweights such as Goldman Sachs, J.P Morgan, and Barclays.
McKinsey & Company, Boston Consulting Group, Bain and Company & A.T Kearney are some of the top consulting employers that hire MiM graduates. Other notable employers include Google, L'Oréal, Unilever and Procter & Gamble.
Many of the top MiM programs boast of an employment rate of 90% or over 3 months from graduation. Average salaries offered to MiM graduates from the top business schools range from US$ 65,000 – US $ 110,000.
Teseo, with a GMAT score of 750, received an admit to HEC Paris MiM program. Learn more about his GMAT Preparation journey in this article. A good GMAT score is the first step towards realizing your dream of pursuing a top MiM program. Sign up for our free trial and we can help you with quality content to prepare and personalized study plan. We are the most reviewed GMAT Prep company on GMAT Club with more than 1850+ reviews (as of August 26th).
Next, let us take a look at the application deadlines to MiM Programs.
2019-2020 MiM Program application deadlines
MiM Program Round 1 Application Deadlines
Round 1 Application Deadlines
Sr. No
Business School
Program Name
Location
Round 1 Application Deadlines
Interview Decision
Admission Results
1
University of St Gallen
CEMS Masters in International Management
Switzerland
24th October 2019
2
HEC Paris
Masters in Management
Jouy en Josas, France
22nd October 2019
14th November 2019
29th November 2019
3
London Business School
Masters in Management
London, United Kingdom
2nd October 2019
23rd October 2019
28th November 2019
4
ESSEC Business School
Masters in Management
Cergy-Pointoise, France
22nd October 2019
To be announced
29th November 2019
5
Rotterdam School of Management
Masters in Management
Rotterdam, The Netherlands
1st October 2019
15th May 2020 or earlier depending on availability
6
IE Business School
Masters in Management
Madrid, Spain
31st August 2019
Rolling Admission
Rolling Admission
7
ESADE Business School
MSc in International Management
Barcelona & Madrid, Spain
1st October 2019
Rolling Admission
19th November 2019
8
Stockholm School of Economics
Masters in International Business
Stockholm, Sweden
1st October 2019
Rolling Admission
15th November 2019 (Early Application Deadline
15th January 2020
9
Vienna University of Economics and Business
Masters in International Management
Vienna, Austria
8th September 2019
Rolling Admission
Mid-December 2019
10
University of Mannheim
Master in Management (MMM)
Mannheim, Germany
31st May 2019
Rolling Admission
Rolling Admission
11
Imperial College Business School
MSc in International Management
London, United Kingdom
4th January 2019
Rolling Admission
12th February 2019
12
WHU – Otto Beisheim School of Management
Master in Management
Berlin, Germany
15th May 2019
Rolling Admission
Rolling Admission
13
EDHEC Business School
Multiple MiM Programmes
France
30th June 2020
Rolling Admission
Rolling Admission
14
Duke Fuqua School of Business
Master of Management Studies (MMS)
Durham, North Carolina (U.S)
28th October 2019
18th November 2019
11th December 2019
15
Michigan Ross School fo Business
Master of Management (MM)
Ann Arbor, Michigan (U.S)
1st November 2019
Rolling
Rolling
16
INSEAD
Master in Management (MiM)
France and Singapore
9th October 2019
Rolling
13th November 2019
MiM Program Round 2 Application Deadlines
Round 2 Application Deadlines
Sr. No
Business School
Program Name
Location
Round 2 Application Deadlines
Admissibility Results
Admission Results
1
HEC Paris
Master in Management (MiM)
Jouy en Josas, France
7th January 2020
30th January 2020
26th February 2020
2
London Business School
Masters in Management
London, United Kingdom
8th January 2020
29th January 2020
28th February 2020
3
ESADE Business School
MSc in International Management
Barcelona & Madrid, Spain
26th November 2019
Rolling
21st January 2020
4
Vienna University of Economics and Business
Masters in International Management
Vienna, Austria
8th January 2020
Rolling
End of March 2020
5
Imperial College Business School
MSc in International Management
London, United Kingdom
18th February 2019
Rolling
26th March 2019
7
Duke Fuqua School of Business
Master of Management Studies (MMS)
Durham, North Carolina (U.S)
22nd January 2020
12th February 2020
13th March 2020
8
Michigan Ross School of Business
Master of Management (MM)
Ann Arbor, Michigan (U.S)
1st February 2020 (International applicant final deadline)
Rolling
Rolling
9
INSEAD
Master in Management (MiM)
France and Singapore
11th December 2019
Rolling
22nd January 2020
MiM Program Round 3 Application Deadlines
Round 3 Application Deadlines
Sr. No
Business School
Program Name
Location
Round 3 Application Deadlines
Admissibility Results
Admission Results
1
HEC Paris
Master in Management (MiM)
Jouy en Josas, France
3rd March, 2020
26th March, 2020
22nd April, 2020
2
London Business School
Masters in Management
London, United Kingdom
4th March, 2020
1st April, 2020
7th May, 2020
3
ESADE Business School
MSc in International Management
Barcelona & Madrid, Spain
14th January, 2020
Rolling
25th February, 2020
5
Imperial College Business School
MSc in International Management
London, United Kingdom
4th April, 2019
Rolling
13th May, 2019
6
Duke Fuqua School of Business
Master of Management Studies (MMS)
Durham, North Carolina (U.S)
5th March, 2020
31st March, 2020
22nd April, 2020
7
Michigan Ross School fo Business
Master of Management (MM)
Ann Arbor, Michigan (U.S)
1st March, 2020 (Domestic Applicants Final Deadline)
Rolling
Rolling
8
INSEAD
Master in Management (MiM)
France and Singapore
12th February, 2020
Rolling
18th March, 2020
MiM Program Round 4 Application Deadlines
Round 4 Application Deadlines
Sr. No
Business School
Program Name
Location
Round 4 Application Deadlines
Admissibility Results
Admission Results
1
HEC Paris
Master in Management (MiM)
Jouy en Josas, France
28th April 2020
20th May 2020
10th June 2020
2
London Business School
Masters in Management
London, United Kingdom
22nd April 2020
13th May 2020
11th June 2020
3
ESADE Business School
MSc in International Management
Barcelona & Madrid, Spain
11th February
Rolling
24th March 2020
4
Imperial College Business School
MSc in International Management
London, United Kingdom
24th May 2019
Rolling
28th June 2019
5
Duke Fuqua School of Business
Master of Management Studies (MMS)
Durham, North Carolina (U.S)
13th April 2020
28th April 2020
20th May 2020
6
INSEAD
Master in Management (MiM)
France and Singapore
15th April 2020
Rolling
20th May 2020
In case of questions please write to us at acethegmat@e-gmat.com