A
5
min read
It must be relieving for GMAT test-takers that GMAC (the company that owns the GMAT test) offers GMAT fee waiver to financially underprivileged students.
Let's face it. The cost of attending a business school is not affordable for everyone. Students have to shell out money even before getting selected for any MBA program. Because the cost of taking a GMAT test is $275, and the applicants have to pay this sum every time they take the test.
But the students who come from financially underprivileged backgrounds can avail the option of GMAT fee waiver to lessen their burden.
In this article, we are going to present facts related to the GMAT fee waiver, who can avail the waiver, and how can one avail it.
Here is an outline of this article:

If you are planning to take the GMAT, we can help you with a personalized study plan and give you access to quality online content to prepare. Write to us at acethegmat@e-gmat.com. We are the most reviewed GMAT prep company on GMAT club with more than 2400 reviews and are the only prep company that has delivered more than 700+ scores than any other GMAT club partner. Why don't you take a free trial and judge for yourself?
What do we mean by GMAT fee waiver?
The cost of registering for the GMAT is $275, and you will be required to pay this fee every time you decide to take the test.
But not everyone who takes the GMAT is a working professional (or has worked in the past), and the GMAT fee of $275 can be a huge burden for them.
Since this cost comes into the picture before you are sure about getting selected to your desired MBA program, you may want to look for options to lessen the burden.
The GMAC can help you overcome this challenge by offering to reduce or waive off your GMAT registration fee.
Who can apply for a GMAT fee waiver?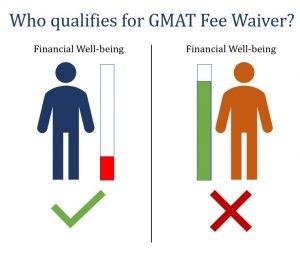 Everyone can apply for a GMAT fee waiver.
However, the applicants cannot directly apply for this waiver. Instead, GMAC leaves it up to the schools (undergrad schools/business schools) to request for test fee waiver for their students.
GMAC allows the schools to choose which applicant is eligible for fee waiver or reduction. The schools are allowed to apply for 10 fee waivers in a period of 12 months.
GMAC encourages the schools to select those students for a test fee waiver who can overcome financial difficulty through it.
Also, GMAC allows the schools to decide their own criteria to define the financial need of its students. This means, if you wish to avail a fee waiver, you will have to prove your financial shortcoming to your school.
You may also want to check out our article on how much does an MBA cost and how to make it pocket-friendly
Where can you apply for the GMAT fee waiver?
There are two ways you can apply for the waiver:
Through your undergraduate school
Through the MBA program, you have applied for (business school)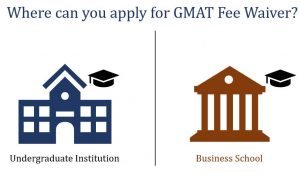 But, before you apply for a fee waiver through any of these sources, you need to confirm with your school's financial aid department if they offer a GMAT fee waiver.
Our advice: If you are still in the final years of your under-graduation or are a recent alum (graduated within the last two years), you must first seek help from your undergrad institution.
If your undergrad institution doesn't have a policy for the test fee waiver, you need to check with the MBA programs to which you are going to apply.
Here is how you can get a scholarship to study at your target business school.

Learn from Prawee how she managed to get scholraships worth $180,000 from 4 top US business schools.
How can you know if your school has a policy for GMAT fee waiver?
Unfortunately, there isn't any list for the colleges that offer a fee waiver. You can visit your school's financial aid website or office to make a statement regarding the fee waive-off personally. This way, you can personally justify your need for the fee waiver to your financial aid counselor.
Our advice: Since GMAC allows only 10 GMAT fee waivers to one school in a period of 12 months, you need to reach out to your financial aid counselor as early as possible.
Do you know even business schools give you application fee waivers? Here are the 8 ways in which you can apply to business schools for free
How much fee waiver can you avail?
Your school is not only going to decide if you are eligible for the test fee waiver; they are also going to determine what amount of fee waiver or reduction you qualify for.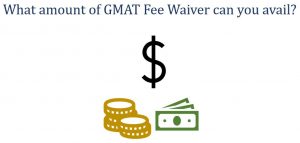 Therefore, you will have to provide your school with your financial need statement, justifying your economic condition, why you cannot afford the GMAT test fee, and your need for the fee waiver.
Can a student, retaking the GMAT, avail a fee waiver?
According to GMAC, the school can decide to give a test fee waiver to the students retaking the GMAT, if they believe him/her to be economically disadvantaged.
Instructions for schools requesting for GMAT fee waiver
One school can apply for a maximum 10 fee waivers for its students in 12 months.
The school needs to fill-up a form with information related to the number of fee waivers requested, and their definition of the process used to determine the student's eligibility for fee waivers.
The test fee waivers can be requested only by authorities in the Directors or similar position.
The school is going to receive the fee waiver codes through the mail. It is their responsibility to provide the concerned students with the codes.
The students can use the fee waiver codes at the time of registering for their GMAT test appointment through mba.com.
Note: The fee waiver codes provided by GMAC have expiration dates. They are intended to be used before they expire.
We can help you prepare for the GMAT through our high-quality online content. We are the most reviewed GMAT prep company on gmatclub with more than 1958 reviews. Take a free trial and judge for yourself.