A
5
min read
Picture yourself at school- a little kid who has just learned how to string letters together into small 3-letter words such as CAT and DOG. You've perfectly understood the process because your teacher explained how spellings were written, using the sounds of letters, with 10 examples. After this, your class moved to learning numbers from 1 through 20.
Now, cut to test day a few weeks later, where you were tested on spelling 3-letter words and numbers. Your spelling score came, and you got just 2 out of 10. Why do you think that happened to you? You were great in class, after all!
Let me tell you. This happened because right after you were taught spellings, you were not put to practice on the same. You just moved to the next thing. And now, the problem is that you'll have to go back all those weeks to fix your issues with spellings.
This is how a typical GMAT student prepares on their own or with traditional test prep companies. Our tireless research using the data of thousands of our students told us that this was what caused so many students to never be sure of their prep. Their prep included multiple rounds back and forth between mocks and trouble topics.
We fixed that once and for all by giving students cementing quizzes– mini topic-wise mocks that let them fix their issues then and there! Now that is a product that greatly contributed to the astronomical student success that e-GMAT powers today. We had 6 cementing quizzes (3 Medium and 3 Hard) for each of the topics in Quant – Number Properties, Algebra, Word Problems, Geometry, and Advanced Topics.
Now because we believe in continually improving ourselves, creating a product and validating its success is not where we stop. We keep looking for scope of improvement and of making our product better than itself each time. This digging in led us to a possible problem- this number of cementing quizzes, though decent, could still not be enough for some students. Imagine students who are weak with a certain topic and need more attempts to gain complete control over that topic. In such a scenario, 3 quizzes might not be enough to give them that sense of confidence. And that marked the beginning of another project- Mission 6 CQs. With this project, we have increased the number of quizzes at each difficulty level from 3 to 6- DOUBLE the number!
Watch what this project is all about and its impact on your MBA journey in this video.
FAQs regarding Cementing Quizzes – GMAT Quant Prep
What is project Mission 6CQs?
This goal of the project was to take the course-level number of cementing quizzes in each of the five Quant courses to 6. This means that you now have 6 Medium and 6 Hard cementing quizzes in each course.
On a zoomed-out note, this has increased the total number of Cementing quizzes in Quant to 2x its size- from 30 to 60! This will ensure that you really achieve your target ability on one course before moving on to the next.

Where do I find the cementing quizzes on e-GMAT's Platform?
Step 1 – Go to Quant Scholaranium.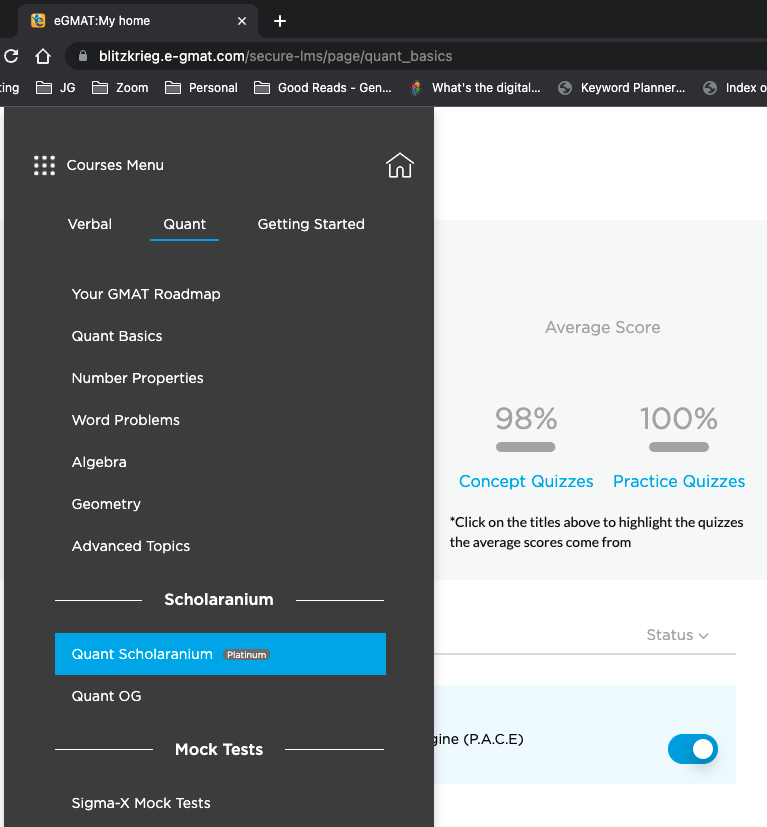 Step 2 – Step 1 takes you to the Quant dashboard. Now, from the first icon at the bottom of this page, you can create a cementing quiz in any topic and at any difficulty level.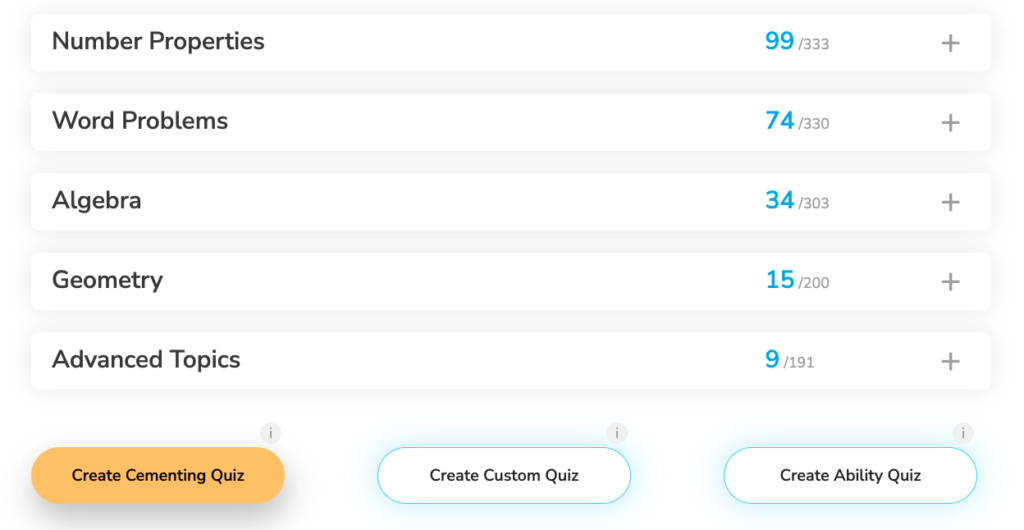 Why don't I see 6 cementing quizzes on my dashboard?
Cementing quizzes are created from a large pool of questions on Scholaranium. If you already have used up questions in custom quizzes, then the pool is smaller for you. This means that the system does not have enough unanswered questions to create 6 cementing quizzes for you.
If this is not the case with you and you still don't see 6 cementing quizzes in any topic and difficulty level, say, you don't see 6 medium cementing quizzes in Number Properties, then take one new medium NP cementing quiz. This will refresh the number of cementing quizzes you see to the updated number.
If you still need help, please write to us at support@e-gmat.com and we'll make sure to fix this for you.

What does success on cementing quizzes indicate?
90% of the students who have been successful on Cementing Quizzes, both Medium and Hard, have a very high likelihood of also being successful on the actual GMAT. Our thresholds for success are 70% on the Medium and 55% on the Hard cementing quizzes. This will ensure that you are closer to that 85th-90th percentile ability on that particular course. In other words, it indicates that you are ready to take the test with regards to that course.

Can you show me one account where someone has done well on cementing quizzes and has succeeded on the GMAT?
Absolutely! Out of so many such success stories, we'd love to show you two recent examples. Watch this video where we give you a tour of each of these two student accounts.

What thresholds should I aim to cross in Medium and Hard cementing quizzes?
Success on Medium Cementing quizzes means a score of 70% or above, and that on Hard Cementing Quizzes means a score of 55% or above. Success in the cementing stage will ensure that you are closer to that 85th-90th percentile ability on that particular course. In other words, it indicates that you are ready to take the test with regards to that course!

I was unable to achieve the indicated thresholds. What should my corrective action be?
If you were unable to achieve these thresholds, then first make sure that you've done the course properly. You should have done all the files that PACE recommended you to do based on your GMAT Skill and Concept diagnostic quizzes. This is Stage 1 of Learning and it needs to be done well before you get to Cementing, that is Stage 2.
Look at your Process Skill and GMAT Skill practice file scores. (If you haven't done them at all, then that is your first step.)
-If your scores are below 80%, then you need to revise these files again. If your concepts are also weak in that module, then first revisit the relevant concept files and then move on.
-If you are unable to pass thresholds in cementing despite good scores on these practice quizzes, then you need to strategically review each question in them. This revision is also needed in case you had done the course and while back and are now starting Cementing after a gap.
In the unlikely scenario that you cannot improve despite all of this, you can write to us at support@e-gmat.com and we'll help you get to your target score.