A
5
min read
Academically strong engineering graduate Karthik scored a GMAT 750 in his first attempt. With his staggering 98th percentile GMAT score, he is already on his way to admission in some of the premium b-schools such as Tuck, Kellogg, Columbia, Stern, Yale, etc.     
A high GMAT score is an effective tool, proven to have helped students get admission offers from top MBA programs. Read this article to know more.
Despite having significant comfort with numbers, Karthik, a Senior consultant at one of the Big Four companies, decided to pay due attention to both quant and verbal during his GMAT prep.
He began his prep journey with GMAT Official Guide and even took help from a prep course initially. However, soon after, he noticed that he wasn't improving after a certain point as he lacked methods, structure, and much-needed strategies, without which he could not reach his target score.
After researching well on the internet, Karthik chose an e-GMAT course to help him take his GMAT abilities to the desired level. He knew he had massive scope for improvement in Sentence Correction. As he subscribed to the e-GMAT course, he did not skip any topic, concept, or question in the recommended course flow. He found e-GMAT's solution explanations, methodologies, and structure to be very much in line with what he needed to ace the hard-level questions.   
Watch Karthik share his GMAT preparation journey and his interview experiences with business schools such as Tuck and Kellogg.
YouTube Video:  
Experience with GMAT Official Guide
Rajat: Welcome to this debriefing session, and congratulations on 750. Before e-GMAT, you prepared with Official Guide. What were your biggest struggles concerning verbal preparation with OG?
Karthik: In the Official Guide, there's no clear explanation of the concepts. You directly start focusing on the problems, which is one major problem. Secondly, there's no bridge between the concepts and the questions. Also, it takes a lot of time to understand the problems and get the right solution, which ideally should be less than two minutes.
Read this article to understand how to make the most out of OG and at what stage in your preparation should you use it. 
Karthik's GMAT verbal Preparation
Rajat: When you started the e-GMAT course, how did you start? Which module did you begin with? 
Karthik: I was doing reasonably well in quant, so I focused primarily on verbal. I finished most of the modules and solved almost every problem in the course. I followed the course as it's laid out, starting with the Master Comprehension course. I struggled the most with Sentence Correction, where I had great scope for improvement. I was relatively better at RC and Critical Reasoning.
Rajat: What was your approach before and after using the course?
Karthik: I wasted a lot of time on the Official Guide by trying to solve all the problems multiple times. It was clearly not working out for me, as there was little improvement in my performance.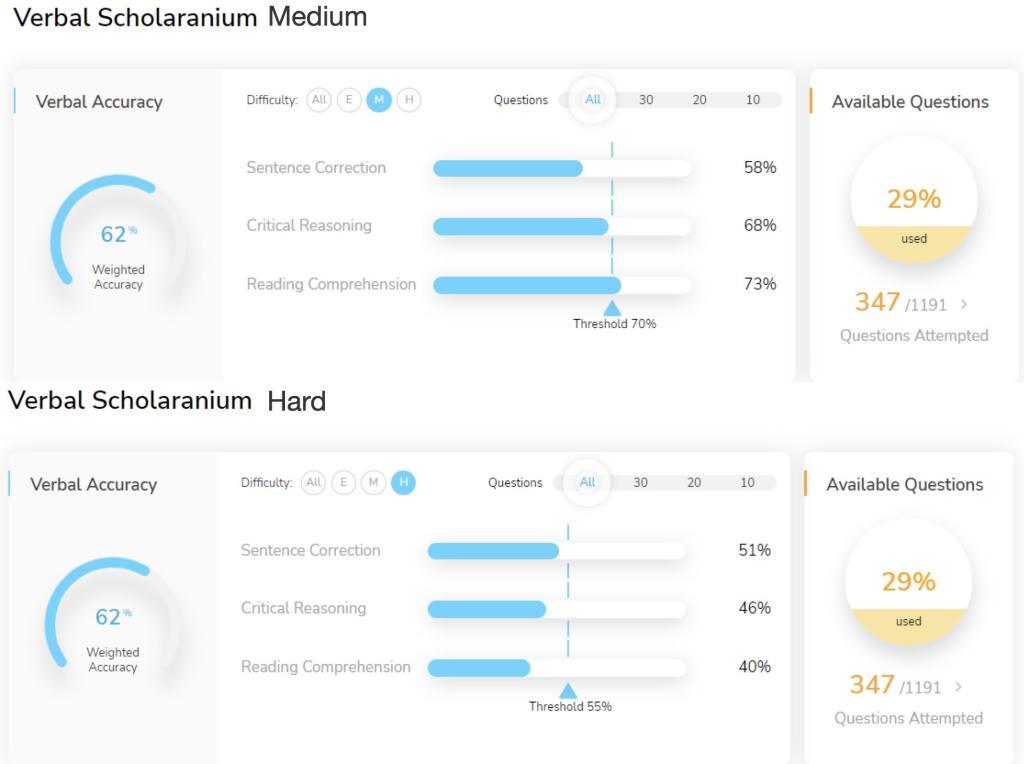 Before focusing on timing, I realized I needed to understand the concepts better to improve my accuracy. The e-GMAT course helped me build concepts well. My approach became more methodological. In Sentence Correction especially, I learned how to eliminate wrong answer choices correctly.
Detailed Solutions in Scholaranium
Rajat: You said you solved a lot of problems. Did you practice with Scholaranium as well? If yes, how did that help you improve?
Karthik: Yes, I think I solved all the problems in Scholaranium. I used scholaranium questions as mock practice because I didn't take any mock test otherwise. I'd take short custom quizzes with 15-20 questions to observe my accuracy. For the quizzes where my accuracy was low, I'd watch video explanations and concept files to ensure I got those right the next time.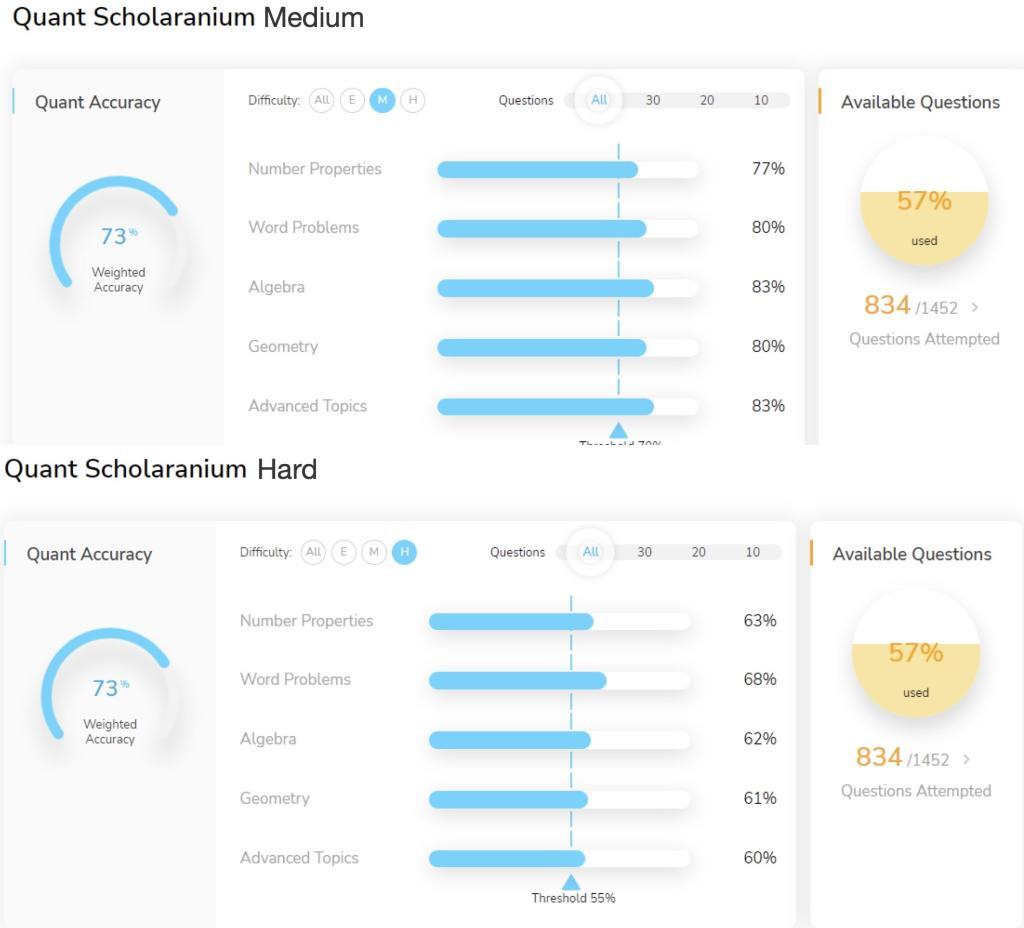 Rajat: While studying with OG, you did not find the solutions helpful in understanding the concepts well. How would you compare the solutions in Scholaranium to answers in the Official Guide?
Karthik: The solutions in Scholaranium are really good because they clearly explain which ones are wrong. The solutions clearly elaborate on the method for eliminating incorrect answer choices, which was not there in the Official Guide.  
Rajat: You were already good at quant, and as soon as you finished the e-GMAT course, you took the GMAT exam. Was it in-center or online? Did you face any timing issues during the exam?  
Karthik: It was at the center, and I didn't face any timing issues. I finished both verbal and quant to the minute, right in time.
Maximizing GMAT score is about efficient time management using an effective timing strategy. You must leverage the adaptive nature of the GMAT to ensure that you get a shot at higher difficulty level questions and solve most of them correctly so that the algorithm estimates your ability to be high.
e-GMAT for quant 700+ level questions
Rajat: You did the quant course from another company, and then you did it from e-GMAT. Did you learn anything new or new ways of approaching quant questions?
Karthik: I was already good at the easy and medium-level questions using OG and other resources. But for the hard-level questions, I practiced a lot on the Scholaranium. If you can do hard-level questions in three to four minutes, you'd be able to do easy questions in less than a minute in the exam. e-GMAT is an excellent course for GMAT preparation.
If you are planning to take the GMAT, we can help you with a personalized study plan and give you access to quality online content to prepare. Write to us at acethegmat@e-gmat.com. We are the most reviewed GMAT prep company on gmatclub with more than 2465 reviews (as on Nov 4, 2022). Why don't you take a free trial and judge it for yourself?
Rajat: You mentioned getting invites from Tuck and Kellogg; both are excellent schools. And I'm sure you're looking forward to hearing from Columbia, Yale, Darden, and Stern. If you get through Kellogg, Tuck, and Darden, which one would you go for and why?
Karthik: I would definitely go for Kellogg. My friend is studying at Kellogg, and I have heard amazing stories about Kellogg. Also, Kellogg and Columbia are my dream schools, and they have really good consulting pipelines.
Rajat: Well, good luck. Let's stay in touch.
Watch this video that will give you reasons why you should pursue MBA and will help you get more clarity about your post-MBA goals: Why MBA? Top 5 reasons to pursue MBA in 2021