A
5
min read
"Things have a way of working themselves out if we just remain positive." – Lou Holtz
Richa's positive approach and her never-give-up attitude propelled her to achieve a GMAT 730 (V40, Q50). Her story is a true demonstration that hard work and a positive mindset can do wonders. She had scored a 640 on the official mock after preparing for a few months using free resources. However, when she enrolled with e-GMAT and took her first Sigma-X mock, her score dropped to 590. Though she was dejected and disappointed that in spite of working hard for months, her score deteriorated instead of improving, she ensured that she doubles down on her efforts and doesn't lose hope. Instead of letting the hardships and failures discourage her, she approached her preparation like a true manager, turning her failures into lessons. Let's see how Richa went from 590 to GMAT 730 with a Quant improvement from 27%ile to 87%ile.
Initially, Richa prepared using Official Guides, the Mega thread of GMAT Club, and some other sites. She took an official GMAT mock and scored 640. Soon she figured out that she wanted a course that can help her understand the basics. She came across the live sessions of e-GMAT and found them very helpful. She reached out to e-GMAT, and our experts asked her to take a free SIGma- X mock to understand her current level of preparation.
Take your first free SIGma- X mock to understand your level of preparation.    
Richa scored a 590 (V36, Q38) in her first mock (screenshot attached below) and was highly demotivated. Instead of improving, her score deteriorated to 590. She gathered all her courage and prepared herself to begin again from scratch. After all, this is what an effective manager does. And, if she wanted to get into the line of management, she must demonstrate the required skills and overcome her failures. She then started with the course and found it to be exactly what she needed! The course included all the topics from basic to a high level. She went through the entire course and did not skip any of the files.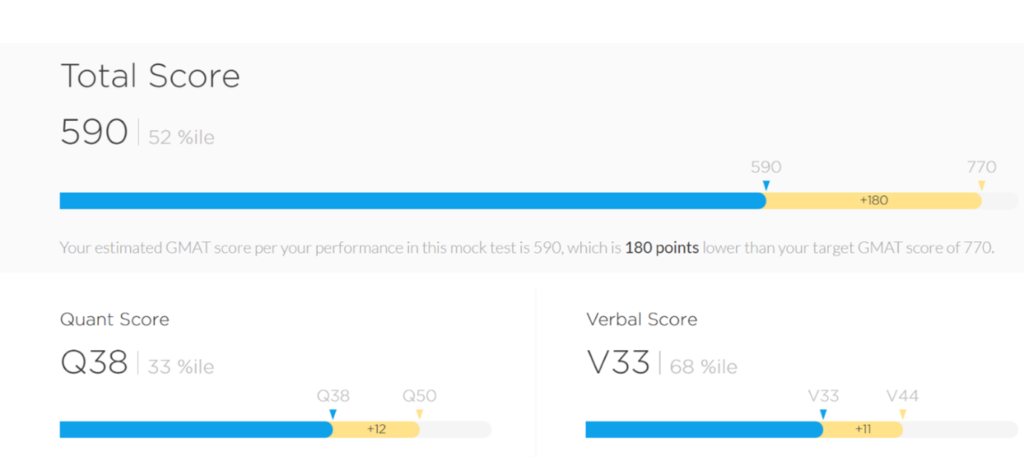 Richa's approach towards the e-GMAT course
Richa: In the course, there is an option where you give the diagnostic test first and can leave the particular topic or skip some files if you do well in the test. I did not do that. I went through all the files irrespective of my performance in the diagnostic test. I wanted to get my concepts so clear that I can attempt any type of question. I did not want to miss out on anything or doubt that I do not have knowledge of some topic. I gave myself enough time and did as many questions as I could.
Here is a screenshot from Richa's account depicting all the hard work she has put into going through the concept files.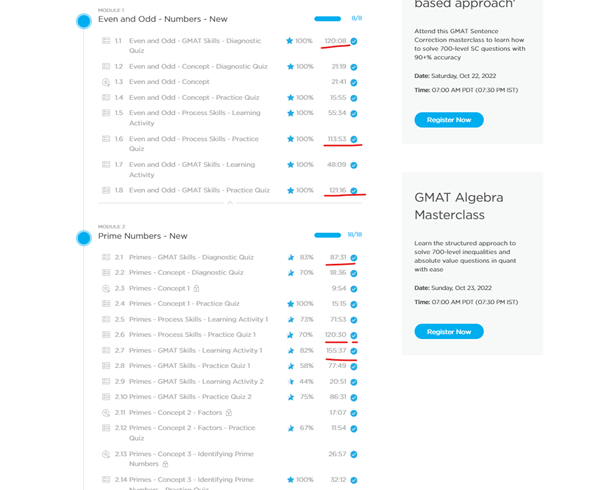 How Richa's note-taking habit helped her in achieving Q50
Richa: I noted down the type of questions and the methodology applied to each type of question. So that in the exam, I know that this is the type of question, and this is the methodology I have to follow. For instance, in Geometry, if there's a cube inside a cuboid question, I already how the question needs to be solved and all the questions have to be solved similarly. Also, I used to note down all the formulas. Apart from that, I also used to note down the questions with their answers and I used to go through them again and again. Therefore, before the exam, I had pretty much the material made by myself for revision.
Richa's takeaway from the Verbal course
Richa: Initially I thought that I do not need to work much on my verbal. Just a little practice and I am good to go. However, through the course, I understood that there are strategies to be followed to solve Verbal questions. I again made the notes for all three sub-sections. In the end, when I was going through my notes, I realized that I had forgotten about half of the things. So, the note-making habit helped me a lot.
For RC, the reading strategies technique was very helpful. I made a one-word note for each paragraph in the passage so that I know what the passage is talking about, and it helped me while I was solving the RC questions.
For CR, the pre-thinking approach helped in answering the question because I could come up with the answers in my mind before looking at the choices. It helped in eliminating the confusion between the two tricky options. It gave me a higher level of accuracy.
Richa's Scholaranium takeaway
Richa: I felt that there is no need to do what everyone around you is doing. I used to be demotivated by seeing people solve the 750-level type of questions using all kinds of complex techniques. I thought that I could do them my way by solving them with simpler techniques that I knew. So, I focused on making my basics extremely clear. Therefore, when I had to take a quiz on a certain topic in scholaranium and I felt that I do not remember this topic, I used to go back and revise it or take the concept and practice quiz again. Post that, I used to take up the quiz and give an entire hour to review that quiz. I also divided the quiz into buckets (w.r.t to issues) like timing constraints, conceptual gaps, silly mistakes, and so on. Therefore, in the exam, it became easy to eliminate those issues and answer questions correctly.
Importance of Error logs
Richa: During my revision, I went through my error log thrice. It helped me avoid repeating my mistakes in the Official GMAT Exam. I was also able to improve my weak areas.
See how an error log is made in the e-GMAT course and how is it helpful
Key things to do before your exam?
Richa: In my opinion, a bad score in a mock exam is highly demotivating and it creates a mental block in my head that I will not do well on GMAT. Therefore, I started taking quizzes before my official exam as they were similar to the mock environment with timing constraints. I believed that I should work on improving my micro details, so I analyzed the questions deeply. I was confident enough that I know all the concepts and have worked hard.
Richa's advice to GMAT Aspirants
Richa: I would just like to say that don't get influenced by one traditional method to crack the GMAT. Figure out your way and strengths and stick to it. Also, know how to use the data and scores achieved in various GMAT mocks and quizzes to improve your GMAT score. Lastly, DO NOT GIVE UP!