A
5
min read
'If you believe in yourself and have dedication and pride, you will be a winner. The price of victory is high but so are the rewards'
Rida Shafeek, a graduate of B.A (Psychology, Sociology, and English) has a non-Quant educational background. With her hard work, diligence, and positive mindset, she scored a 730(V41, Q49) on GMAT. She improved from a 500-level to a 730-level on GMAT. A 190-point improvement is something that very few people manage to achieve. Rida's story is truly an inspiration for all the GMAT takers out there. Her success story will demonstrate to you that if you believe in yourself and are motivated enough to achieve your goals, the sky is the limit! Let's see how Rida improved from Q33 to Q49. 
Rida graduated in May 2021 and decided to appear for the GMAT. Throughout June and July, she studied using Official Guides and Manhattan prep books. She also practiced a lot of questions on their online platform. However, she was not satisfied with them because of two reasons.
She was not able to track her performance
She could not see any improvement.
Then, she came across e-GMAT through YouTube. She watched Payal's session on 6 process skills required to ace Quant. While going through this session, she found out that she was not using any of these skills and that she needed to inculcate them in her preparation.
She also watched one free session on Geometry, went through the free resources of e-GMAT, and found it really helpful. She was able to figure out that through the e-GMAT course, she can keep track of her progress.
Sign up for a free trial and get access to free resources.
Signing up for e-GMAT
Rida: I signed up for e-GMAT and gave a mock to analyze my current level of performance. I scored a 540(V30, Q33). I did not expect such a low score and I panicked! At the next moment, I thought that I should utilize all my energy in improving my score rather than panicking.
So, I went ahead and created a Personalized Study Plan for myself, using the simple tool available on the platform. I filled out the questionnaire in the tool, entered my mock score as my current score, and entered a slightly higher score than what was I aiming for as my target score.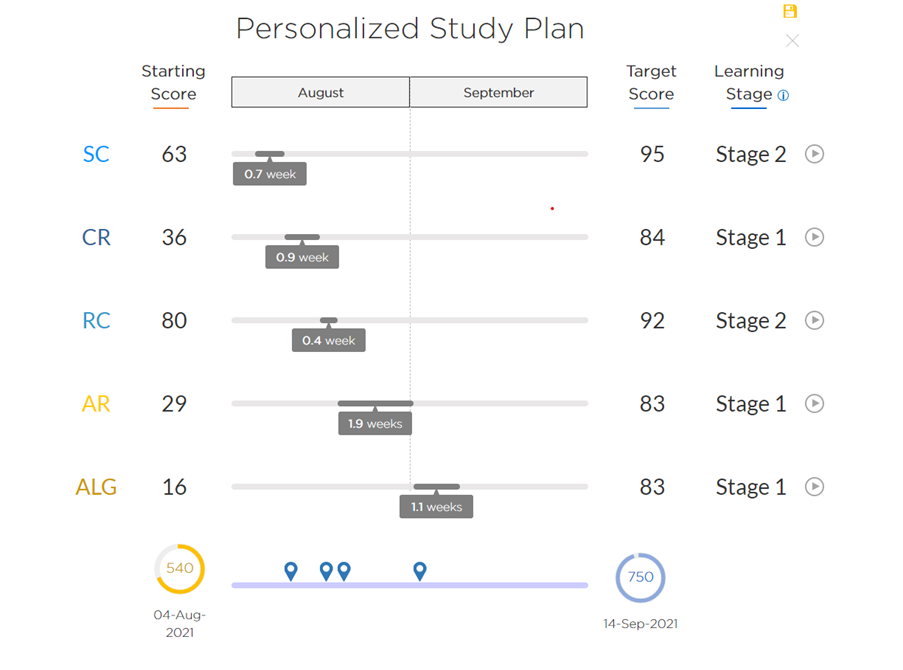 At first, I was not very confident about scoring 700+ on GMAT. However, as I progressed through the e-GMAT course, I changed my mindset and started believing that I can get to that 700+ target score. The credit for this goes to e-GMAT. Earlier, I was able to keep track of my progress and see my level of improvement in each practice and concept quiz.
Coming from a non-Quant background, how did e-GMAT help Rida in scoring a Q49
Rida: I believe firstly you should eliminate Quant's fear when coming from a non-Quant background. GMAT Quant is not the same as the math you studied in 10th or 12th grade, where you needed to learn the formula and write in an exam. It's based more on logic. It's a test of how you apply a certain process to arrive at a conclusion. It's purely logical and you need not be afraid of it. For example- in Data sufficiency, you do not need to know every single step and calculation. Many a time, it is as simple as reading the questions and applying the pertinent logic.
Below are the screenshots from Rida's Quant course with excellent scores in concept and practice quizzes: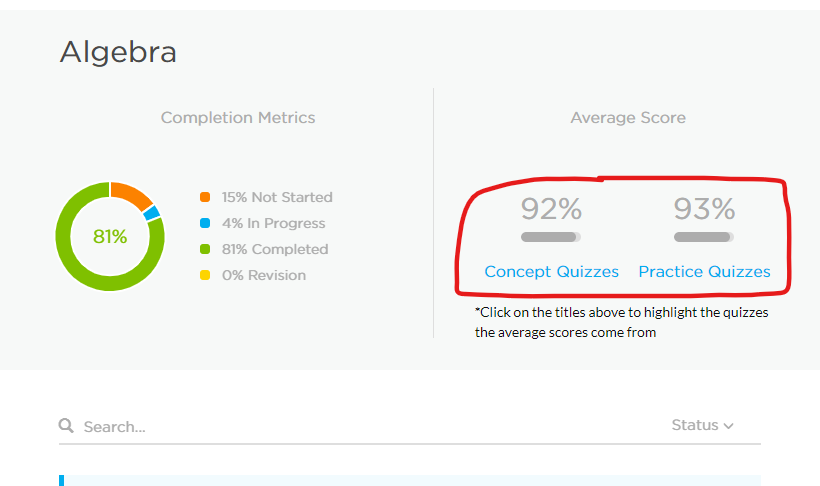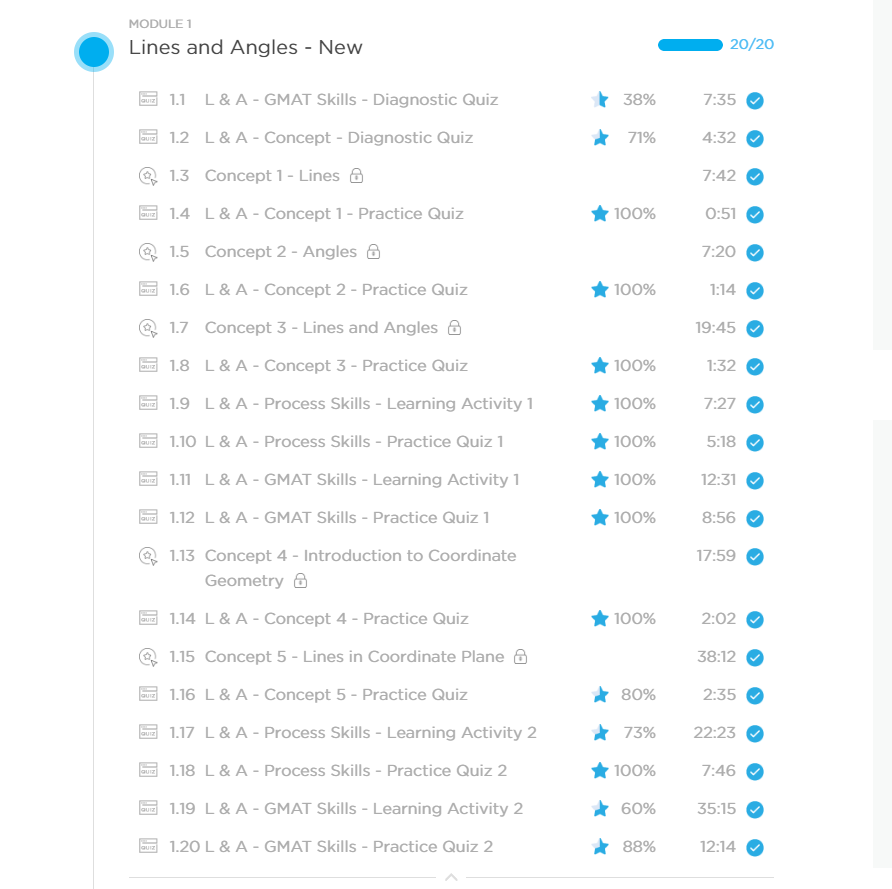 How was the e-GMAT course different from others
Rida: On other platforms, the pattern was that I used to go through the topic and solve the questions at the end in OG using Wiley. I did not score 80%+ even once and did not know how to approach those questions. However, in the e-GMAT, I did score more than 80% and one thing which helped me a lot was the error log. It helped me in analyzing what am I doing wrong. It helped me in refining my answers. For example, I had the questions, the right answer, and the answer I chose noted down in my error log. Now I could figure out why was my answer wrong, was it a conceptual issue or something else? Lastly, I could find out what process skills I was missing while answering the questions.
To learn more about the error log, please watch this video!
Is it better to take a GMAT prep mock or SIGma- X mock before starting the prep for GMAT Exam?
Rida: I believe that SIGma- X mock is a better option. It gives you the ability score where you can analyze your performance and know where you stand in terms of preparation. This is not the case in GMAT prep mocks. Also, GMAT prep mocks work with a certain question pool, so I wanted to save them for last!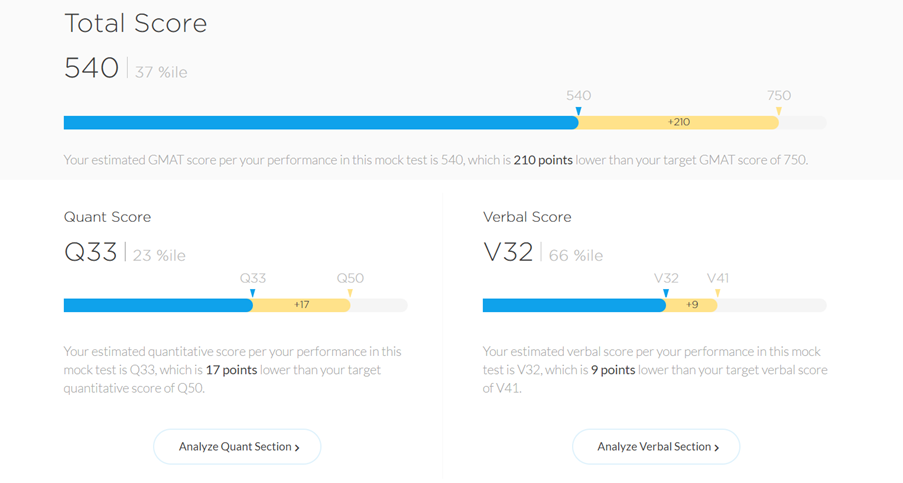 Were you demotivated at any point in time?
Rida: Obviously! I was demotivated while reading all those success stories where students scored well and I was not doing that great. The main reason was that I knew I could do better, but I was not performing well at that level. I tried to shift my mindset from seeing something as a drawback to making it a learning opportunity. I also surrounded myself with positive people to deal with it wonderfully.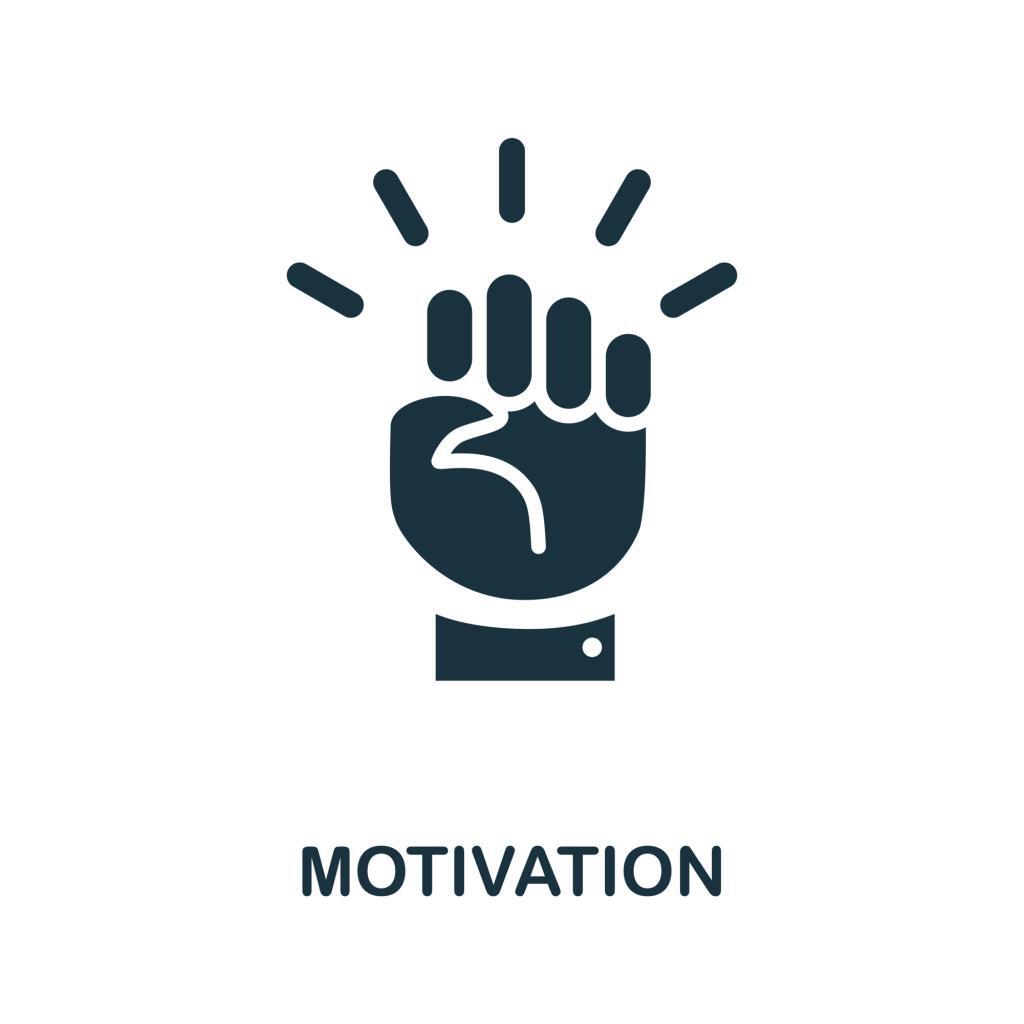 Did you do any mocks the days before the final exam?
Rida: I only did one mock a few days before my exam as the focus during that time was more on refining my skills and applying what I already knew. I started the course on 5th August and completed the course on 11th September. After that, I took 4 mocks till 26th September.
PS: After giving her GMAT exam, Rida joined the e-GMAT team and now works as a strategy consultant, helping 100s of e-GMAT students achieve their target score
Take your first free SIGma- X mock to understand your level of preparation.  
Want to improve your GMAT score as Rida did (from 540 to 730)? Register for our free trial and experience the difference. We can craft a well-defined personalized study plan for you. Check out the e-GMAT reviews on the GMAT club.