A
12
min read
Currently on active duty, Short Service Officer Major Rohit R started preparing for the GMAT in May'22. His preparation experience was unconventional not just for him but also in the GMAT domain. Having been in the Army for 14 years, he had lost touch with aptitude tests, and could barely recollect any of the mathematical formulae or grammar rules tested on the GMAT.
Despite his work and personal commitments, Major Rohit followed the e-GMAT course with complete dedication. He required multiple attempts at the course and close guidance from his mentor before he could start observing improvements in his scores.
Rohit started with a mock score of 590 and had a target of 700. However, he fell short by 20 points in his first of two attempts at the actual GMAT test. Although he was very close to his target, he wasn't sure what was holding him back. Through a strategic analysis of his ESR with the help of his mentor, he discovered that he was not following e-GMAT's best practices, such as applying the Meaning Based Approach in SC or doing proper time management. A few exercises on these faltering points helped him to make adjustments that enabled Rohit to improve his score by 20 points within 10 days.
Watch the video as Major Rohit talks about his journey from the sheer frustration of learning complex concepts to the satisfaction of scoring the 88th percentile on the GMAT.
Here's what Abha Mohan, Rohit's mentor had to say about his journey:
Congratulations on your 700 and thank you for taking out the time and sharing your thoughts. Getting a 700 is no mean feat, it requires diligence, resilience, and determination.
We had a great journey together! When I looked at your account, I concluded that yours is one of the most diligent journeys I have witnessed. Here is why:
You completed the course in the right way, did stage 1 for all sub-sections: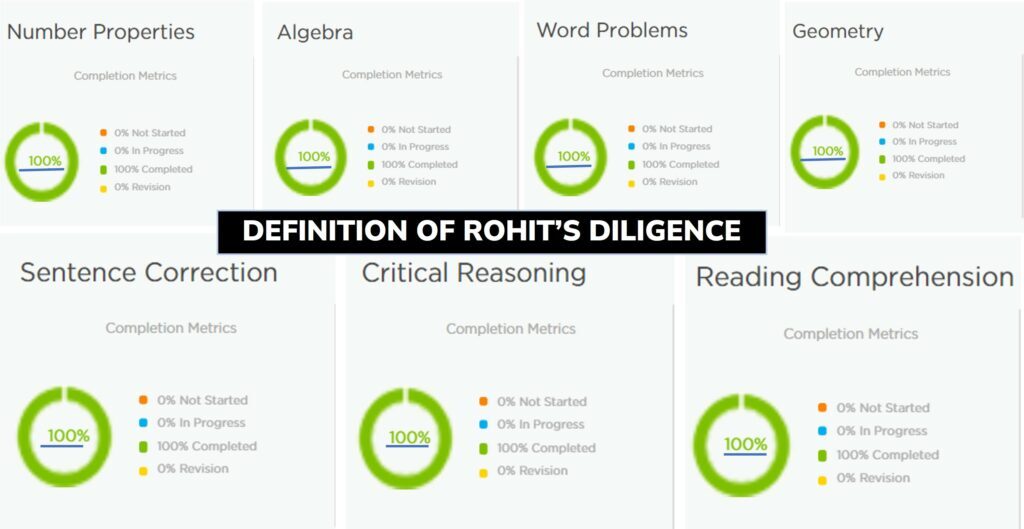 2. You took the feedback seriously (revisited the appropriate files and replayed the quizzes) and immersed yourself in the process.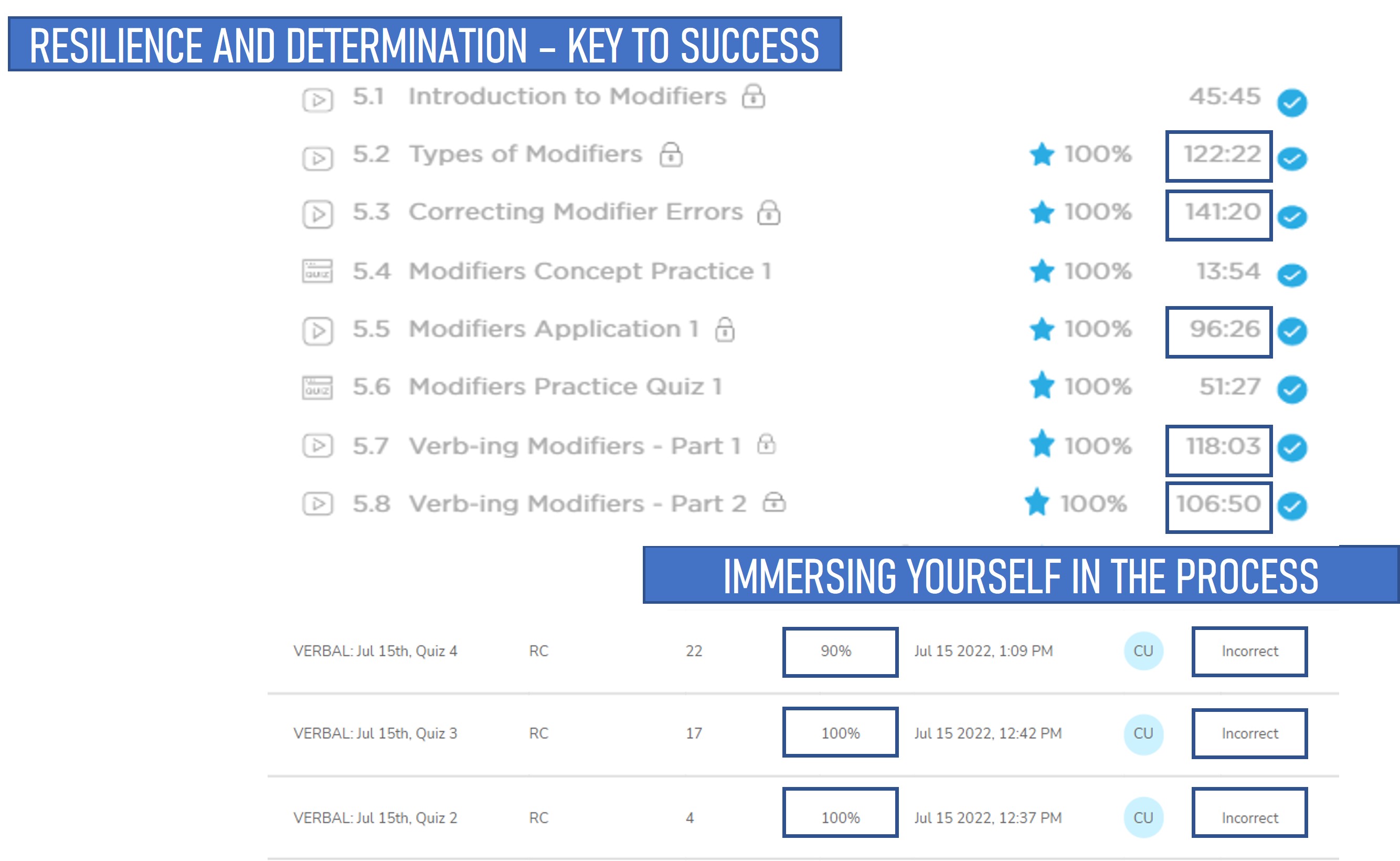 3. Followed the Cementing Process and met the threshold.
4. Belief in yourself and the course – Even when your mock score took a hit, you continued to believe that you could make it into the 700 Club and you were ready to work on the improvement plan with the right spirit.
The Result ? YOU SCORED 700 and 710 in TWO consecutive SIGma-X Mocks.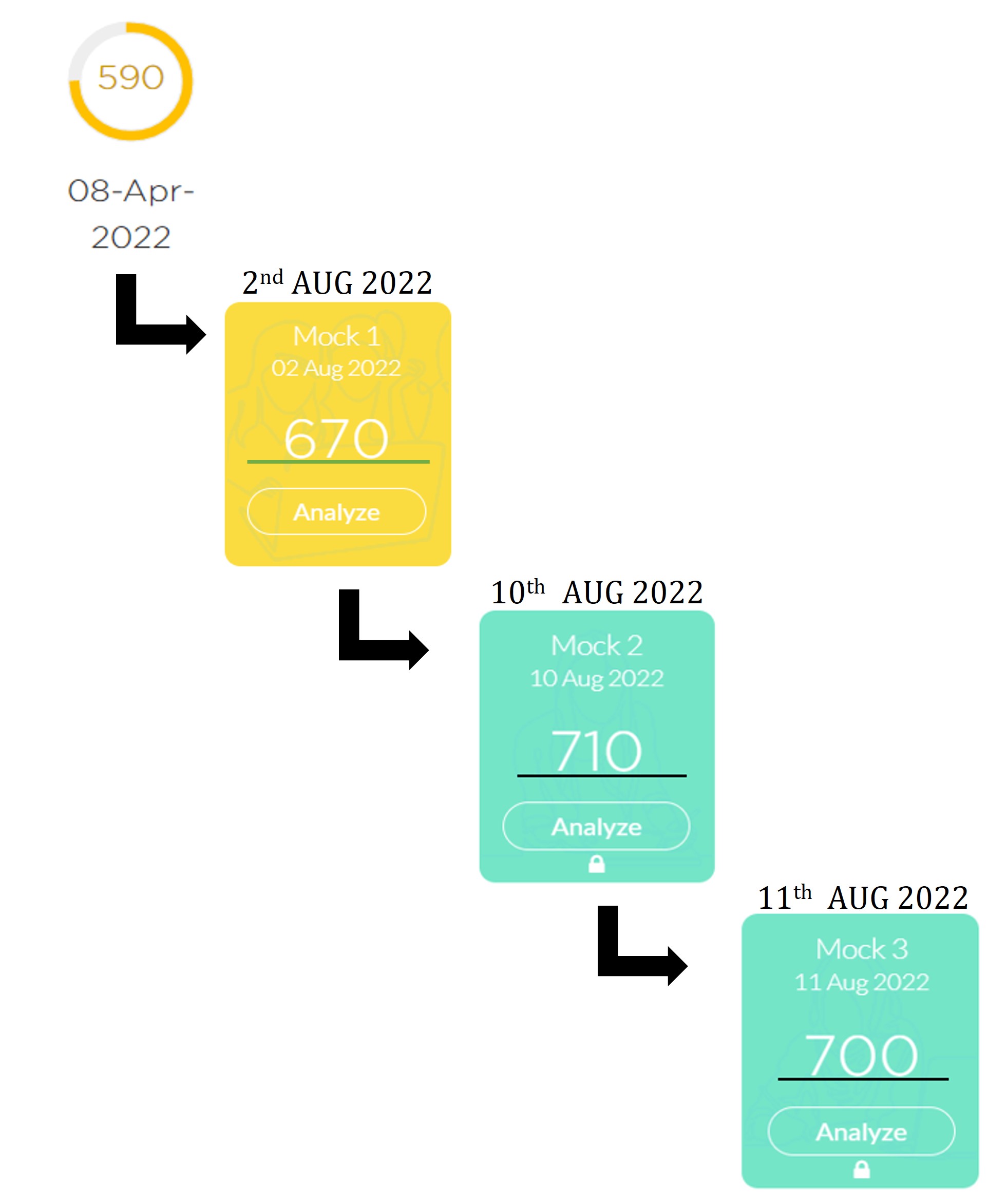 I remember the mail you sent to me after you scored 670 on your 1st attempt. I remember telling you to have heart, that I believed you had the ability to get to 700. All we needed was a little bit more of hard work and you were more than willing to give it your all.
We at e-GMAT truly believe that our student's success is our success and your e-mail to us after your next attempt truly validated it.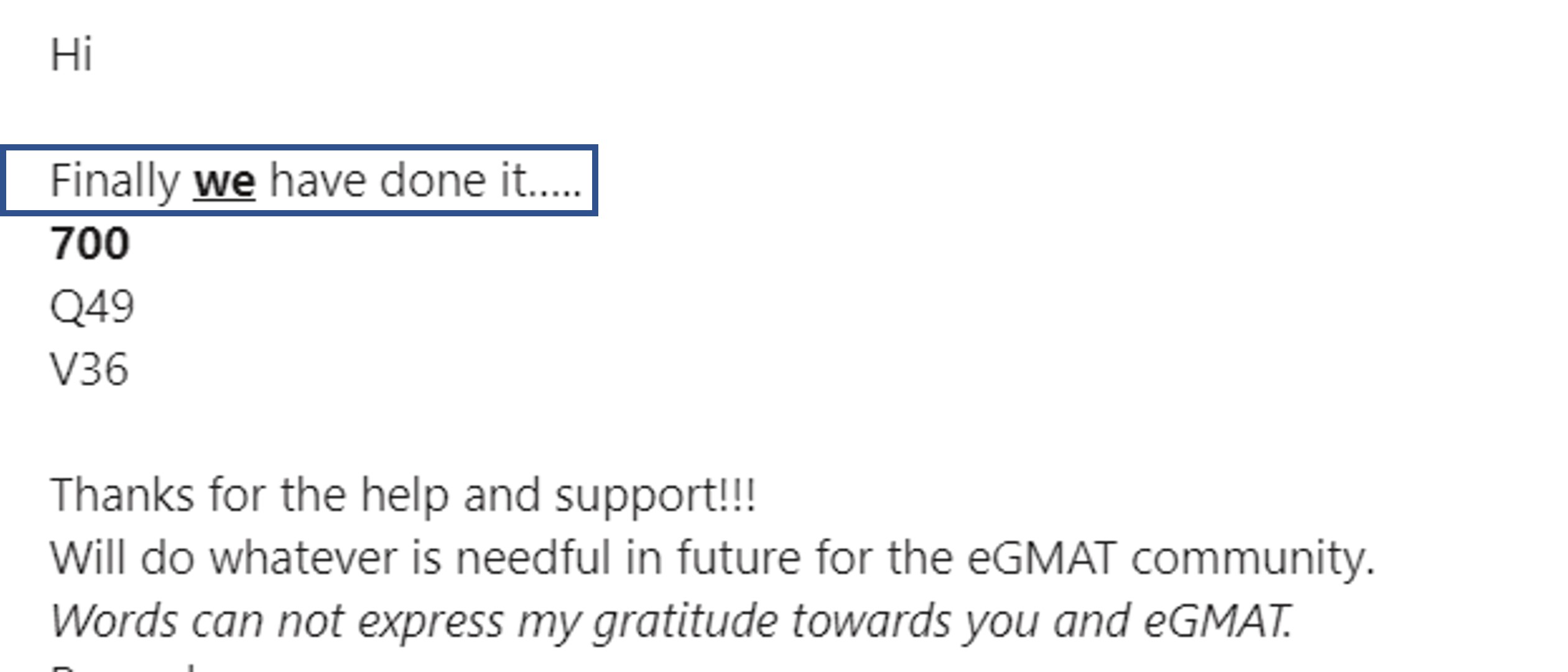 I wish you all the best in your applications and future endeavours.
All the best!
---
The Interview Transcript
Abha: Congratulations, Rohit, on achieving your target GMAT 700 score. I'd like you to first tell us about your background because, in the context of the GMAT domain, you come from a very unconventional background.
Rohit: I am Major Rohit Raina, currently serving the Indian Armed Forces as a Short Service Officer. Under a Short-Service Commission, the Indian Army allows defense personnel to work for 10 to 14 years. I'll be completing my tenure in March '23. I plan to go for an MBA once I exit the Army next year. That's why I decided to prepare for the GMAT. A couple of my college friends have also gone through the process. And through them, I had a fair idea about the GMAT test and its sections. However, with my kind of background, where reading, calculations, or data analysis is not a part of our work or life, I was entirely out of touch with these subjects.
This is where a tool like e-GMAT comes into the picture. I call it a tool because, with its help, you can reduce the force and effort required for a test like the GMAT.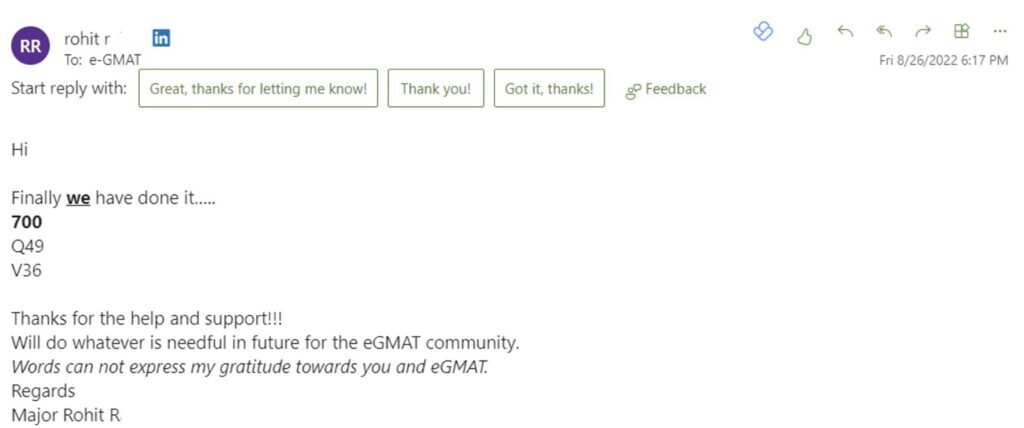 Experience with e-GMAT Platform
Abha: You went through the entire e-GMAT course for your preparations. What was your approach for the two sections, quant and verbal? How did you move across the sub-sections?
Rohit: We are trained to strictly follow orders as is; similarly, I decided to follow the instructions I was given at the start of the course. I began with Verbal: SC first, CR, and then RC. I'd revisit the entire module if I did not reach the set threshold score. I had to go through SC twice before I moved to CR.
I believe the platform is tried and tested by many; the best way is to follow the structure of the course. Detailed videos in the course guide you through the journey if you get stuck. Once when I could not reach the cementing threshold in the SC module, I found the video explaining the steps and rationale for cementing very useful.
I was more worried about my quant, but I was somewhat relieved as e-GMAT's PACE engine helped me efficiently manage my prep time in quant. The diagnostic quiz at the start of every module evaluates your current ability and allows you to focus on your weak areas.
I took the e-GMAT subscription in March but only started preparing in May. It took me about two and a half months to complete the course. The course is very straightforward, but it's crucial to follow the structure. Even though no human is on the other side, the course keeps you engaged via elements such as cementing quizzes, performance analysis data, milestones, etc.
Another thing that makes the course interesting is that it challenges you. In a way, you compete with yourself. The data analysis in Scholaranium is also very insightful. With every question, you can compare your timing and accuracy against those of others for the same question.
Finally, as I completed the quant course, I wrote an email to the strategy support team that I was ready to take my GMAT. But you (my mentor) told me that although I had cleared cementing quiz and met the threshold, there were still some gaps in my prep. You asked me to revisit a few topics in SC, such as verbs, tenses, and modifiers.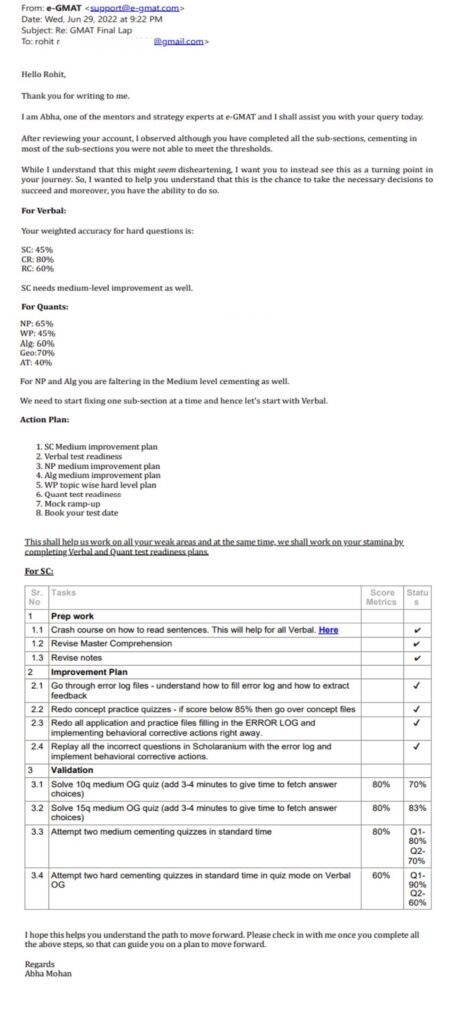 Abha: When you reached out to us, you were almost done with both quant and verbal, nearly touching the threshold score. But it's always about fine-tuning as you do not want to miss your target score.
Did you also take official mocks other than the SIGma-X on the platform? What was your approach with mocks?
Rohit: Before approaching the support team, I attempted two Official mocks in which I scored 610 and 620. This was the first time I had tried the entire test, and my scores were shocking. I was missing something, and I could clearly see that now.
That's when I got in touch with e-GMAT support. But seeing your emails was frustrating as I'd have to revisit the topics I had already done. I still decided to trust the experts and follow the plan. You also asked me to do custom quizzes with 25 questions before moving to mocks; that helped me build the required stamina.
The second part of the e-GMAT journey, with the mentorship, was excellent, especially for students like us. The strategy experts gauge your preparation level and then provide a step-by-step plan to help you achieve your target score.
The second part of the e-GMAT journey, with the mentorship, was excellent, especially for students like us. The strategy experts gauge your preparation level and then provide a step-by-step plan to help you achieve your target score.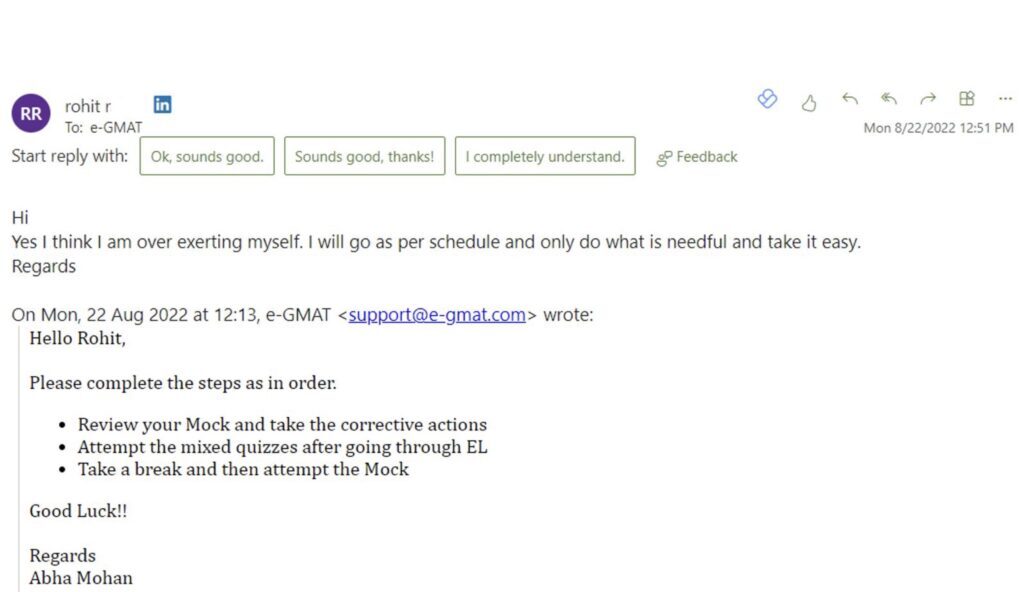 Abha: And our plan also worked because you accepted your mistakes and were willing to follow them as directed.
Rohit: I If you are not scoring well by yourself, it's best to seek help and listen to experts. It is not advisable to waste time or get frustrated. Having an expert to guide you is like having a torch in darkness. That's why I followed all your plans till the end. I did not want to regret it later.
First experience with the GMAT test
Abha: You scored 700 in your second attempt. Just one week before that, in your first GMAT attempt, you scored a 680. What changed in that one week to bring about this improvement?
Rohit: I booked that first GMAT test without consulting you. Although I had started taking mocks by then, this was the first time I experienced a test center environment different from the test at home, where there was no disturbance.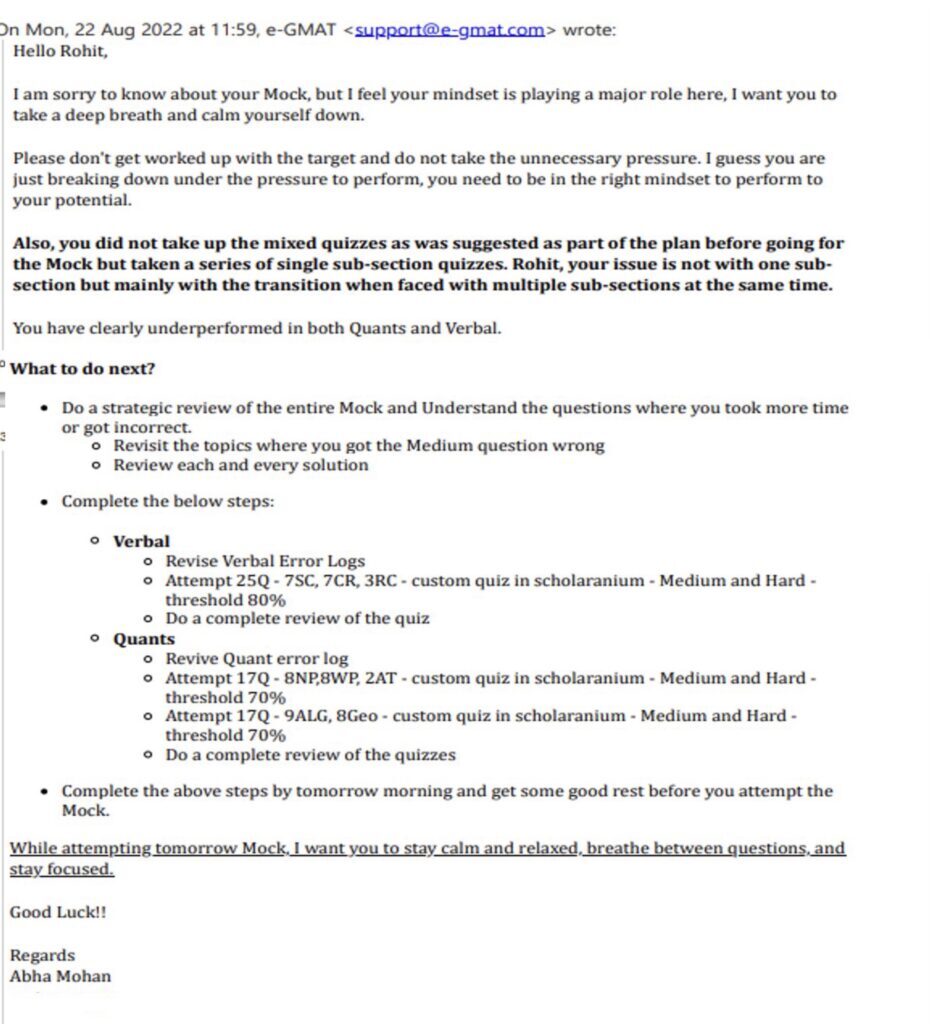 There is not much difference between a 680 and a 700, but I was unhappy with my performance. I made the mistake of going without any plan and completely strayed from the strategies you taught me. I was doing better at my mocks.
Later, from my ESR of that test, you highlighted the mistakes which were not there in my mocks. My performance in SC was poor: I scored a 30th %ile and got all those questions wrong in which the meaning-based approach was to be applied. SC had always been my weak area; most of my queries to support had been around this method. I realized that understanding the meaning is essential for scoring well in SC.
During the exam, I spent too much time on specific questions and could not apply the meaning-based approach.
My performance remained below par even in the mocks I took after the GMAT. It was frustrating, and I realized that going for the test without consulting you had disturbed the flow of the last 2-3 months of my preparation. I had learned my lesson.
You again guided me on the course correction and asked me to take a custom quiz with a focused set of questions. It helped me regain my confidence, and it all worked fine in one week for the next GMAT test.
Abha: The state of mind has a significant role to play here. Your mocks indicated your potential clearly. And unlike the previous rushed attempt, you were calmer and more confident this time.
e-GMAT course and methods that helped
Abha: Given your defense background, your preparation journey differed significantly from many other GMAT aspirants. Tell us how the course helped you bridge the gaps.
Rohit: Out of the topics in Verbal, SC is more demanding as you have to memorize grammar rules and prepare notes. I had taken printouts of the SC course summary, which is available on the platform. I'd refer to that before every mock or exam to refresh my memory.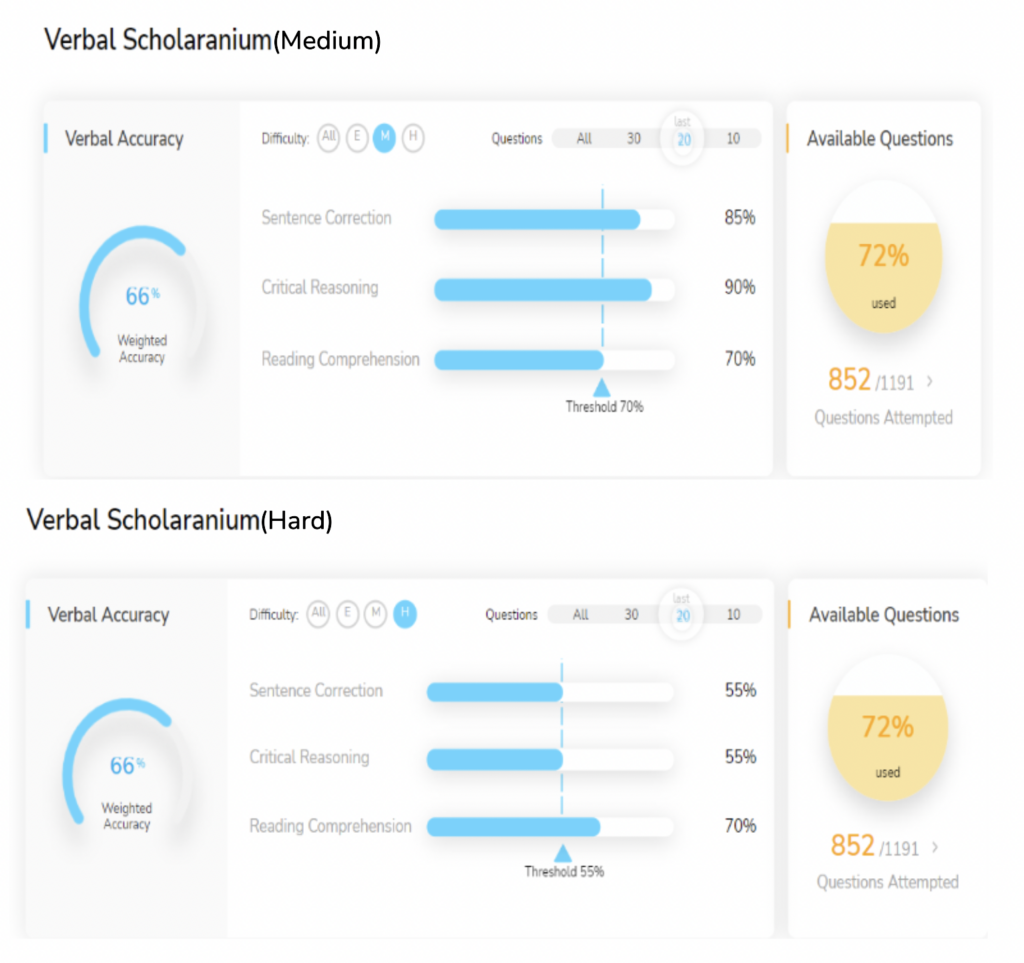 Even though grammar rules and split methods are a part of the SC course, I don't think you can solve hard-level questions without understanding the meaning.
Another method highly endorsed by e-GMAT is the pre-thinking method for CR. I found it very effective as it keeps you involved in the argument. Looking for an answer by being involved in the argument is the right way to reach the correct answer without looking at the choices. Medium and hard-level questions are more condensed; if you don't pre-think, you tend to forget. It was one of the best approaches I learned in the course.
I'd like to highlight that I only used the strategies and methods I learned during the program. The only occasion I did not follow them was during my disappointing first attempt. Using your own strategy could backfire as it did for me; I would not recommend that.
RC is about reading and summarizing paragraphs. The passages you get for the GMAT exam are never easy, and the topics might not be familiar to you. Unless you have been an avid reader or have been exposed to content from multiple fields, you must focus on summarizing the passage as emphasized in the course.
The difficulty level of e-GMAT quant questions
Someone from an engineering background may have the edge over someone like me who hasn't been in touch with mathematics for a long time. But for anyone who is targeting a Q49 or higher score, a course like the e-GMAT is a must. You can exploit the e-GMAT platform's medium and hard-level questions if you're looking to score beyond 680-700. Such questions you might not find in other GMAT resources.
I used to score a 95th – 100th %ile in OG mocks, but would not do better than a 70th – 75th %ile in the e-GMAT mocks, as they're quite tough. And then, I came across a post by e-GMAT's founder Rajat, on GMAT Club, saying that if you want to fight a war, you need to train harder than the actual war. That's when I understood that if you prepare with harder questions in Scholaranium, you do better in the real exam.
The difficulty level is not more than required, as many have written on GMATClub. During the exam, if you see a particular type of question, you're entirely unfamiliar with, it can disturb you and push you back for the following 2-3 questions as well. If you score 90%ile or higher in the Scholaranium, you'll surely do well in the exam to cut a Q50+.
I think e-GMAT quant is equally essential as verbal. With the two GMAT tests I took, I have seen 62 questions, and none came to me as a surprise. My scores in the SIGma-X mocks were similar to my quant scores in the actual GMAT attempts.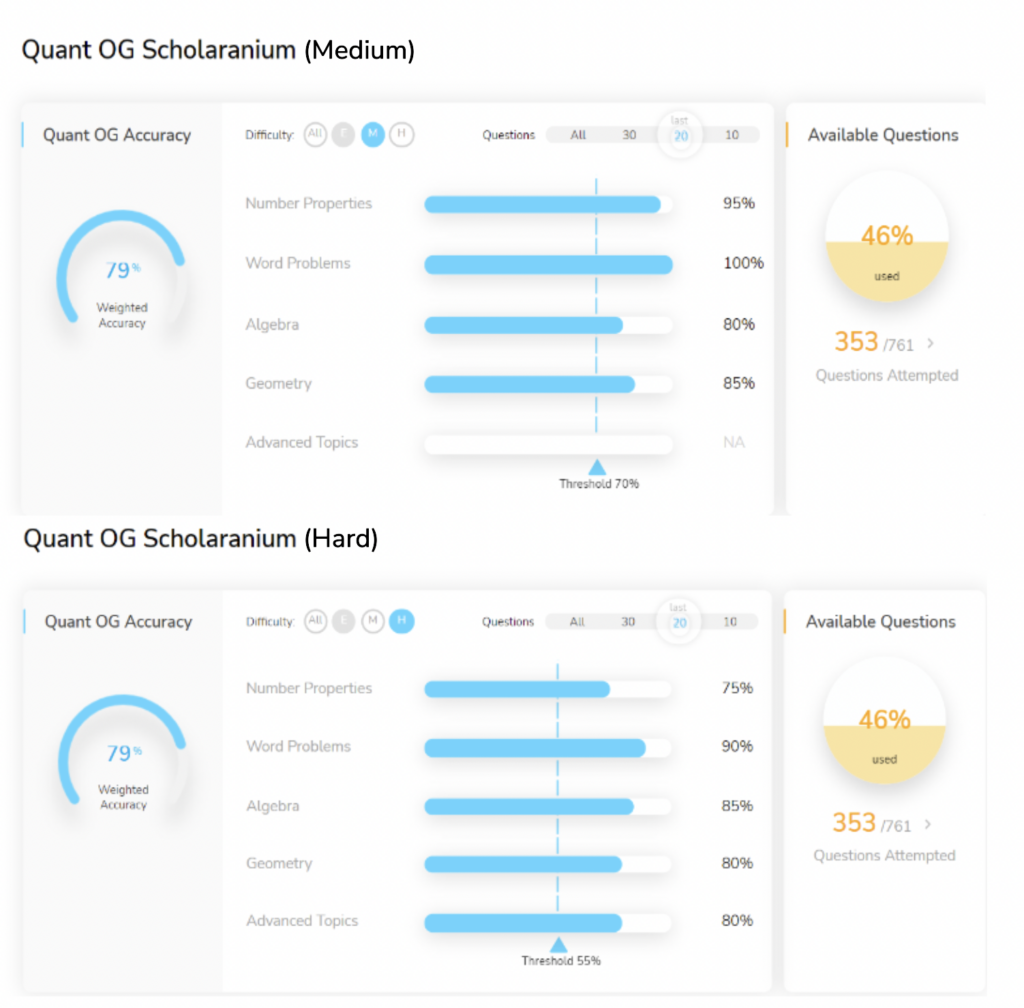 Time management for GMAT
Abha: We just spoke about the difficulty level of the questions. How were you managing your time? In e-GMAT language, we have takt time on the e-GMAT platform, were you referring to that?
Rohit: It's difficult to follow the 2 minutes per question in quant as some questions may take longer than the others, but what is essential is to have a cut-off time. I learned this in my first SIGma-X mock, where you told me to not get emotionally attached to questions and that if you're unable to find a path forward in time, I must move on. I spent about 5 minutes or more on a couple of questions in my initial mocks. But you have to give due weightage to each question and not rush to solve it in 2 minutes. It's instrumental in managing time on exam day.
As a slow reader, I was taking a little longer in my first two passages in RC, something you also said is okay for some students. It's vital to get the initial questions correct; rushed reading would not have been the best approach for me. Taking more time if you can get the question right at the end is also acceptable. I noticed that while reviewing my mocks. Practicing with SIGma-X and reviewing questions was also very helpful in improving time management.
Check your current ability for the GMAT test with one of the best GMAT mocks.
As you suggested, behavioral correction in this context is critical as one must let go of certain questions during the exam. I think Time management is taught with the e-GMAT course very subtly.
While navigating through the course and moving from one section to another, how were you managing your notes? It plays an important role, especially during the revision; so, what was your strategy?
Rohit: As I mentioned earlier, I made notes for SC and printed out the course summary for revision.
Even for quant, I made notes for the modules which are formula based. For instance, in geometry, there are formulas for the triangle, rectangle, etc. It's best to maintain notes because if you don't have them towards the end of the preparation, you'll have to keep looking for the solution videos for those key pointers. It's best to start making notes from the beginning of the course. One big mistake that I regret and believe could be the reason I could not score higher than a 700 is that I did not maintain an error log as you had asked me to do.
One big mistake that I regret and believe could be the reason I could not score higher than a 700 is that I did not maintain an error log that you asked me to do.
If I had done that, I could have gone back to those questions and made the necessary correction in my preparation. Much later, during my mocks, I did start flagging those questions I felt I needed to revisit. Also, the custom quiz allows you to select specific topics and questions from the pool you've marked incorrect in the past. It was handy while revising before the exam day. The many features of Scholaranium cover all your bases, even for someone like me who got casual while preparing and made the mistake of not having an error log updated. I strongly recommend everyone maintain an error log.
Abha: What was your daily time commitment to preparation?
Rohit: In the midst of work and family, especially when we had a newborn, it was challenging to dedicate time to my studies, but I consistently prepared for at least 2 hours daily. There again the e-GMAT course and its features were very useful. The data available, the option to bookmark, etc., allow you to best utilize your time despite the interruptions you might get while studying. When you cannot maintain the flow owing to other commitments, be it work or family, you can always start from where you left off the next day. When you return the next time to continue your study, you'll see the graph reflecting your time spent on the course. It's advisable to have continuity while preparing. For working professionals, 2-3 hours a day for three months is an ideal time to prepare and score well on the GMAT.
Tips for GMAT aspirants
Abha: You achieved your target of 700 in the GMAT. What tips would you have for others targeting similar scores or above?
Rohit: I'll advise anyone enrolled for a course like e-GMAT to trust the program. If thresholds or milestones are set in the course journey, do not question them; just follow them for results. They're tried and tested. Avoid making the mistakes I made. Do not try to outsmart the experts, as they have been doing it for a long time.