Consulting companies are known to offer hefty pay packages to MBA graduates and therefore, a career in consulting attracts a lot of people towards MBA programs of top business schools. ISB being one of the top business schools in India becomes a very popular destination for candidates seeking to make a career in consulting. Even though other top business schools present exciting placements in Consulting, the incoming class profile with rich consulting experience, strong industry connect, and case-based curriculum of Indian School of Business makes it the top pick for Consulting companies.
So, is ISB the best Indian business school for consulting? Let's find out. Here is the outline of this article:

How many ISB students go into consulting each year?
As per the ISB Employment Report 2018, 23% of the ISB class got into Consulting. This includes people with a broad range of profiles and years of work experience (2-10 years), with several people entering consulting without prior experience in this field.
Moreover, around 20% of ISB's PGP class has been finding employment in consulting since 2014:
| | | | | | |
| --- | --- | --- | --- | --- | --- |
| ISB class of | 2014 | 2015 | 2016 | 2017 | 2018 |
| Class size | 766 | 760 | 813 | 903 | 875 |
| Consulting (Industry) | 20% (153) | 28% (212) | 19% (154) | 21% (189) | 23% (201) |
| Consulting (Function) | 24% (183) | 20% (152) | 20% (162) | 18% (162) | 23% (201) |
Which consulting firms recruit ISB students?
The firms that hire from ISB include McKinsey, Bain, The Boston Consulting Group, Deloitte India, Deloitte USI, Accenture, E&Y, PWC, KPMG, AT Kearney, EXL, Roland Berger, Alvarez and Marsal, Siemens Management Consulting and many more.
Our conversations with ISB alumni who got placed with top consulting firms presented exciting information about some of the recent trends in consulting placements at ISB: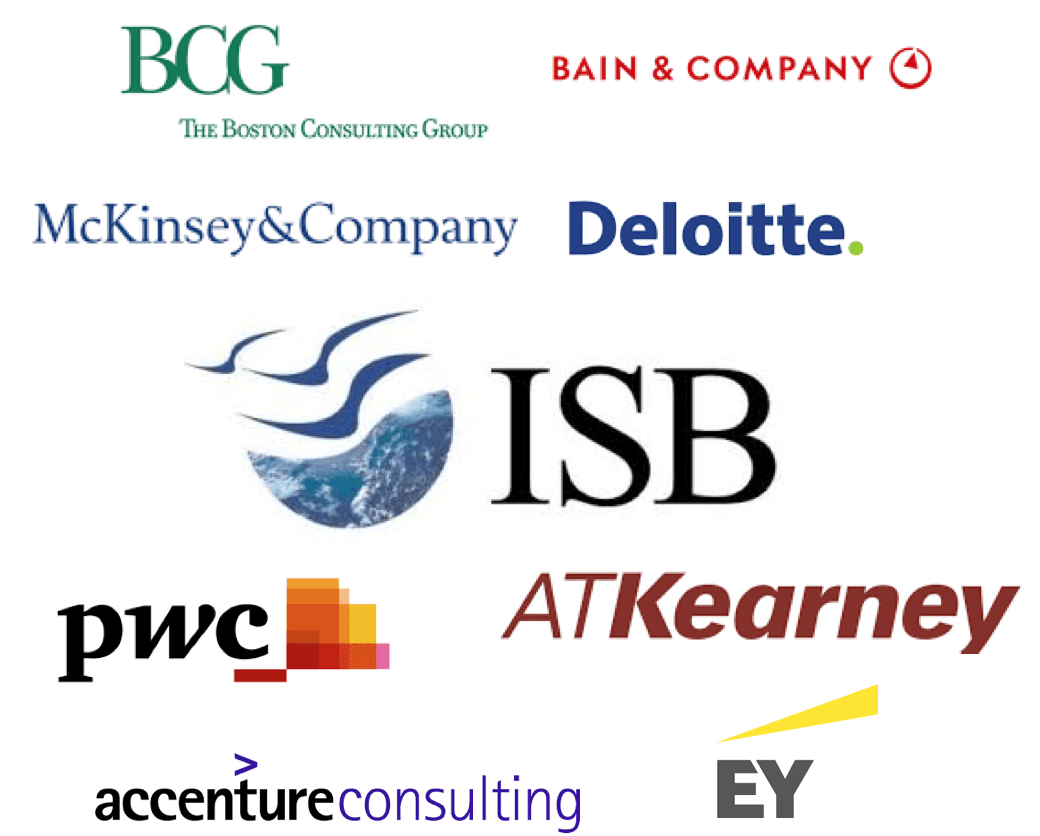 Bain recruited almost double the number of candidates it recruited from ISB last year.
McKinsey comes to ISB for its Junior Associate role and Junior Practice Specialist role, a role meant for experts in a particular function or industry. These include Sales and Marketing, Operations, Digital etc.
LEK and Parthenon recruit from ISB for their consulting roles and have a significantly high pay package when compared to other firms.
There are some international offers in consulting made as well. These come from firms like Arthur D. Little and EY mostly for the Middle East and North Africa (MENA) region.
Here is an 8 step guide to help you get into Indian School of Business
What kind of roles do consulting companies offer to ISB students?
Consulting companies come to ISB with senior roles compared to those at the IIMs and other business schools. For example, Deloitte S&O hires students with relevant experience as Sr. Consultant, compared to the Consultant role it offers to IIM students. Companies like Bain, BCG, AT Kearney and Accenture value work experience as well.
How does ISB prepare its students for a career in consulting?
As a business school, ISB provides access to a wide network of candidates working in the management consulting space. Currently, ISB consulting club has 604 members with 3.93 years of average experience.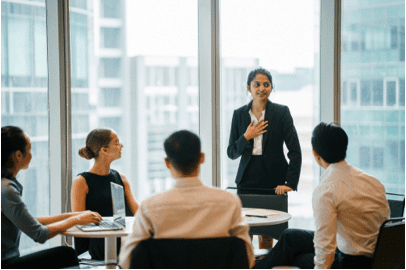 The Consulting Club at ISB plays an important role in preparing candidates for careers in Consulting. It provides a big advantage to ISB students with the widely used ISB case book, presentations, networking events with companies and several resume review and interaction sessions with ISB alumni in consulting firms. These sessions happen almost weekly as the placement season draws near. Read more about the activities of the Consulting Club of ISB.
Most consulting firms assign a "buddy" to shortlisted candidates to help them with case preparation. This includes extensive one-to-one interactions for cases and interviews.
How can you make sure you make a career in consulting from ISB?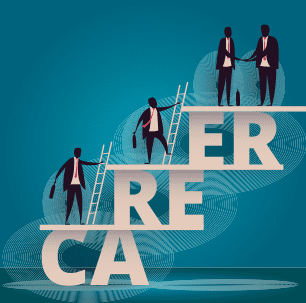 ISBmantra has helped several ISB PGP candidates from diverse backgrounds including technology, energy, manufacturing, public sector, etc. and with zero consulting experience, make it to some of the top consulting firms post completion.
The key is to identify one's career plans well in advance, work towards them diligently and connect well with people who have followed a similar career path. Above all, at ISB, everyone is from ISB – so ensure that you make it easier for the recruiter to shortlist you by doing the right things.
Some of these may include, but may not be limited to, scoring well on the GMAT, maintaining high GPAs during ISB, taking up the right courses and specializations, and participating in the wide range of national and international level Case Competitions and Business Simulations that ISB organizes. Read more about a few of these competitions.
Why ISB for a career in consulting?
ISB not only provides its students with more opportunities in consulting but also provides higher quality consulting jobs. One of the reasons is its cohort which comes with rich consulting experience. Several candidates join ISB after having worked with a wide range of leading as well as boutique Consulting firms, bringing in rich first-hand exposure to the Consulting environment. This leads to high-quality peer-to-peer learning, which helps students from non-consulting backgrounds transition to a consulting role, making ISB one of the best schools in the country for careers in Consulting.
About the author
Prashant Tibrewal is the founder of ISBmantra and has mentored 1000+ MBA aspirants to get into their dream schools. As the only consulting company with Former ISB Admissions Officers on Board, ISBmantra boasts a success rate of over 80% with its ISB applicants. You may send your details to info@isbmantra.com for a free profile evaluation.