A
7
min read
A Non-Native English speaker, Vaibhav decided to switch gears and get into the private sector when his dream job with the Indian Government became monotonous after 7 years.
After self-studying for more than three months with free online resources and a few books on GMAT verbal, he was disheartened with his GMAT 620 score.
An outlier, Vaibhav had complete confidence in his potential when he set his target GMAT score of 700. He realized he lacked proper guidance and that a structured and comprehensive course was mandatory to achieve his desired score.
With a strict 45-day deadline and complete dedication to GMAT prep in the last 15 days before D-Day. Vaibhav leveraged the e-GMAT platform and focused on identifying and bridging the knowledge gaps that failed him earlier. He used the platform extensively to improve his accuracy and timing in both quant and verbal sections.  
From doubting his decisions to trusting the course and experts entirely, Vaibhav experienced a complete revamp of his confidence in his verbal abilities.
Watch the video to learn about his strategies for making an 80-point score improvement as he went from V27 to V35. 
Rajat: Welcome, Vaibhav. Congratulations on your 700(Q49, V35). How does it feel?
Vaibhav: It feels great to have all the hard work paid off at the end.
A journey from Govt. job to GMAT 620
Rajat: in your first attempt, you scored a 620(Q48, V27). Tell us about that preparation and how much time and effort you put into it.
Vaibhav: I started preparing for the first attempt in mid-April and spent three and a half months preparing for that. I did not know much about the GMAT exam because no one around had any idea about it. For the last seven years, I have been working in the Govt. sector where not many people are inclined in this direction. I dreamed of working with the Government, but eventually, as it became monotonous, the excitement of working also faded away.
When I started preparing, I took no coaching except for some test series, and mainly studied using the Official guide and Manhattan books. I was not surprised to see the 620 score on my screen, because I had been getting similar scores in my mocks. However, I was disappointed because I knew that wasn't my true potential. I could do much better. 
Rajat: You mentioned that you took 15 days' leave for preparation before the exam which means you did not take that attempt lightly. Which Manhattan books were you referring to?
Vaibhav: I prepared with all 4 volumes, but it was all very theoretical. I did not see much improvement with them. I needed to practice with questions for an exam like GMAT, and that element was missing from those books. I also practiced with the Official guide, but there are not many hard-level questions in OG. All the questions I attempted were easy or medium-level. I think I could not score well on the first attempt due to the lack of guidance. After looking at my ESR, I realized I won't be able to do it independently; I needed a structured course. 
Verbal preparation with e-GMAT course
Rajat: After taking the e-GMAT course subscription, what was the first thing you started with?
Vaibhav: I knew from the start that I needed to focus on verbal. Out of 45 days, I spent 30 days preparing for the verbal section and the balance 15 days on mocks. I went through the course thoroughly, and most of my doubts got cleared on the first go with the course.
Rajat: Did you do Master comprehension first?
Vaibhav: No did not go through MC. I started with SC, CR, and then RC.
Rajat: When you started with SC, how did it change your approach, and what did you learn?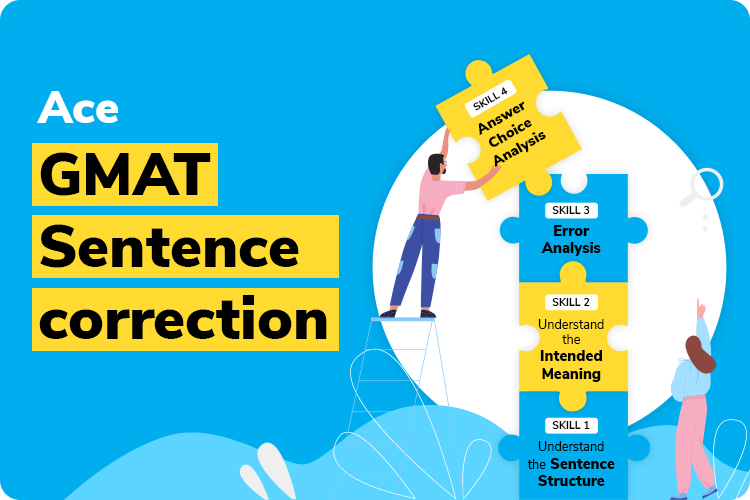 Vaibhav: When I was preparing for the first time, I thought SC was only about grammar, but later, while going through the course, I learned that it was more about the meaning and gist of the sentence. First, you must understand the intended meaning, and grammar comes second. Keeping meaning as the primary focus, one must look at the answer choice for meaning and grammar.
I did not know this earlier, but I could mark all the answers confidently this time. That was the major difference I felt between the two attempts.
My approach was completely different. I also learned that GMAT tests you on logic, not just grammar. What's expected is to know what the writer wants to convey; grammar is not the main motive there.
My accuracy improved significantly. I knew I was weak in verbal, and to make sure I could give my best without worrying about the time, I decided to skip one RC passage. That way, I could focus more on the remaining 32-33 questions. It worked out pretty well for me because I would have been able to do only one RC passage in the last 10 minutes, but now, I could do 5-6 questions in SC or CR.
Critical Reasoning – from zero to success
Rajat: How did your approach change in Critical Reasoning?
Vaibhav: Honestly, I had no idea about CR in my first attempt. I was clueless and did not know what I was supposed to do in the CR section. I did not have any approach to solving them.
Read this article to learn what and how to negate in Critical Reasoning assumption questions to improve your GMAT verbal scores.
Rajat: But you mentioned that you had used the Manhattan books and online resources. Did that help you in your approach and thinking?
Vaibhav: Honestly, the Manhattan books teach you the basic stuff such as following the negation test, it isn't easy to apply them in those 60 minutes during the exam. The process explained there is very lengthy. Also, the book has very limited questions, so I could not apply the concepts even after learning them due to lack of practice.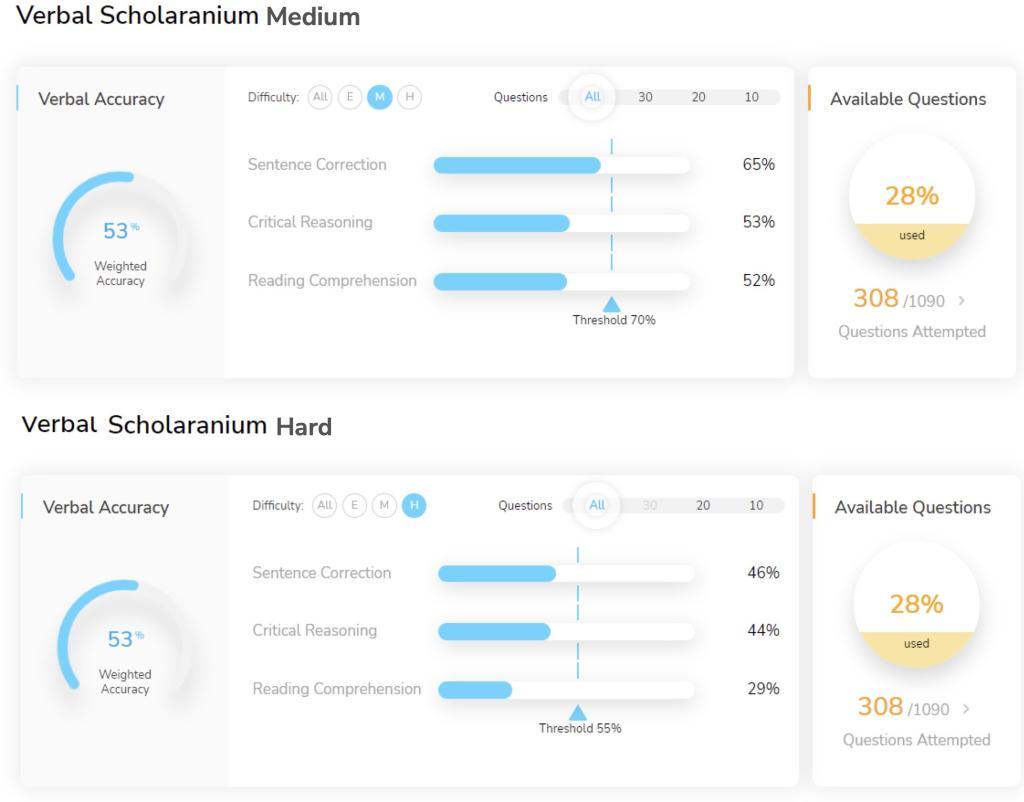 Rajat: What was your process on the second attempt? How'd you approach CR questions this time?
Vaibhav: I could visualize the conclusion a lot better this time. I started focusing on understanding the meaning of the passage and the author's intent. I learned how important it is to identify the intent of the author or the conclusion. I knew exactly what to attack and how to analyze the mistakes I was making. This helped me increase my accuracy, of course. 
GMAT preparation with mocks
Rajat: Did you also practice with the questions from the e-GMAT platform?
Vaibhav: Not much, really. I only did hard-level cementing quizzes. I was short on time. I only focused on the 4 mocks for the last 10 ten days. One day I'd take a mock, and for the next 2-3 days, I'd analyze each question, whether right or wrong. I'd compare my solution with the approach in the given solution and concentrate on improving my timing. The main benefits of this exercise were in the verbal section for SC and CR subsections. In RC, it helped my reading speed to some extent.
Learn how you can improve your GMAT Score. Read the article to get tips for preparing the subject matter of the GMAT and understanding the overall design of the test.
I also tried changing the sequence of the sectional attempt in one of the mocks and did verbal first. I thought my performance might improve if I did the verbal section first with a fresh mind, but I scored a 580. With quant finished first, I'd pay more attention to the time spent on each question. But after changing the sequence, I did all verbal questions in a much more relaxed timing than I should have and focused on accuracy only. I realized that attempting quant first was the best way for me.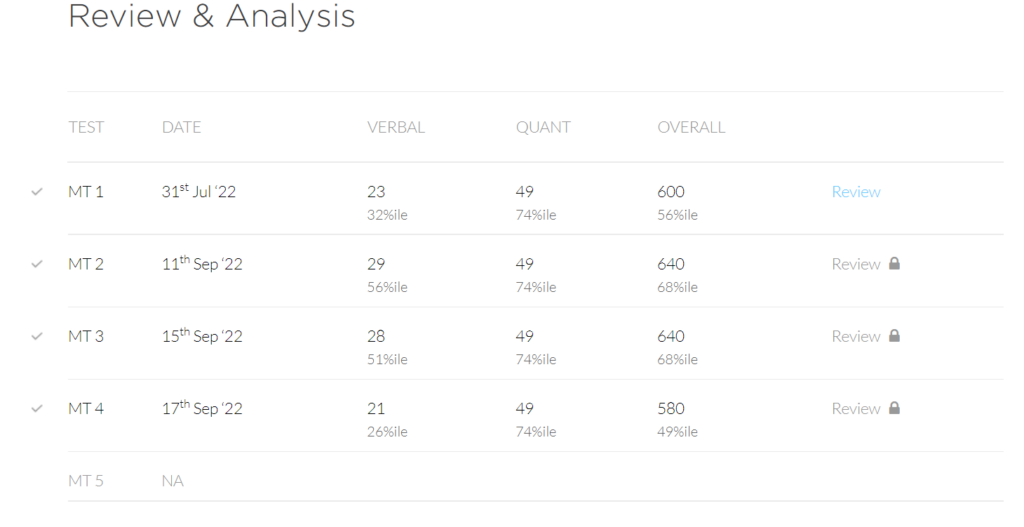 In the first attempt at quant mock, I scored a Q48, which was not satisfying, honestly.
In all my mock attempts, I scored between Q46 to Q49. I could never improve beyond a Q49. I realized Q50 demands a different ability level and much more hard work than I put in.
Rajat: During the one and a half months with e-GMAT, did you have any doubts?
Vaibhav: Yes, I did post my doubts on the forum, which is very simple to use. In two clicks, I could post my query, and by the end of the day, I'd always get a reply from the experts.
Rajat: If you were to recommend anything to other GMAT aspirants, what would those be?
Vaibhav: I suggest following the course and trusting the experts who are always there to help. Also, it's essential to practice questions as soon as you finish going through the concepts in each module rather than doing them at the end. When the concepts are fresh in your mind, you must strengthen them with custom and cementing quizzes. There are more than enough questions on the platform to practice later again if needed. It would be best if you start with easy and gradually progress to hard-level questions. It will also be very helpful in developing confidence.
Rajat: Thank you Vaibhav. I am sure many will find your advice very useful.