A
2
min read
Taking the GRE exam is an essential part of the graduate school application process. The first step starts with GRE registration. The GRE registration process is quite simple. Just log in to the ETS website and keep essential information ready and you'll be done with the registration in less than 15 minutes.
In this article, we'll run you through the 8 steps to register for the GRE exam.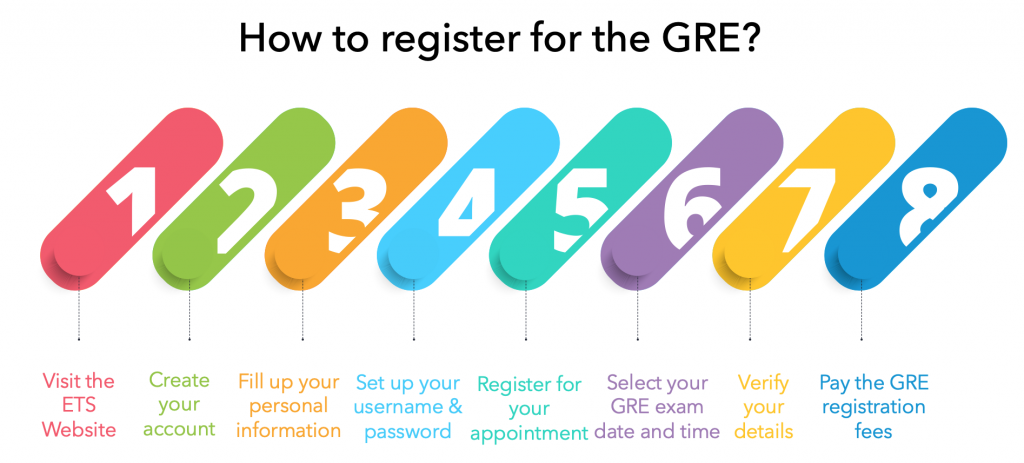 GRE Registration process in 8 steps
Visit the ETS Website
Create your account
Fill up your personal information
Set up your username and password
Register for your appointment
Select your GRE exam date and time
Verify your details
Pay the GRE registration fees
How to Register for the GRE General Test?
Here is how you can register for the GRE in 8 steps:
Required supplies
Personal information
Credit Card information
Required tools
Computer
Stable internet Connection
Total cost: USD 228
Visit the ETS Website

Once you confirm the Name, you can visit the ETS website for GRE testing and click on the grey 'ETS Account' icon in the right top corner of the page.

Create your account

Select the 'Create an Account' option (if you don't have an existing account). You'll be directed to a 3-staged process.

Fill up your personal information

You'll be directed to a 3-staged process. The first stage involves filling in all the personal information like Name, address, date of birth, etc.

Set up your Username and Password

The second stage involves setting up your Username, Password, Security Question, etc. This would create your login credentials.

Once you fill in all your details and review and submit the form, your account will get created. Also, you'll receive an email verification link on the id you filled in the account creation form. Click the same to complete verification.

Register for your appointment

After creating the ETS account, Sign in to the ETS' GRE website. Once you log in, you'll enter your personal GRE Home page, which would have your ETS account details. Click on the blue Register Button to move ahead with the GRE Registration process.

Select GRE exam date and time

You will now be directed to the test center and date and time selection stage. Once you fill in details as per your GRE Timeline, you'll get an option to finalize and register for the test center, date, and time of your choice.

Verify your details

You'll now reach the final stage of your GRE registration. In this, you'll need to verify: Your personal information, Choose if you wish to opt for GRE Search Service, which would allow Universities to contact you for admissions, Input your background information, and Select any test prep material if interested.

Please note, the background information asked here is for the purposes of GRE Search Services. Only the fields marked asterisk are necessary to fill in. You can choose to skip other fields as per your comfort in furnishing your details.

Pay the GRE registration fee

After filling in all these details, you will be directed towards the payment page. You can choose among various options provided for payment, viz., debit card, credit card, PayPal, or Fund Transfer (must be a US bank).
Confirmation Mail
Once you make the payment, you will receive a confirmation email specifying your GRE Exam date, center, and time. The same could be accessed through your ETS account
Did you know 9 out of 10 MBA admission decisions are made using a GMAT score? Start your GMAT Preparation by registering for our FREE Trial. We can help you with a personalized study plan and give you access to quality online content to prepare. We are the most reviewed GMAT Preparation company on the GMATClub with more than 2500 reviews
An Alternate Method to Register for GRE General Test
You can register for GRE also by calling your Regional Registration Center (RRC) at least two business days before the desired test date. Once you register, you get your confirmation number, date, time, and test center. You would require this information on the exam date, so note it carefully.
Candidates in China can register for the test only through their online NEEA account. And the candidates in Hong Kong, Korea, and Taiwan need to register using their ETS account.
Here is the regional registration center (RRCs) for GRE computer-delivered tests in international locations:
| | | |
| --- | --- | --- |
| Region | Address | Phone number |
| Japan | Prometric Japan Co., Ltd. Ochanomizu Sola City Academia 5F. 4-6 Kanda Surugadai, Chiyoda-ku. Tokyo 101-0062 Japan | 81-3-6204-9830 |
| Argentina, Bolivia, Brazil, Chile, Colombia, Dominican Republic, Guatemala, Mexico, Peru, Venezuela | Prometric Operations Center 7941 Corporate Drive Nottingham, MD 21236, USA | 1-443-751-4995 |
| Australia, Bangladesh, Indonesia, Malaysia, Nepal, New Zealand, Pakistan, Philippines, Singapore, Thailand, Vietnam | ATTN: Regional Registration Center Suite 11-1 & 11-3, Level 11, Wisma UOA Damansara II, No 6, Changkat Semantan, Damansara Heights, 50490 Kuala Lumpur, Malaysia | 60-3-7628-3333 |
| Egypt, Jordan, Kuwait, Lebanon, Qatar, Saudi Arabia, United Arab Emirates, West Bank, Yemen | Prometric Technology Sdn Bhd ATTN: Regional Registration Center Suite 11-1 & 11-3, Level 11, Wisma UOA Damansara II, No 6, Changkat Semantan, Damansara Heights, 50490 Kuala Lumpur, Malaysia | 31-320-239-530 |
| Botswana, Ghana, Kenya, Mauritius, Nigeria, South Africa, Tanzania, Uganda | Prometric, Building 3 Finnabair Technology Park Dundalk Co Louth, Ireland | 31-320-239-593 |
| Armenia, Austria, Belgium, Bulgaria, Croatia, Czech Republic, Denmark, Finland, France, Georgia, Germany, Greece, Hungary, Ireland, Israel, Italy, Kazakhstan, Kosovo, Latvia, Luxembourg, Netherlands, Poland, Portugal, Romania, Russian Federation, Serbia, Slovakia, Slovenia, Spain, Sweden, Switzerland, Turkey, Ukraine, United Kingdom, Uzbekistan | Prometric Building 3 Finnabair Technology Park Dundalk Co Louth, Ireland | 31-320-239-540 |
| People's Republic of China | NEEA/GRE Call Center Guoshi Building, No.1 Shangdi 6 St. Haidian District Beijing, 100085 | 86-(0) 10-82345673 |
| India | Prometric 2nd floor, DLF Infinity Tower–A Sector 25, Phase II, DLF City Gurgaon Haryana 122002, India | 91-124-4147700 |