A
8
min read
Every day we receive countless queries on our support account ranging from product queries (Scholaranium, mocks, ability quizzes, etc) to Official Guide queries to queries on MBA admissions. To give you an instant response to a few basic queries that students typically ask we have created this blog post. The list of the FAQs is below. Click on the respective FAQ to scroll to the answer to that FAQ:
Scholaranium FAQs

Official Guide Queries

Mock Tests Related Queries

1      Scholaranium
1.1     I want to Reset Scholaranium
Please note that we do not have the functionality for resetting Scholaranium and there is a good reason for that.
The main purpose of Scholaranium is to gauge your level of preparation and improvement in the same through your attempts at various quizzes. Now, in case the quizzes are reset, you will lose access to precious data that helps you track your performance throughout your preparation, leaving you with little insight in to the areas that you need to focus more on or concepts that you have perfected and can feel confident of. Needless to say that losing such knowledge defeats the purpose of using Scholaranium in the first place. Accordingly, we would like to encourage you to use the tool to its maximum potential by analysing your performance regularly through comparisons between individual data sets available to you after each quiz.
Also in case a student reattempts by resetting the ability quizzes, the new ability score data will be highly skewed as the student already knows the answers to these questions. This new ability scores tend to mislead the student on his/her skill level.
1.2     Not enough questions for Ability Quiz despite there being unanswered questions
The ability quiz is designed in such a way that it gives the user the most accurate measure of his/her ability in a given subject. To achieve this, the ability quiz must contain questions from various concepts and these questions must be spread across various difficulty levels. If the user falls short of questions in either one (or more) of the concept or one (or more) of the difficulty levels, then the system will not be able to predict the user's ability accurately. Hence, the system does not allow you to take an ability quiz.
For instance, in a CR ability quiz, the user must be served 2 inference questions. If 2 inference questions are not available, then the system will not allow the user to take a CR ability quiz.
1.3     Difference between Scholaranium Gold and Platinum
We offer Scholaranium Gold with the Verbal Online and Quant Online courses and Scholaranium Platinum with GMAT Online course. The basic difference between the two versions of Scholaranium is the number of questions.
In Scholaranium Gold, you get 550 questions in Verbal with VO course and 636 questions in Quant with Quant course. Scholaranium Platinum contains all the questions from Scholaranium Gold and the questions reserved for SIGma-X mocks.
The SIGma-X Mock tests reserve a certain number of questions for its adaptive engine. While the test itself only consumed 67 questions, it reserves close to 200.
As you take the mock tests, the unused questions from the mock tests will be added to your question pool.
There are also additional bonus questions that open up after mock# 2.
Scholaranium question initial count (Gold)
Verbal: 550
Quant: 636
Total: 1186
Scholaranium question final count (after all 5 mocks taken, Gold + Platinum):
Verbal: 1082
Quant: 1339
Total: 2421
2      Official Guide Related
2.1     Why do you not provide full questions/options for OG questions?
Due to copyright issues, we cannot publish full official guide questions. In order to help students, for all the quizzes, we have given PQID references as used by GMAC from OG19 onwards. We have also provided parts of the question text to facilitate finding the questions.
2.2     Do the OG quizzes cover all the questions from OG, VR and QR?
The OG, OG VR and OG QR quizzes cover all the questions from 2020 edition of the Official Guide for GMAT Review, Official Guide for GMAT Verbal Review and Official Guide for GMAT Verbal Review respectively.
So, the OG Scholaranium will take care of your OG practice.
3      Mock Tests Related
3.1     Error in activating GC Tests
Please fill out the following form so GMAT Club can manually grant you access.  Please note that the manual process can take up to 3 business days.
3.2     Support for GMAT Club Tests
If you face any issue after activating the tests we request you to contact GMAT Club directly at support@gmatclub.com. As it is not our own product we will not be able to help you directly in this regard. It would be easier for you to coordinate directly with GMAT Club as it would avoid any back and forth.
Please make sure that you include a full-screen snapshot of the issue you are facing. It will enable them to help you in a more efficient manner.
3.3     I want to reset SIGma-X mock test
We do not have the functionality to reset mocks and for a good reason. Mocks come into picture in the last phase of your preparation. And one of the most important aspects of a mock is to be able to tell you where you stand vis-à-vis your target score. If taken properly, a mock can help you identify your weaknesses in subject matter and gaps in the test-taking strategy.
All of the above is possible only when the questions you see in a mock are not repeated.
Once you take a mock test you are exposed to the questions once and you now are aware of all the correct answers or in the least, the questions become familiar which reduces the time you take to understand them.
This impacts your performance and you are likely to score higher with better time-management which may not be the real assessment of your abilities. Resetting a mock could do you more harm than help.
So, what should you do now?
Once you take a mock (even if it is abandoned mid-way), all the questions of that mock are moved to your Scholaranium. You can use these questions to create quizzes. The following videos will help you in creating these quizzes and evaluating your performance on the same.
To avoid mock abandon situation in the future, please ensure that you have a good and uninterrupted internet connection for the duration of the test.
Also, make arrangements such that you are not disturbed for the entire duration of the test. The system is designed such that even in case of disruption if you connect back within 24 hours, you will be able to resume the test.
4      How can I get Summary/pdf/notes of the lessons
We provide a summary of lessons and important information in the form of articles. These are put under the pertinent modules and can be accessed from your course dashboard, as shown in the screenshot below.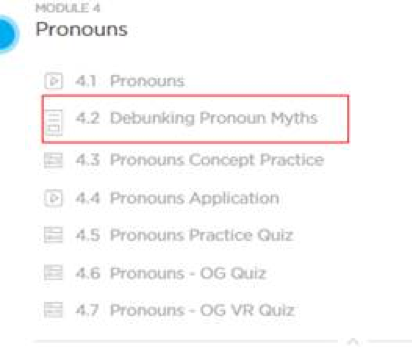 However, we suggest students to take down notes while going through the course for the first time so that they can refer to it later.
5      I want to change the playback speed of the files
We understand you require the functionality to increase the playback speed of videos. Unfortunately, we cannot implement this feature since the tool we use to create our content does not support this.  This is not something that is in our hands.
Now we do understand that some competitors do provide this functionality, however, most of these courses have 10% of the interactivity that e-GMAT courses have.
They have chosen MP4 technology which means that the learner does not need to stay alert while a video is playing since the video proceeds without a learner's intervention (or without the learner being alert).
We have chosen fundamental HTML5 technology for our videos.
Why?
Better interactivity, much netter data capture, and smaller videos (20X lower bandwidth requirement) despite serving the same in HD.  All of the "purpose-built" eLearning industry uses such tools. Note, courses on YouTube and other platforms are not "purpose-built" e-learning – they have just repurposed classroom PowerPoint slides into MP4 videos and tagged a bunch of quizzes with them.
However, we provide a summary of lessons and important information in the form of articles to help our students in revising the concepts. These are put under the pertinent modules and can be accessed from your course dashboard, as shown in the screenshot below.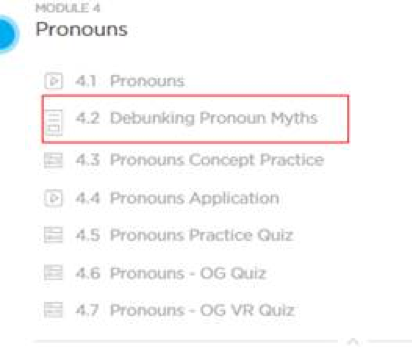 Let me reiterate – we want to provide this feature. Unfortunately, the technology that we use does not allow us to do that. We are limited by it. Every technology has its pros and cons.
This is the current downside of this technology. We believe that the pros outweigh this one downside. Why – because of the interactivity and data capture capabilities. Even YouTube which spends $100M+ in R&D will struggle to provide this level of interactivity.
I hope this gives you more clarity on our position. Again, as soon as technology allows us, we will implement the same.
6      I need help with my profile/admissions/essays
We are a pure-play GMAT preparation company and do not provide any direct support for admissions consulting. Our goal is to help you get admitted to the school of your choice. Hence, we have partnered with the best in the business.
MyEssayReview (full service,~$1800+) – Run by Poonam Tandon – one of the top 5 consultants on the GMAT Club – MyEssayReview is one boutique Admissions consulting firm that ensures that your candidacy shines through your application. Poonam has helped numerous e-GMATers get admitted to top schools. Needless to say that she knows the admission scene inside out. As an e-GMATer, you get an exclusive discount with MyEssayReview as well.
Work with Poonam, if you are looking for someone who can hold your hand at every step. Check out her reviews and testimonials.
7      I want a Refund
We are sorry to hear that you want to return the course. We would like to know the reason for return in detail.
We would also like to invite you for a quick call where we want to understand the exact problem that you found in the course. It would be a quick 15-20 minutes call as per your convenience.
Please share any 3 twenty-minute slots between 10 AM to 5:30 PM IST on weekdays. We will then confirm to you and set up the call at a mutually convenient time. Please send these details on support@e-gmat.com
8      I want the contact number where I can clarify my queries
We would be happy to speak to you, but as a matter of company policy, we prefer email as a mode of communication. This helps us go through the background information before we frame a response. In case you have any subject related doubt please post them on the forums.
Please let us know your queries. We will definitely schedule a call if we feel it would help us explain better.