1
THE ONLY COURSE YOU
NEED TO ACE GMAT
With hundreds of concepts, thousands of questions, and test readiness through mocks and workshops, Verbal Online will provide you with every tool that you need to ace GMAT Verbal.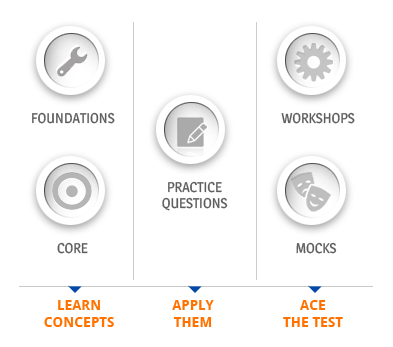 2
MORE EFFECTIVE THAN ANYTHING
ELSE OUT THERE
Verbal Online has helped more GMAT Club members ace the GMAT than have courses from any other test prep company.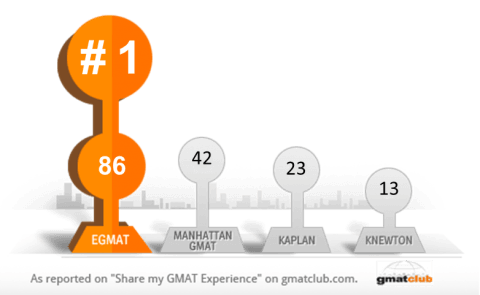 3
Key Features

Completely Online, Accessible from Anywhere
The e-GMAT courses are accessible from anywhere as long as you have an internet connection with speed 128Kbps or higher.

100+ Hours of Instruction Covering All Aspects of GMAT Verbal
Verbal Online includes our Sentence Correction, Critical Reasoning, Reading Comprehension and Integrated Reasoning
e-Learning courses, GMAT Club Tests and 1 year of 800 score membership including 5 full length mock exams.

Most Updated Course
Heard about the new "meaning based question-types" on GMAT Sentence Correction? Well it was not new for e-GMAT customers. The e-GMAT course had 33 such questions in August 2010 itself, since our course was based on OG 12 and not on an older incarnation. We continuously update our course based on the updates from GMAC so that you can be rest assured that you study from most relevant material.

3500+ Practice Questions
Proper practice makes you perfect. The course provides you ample practice on the entire GMAT curriculum. And these are "GMAT like questions" that you can attempt any time, as per your convenience.

Foundation Concepts
You need a solid foundation if you plan to attain new heights on GMAT. To help you master these key skills we have designed concepts such as Sentence Structure, Logical Structure of arguments, & Pre-thinking for assumptions.
4
Most Comprehensive Course
COURSE FEATURES
e-GMAT
GMAT PILL
MAGOOSH
Hours of Audio visual content
80
25
10
Audio visual videos
Interactive + Fantastically audio visual
Static
Videos
Number of questions
3500
(all original)
800
(may not be
original)
700
(500-Quant
200-verbal)
# mock tests
5
1
-
world class Analytics
Some analytics
strategy sessions and Recordings
Free complementary live sessions
Price
$199
$357
$99
5
Proven history of success
Looking to improve your GMAT verbal score in your next attempt? Look no further.
The approach used to explain every concept was spot on. It certainly made SC a lot easier for me. Even during the test, SC went pretty smoothly.
It's only in e-GMAT courses that I have found a standardized process to approach verbal questions that works equally well for 500 and 800 level questions!
Before going through e-GMAT CR course, I was really not able to completely grasp the logic behind the CR questions. Thanks for helping me get V40!
6
WORLD'S BEST GUARANTEE
We are a small company and we like to keep things simple. We want you to love our courses. This is why we offer a very comprehensive free trial. In addition, if you don't like our our course, let us know within a week and we will refund the money to you, as long as you have attempted less than 25% of our course. We strongly believe in our product and our offerings speak for us.