SANDEEP RAMESH
GMAT Score 720 (Q48, V41)

BTG ID – N/A

GMAT Club ID – srg13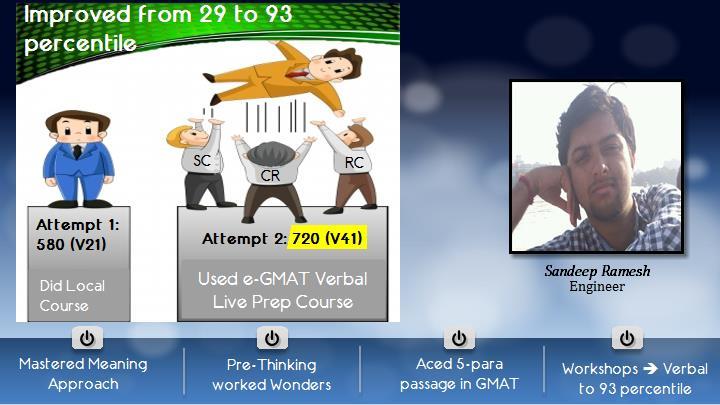 Verbal Live Prep helped me improve from 580 (V21) to 720 (V41). I never believed I would score above 40 in verbal, especially after my abysmal first attempt. When I took my first GMAT, I never really understood why I was selecting a right answer. But after going through e-GMAT sessions, I started to understand why right answer is right and wrong is wrong. The other attractive thing about e-GMAT process is that it does not follow any shortcuts to arrive at right answers. The course rather follows an excellent systematic process. Answering questions using this process is truly enjoyable. I know I am not the first person nor will I be the last to say that we – e-GMAT students – are grateful for everything that you guys have put into the course. You guys are doing awesome and please continue with what you are doing for it gives us, non-natives, the hope that we really need to crack GMAT.
The course that helped me improve from 25 percentile to 93 percentile.
SATISH VISHNUBHATLA
GMAT Score 750 (Q50, V41)

BTG ID – thermcin

GMAT Club ID – thermcin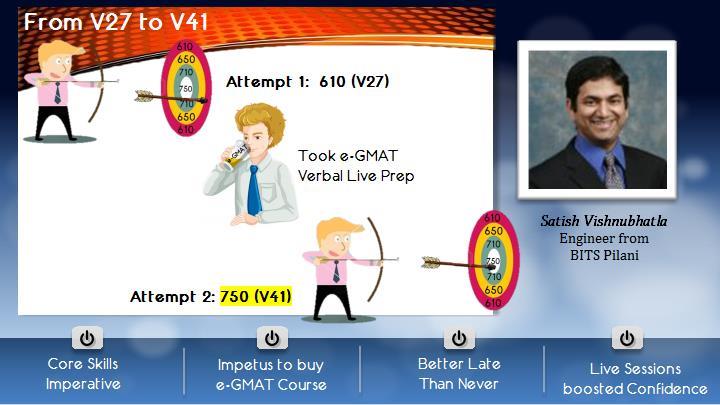 After the debacle during my first attempt, I decided to give e-GMAT a chance. After I listened to the free videos on their website, I was immediately very impressed. Their focus on building the core skills in non-native English speakers makes e-GMAT different from other test prep companies. After going through the basic, intermediate and advanced sentence correction sessions of the e-GMAT course, I was very convinced that they got it right! I religiously followed the e-GMAT three-step process in solving each of the sentence correction questions and I immediately started seeing results. I was able to breakdown complex sentences into smaller, more manageable parts and understand the intended meaning much better. This process not only helped me in sentence correction, but I started to notice that I was now able to do much better at CR and RC as well because I started to understand the meaning of complex and tortuous sentences.
The CORE SKILLS that I learned from e-GMAT helped me ace GMAT Verbal.
SRINATH
GMAT Score 730 (Q50, V39)

BTG ID – clearwater

GMAT Club ID – clearwater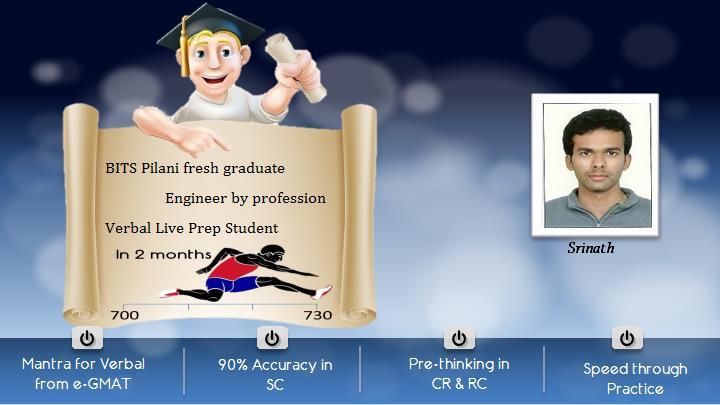 After going through the course, I understood that the Holy Grail to CR is to understand the passage and pre- think. Pre- thinking will help you not to fall into any traps set by the GMAT in the options. It helped me eliminate the incorrect answer choices very quickly. Similarly in RC, techniques such as not reading the passage and directly going to questions, reading just the first line in the passage, etc. did not work for me. The only thing that clicked for me was the e-GMAT approach. You have to really understand the passage and pre-think the main point before attempting any questions. This will make the meaning absolutely clear in your head.
For non-natives e-GMAT is the way to get a good score in verbal.
Anup Kapoor
GMAT Score 770 (Q50, V44)
CR became a cakewalk once I applied Rajat's Prethinking approach. Answers started jumping out at me.
The e-GMAT course helped me improve from V34 to V44. The course gave me the right approach to solve Sentence Correction and Critical Reasoning questions. The approach to focus on meaning is just brilliant. I had read the same in some articles, but literally seeing is believing. When I saw Payal and Shraddha take some of the most mind boggling sentences and solve them using meaning and Structure, it reminded me of my physics teacher who would solve the most complicated problems from Irodov using newton's second law. It kindled my love for GMAT Sentence Correction. While I was quite decent in Critical Reasoning, Rajat's Prethinking technique streamlined the approach to CR. The great thing about their course is that you are required to do the audio visual concepts and solve questions as pre-work before every session. The class focuses purely on more challenging application which cements the approach in the mind. Since there is a class for everything, the course pretty much prepares you for Verbal. Also, you can ask any doubt in the live classes and all instructors are super helpful.
Jaichandra Reddy
GMAT Score- 720 (Q49, V39)
GMAT Club ID- icaniwill
The course instills in you a logical procedure/process to approach the verbal questions.
I used e-GMAT for my verbal prep. Let me begin by saying that I have seen a huge improvement in both these sections of verbal. I am a non-native and e-gmat course is tailored to help non-natives. These are the things that I liked from their course.

The course installs in you a logical procedure/process to approach the SC and CR questions Furthermore, it stresses the importance of meaning. The meaning first approach is crucial especially when you are tackling high-level (hard) questions.

Furthermore it makes learning fun. It is hard for me spend quality time to read and absorb from a book after a day's work. The audio-video style of learning the concepts is very much effective. In addition, a book, as a passive medium doesn't do an effective job in stressing importance of one grammar concept over the other.

The live sessions are very interactive and gives you a chance to see how the instructors (Payal and Rajat) use the e-gmat process to tackle hard questions. This gives you more confidence in practicing with e-gmat process.

I recommend this to all non-natives who are looking to improve accuracy and timing. The foundational knowledge in preparing for SC helps in all areas of verbal.
Gurpreet Singh
GMAT Score- 710 (Q50, V35)
GMAT Club ID – gurpreetsingh
Linked In- gurpreet-singh
Payal and Shradha are no less than Stacy and Ron of MGMAT.
"For E-gmat I would just say my Thanks to Rajat, Payal,and Shradha. The live sessions of RAJAT on strategy and CR are awesome. Payal and Shradha are no less than Stacy and Ron of MGMAT. No doubt no one knows more than these two experts of Mgmat, but sometimes I used to find their replies too technical to grasp. On the other hand – the lives sessions of Payal and Shradha were awesome. Their articles and replies on the questions are fabulous. REALLY something that helps you to learn the concepts."
I attribute the 14-point improvement in my verbal performance to my hard work, keeping the cool during the test, and most importantly to the CORE SKILLS that I have learned through the e-GMAT verbal prep course.
Let me tell you that at the start of my preparation, I didn't even know that the verb in the sentence "I was planning to abort my plane" is "was planning". For me an year back, the "verb" that I would have guessed was "abort". E-gmat helped me build my basics. I hated language a lot, as my English was extremely poor but not anymore. This course helped me ace ACE GMAT Verbal and score 98 percentile on the GMAT.
Pravin Kukk
GMAT Score (760, V41)
I am deeply indebted to e-Gmat course for laying the very foundation of Sentence Correction.
I am deeply indebted to e-Gmat course for laying the very foundation of Sentence Correction. As an Indian, verbal – to be more precise sentence correction – was my weak area. CR and RC were quite managable, but SC was pulling my score down. After I completed the eGmat course, I got the much needed confidence in SC. I knew that CR or RC might got wrong, but not SC. And that was all I needed!!

I can not thank eGMAT enough for the huge improvement. I found your course to be very precise, to the point and enjoyable. But what worked well for me was the detailed explanation with relevant examples. Another highlighting point that I must mention is the tiered way the whole course is designed. So I mastered the relatively easy materials first and then moved on to the relatively tougher level. Overall, it was a unique and one-of-a-kind course!! I'd recommend (and I did!!) e-Gmat to everyone who feel verbal is his/her area of improvement."