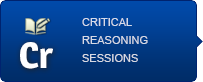 ­­Sentence Correction – Live Sessions
HOW TO APPROACH SENTENCE CORRECTION
WHAT WILL YOU LEARN?
In this session you will learn how to approach Sentence Correction (SC) questions. Often students focus only on the grammar rules and miss the big picture behind the SC questions. This session will unravel the most optimum and effective approach for SC questions.
HOW WILL THIS SESSION BENEFIT YOU?
After attending this session you will get absolutely sure of the approach that you need to follow for SC questions. With clear understanding of why SC needs to be approached from meaning standpoint and how understanding sentence structure leads to better comprehension of meaning and effective identification of errors, you will be all set to learn SC the right way.
HOW WILL YOU LEARN?
We will first explain to you the basics behind the approach for SC. Then we will solve 4 progressively difficult questions by following the process. Each question will be covered in the session in the following manner:
Grammar decoupled from the process –

Since this is the first session of SC, many of you may not be aware of all the grammar rules. So you can get the maximum from the session, we will first ask you carefully selected questions that cover the underlying grammar rule tested in the question. We will discuss the grammar concept briefly so you all are aware of the pertinent rule before you move on in the session.

Solving the question on your own –

You will solve the question yourself.

Solving with the Expert –

Then the expert will solve the question with you by following the e-GMAT 3 step process. At every step of the way, the expert will ask thought provoking questions to ensure that you are actively engaged in the session.
WHAT SHOULD YOU DO BEFORE THE SESSION?
Since this is the first SC session of a live session batch, we invite students to come with a clean slate so that they understand the significance of a scientific approach to attempt SC. Hence, the primary requirement is that students come with an open mind. Secondly, we do require a basic understand of grammatical concepts listed below. All these concepts are covered in our Article: "Foundations of GMAT Grammar".