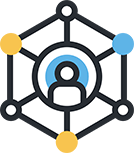 How is the Resume used in admissions?
A key to understanding why the Resume is so important is to understand how it is used in the admissions process.

What are the most common Resume mistakes?
In the decade that I've been giving admissions advice, I've seen the same mistakes over and over. Don't fall for the same traps!

Difference between application Resume and job-hunt Resume?
Please don't think that you'll just use the same Resume you used in your last job hunt – this is a huge mistake. I'll tell you why.