Application Essays – Mistakes You can Avoid
Application essay writing has been one of the most challenging experiences for even the most brilliant candidates. A great 3+ GPA, a stellar GMAT score, and an impressive work experience combined together are not enough to get you into your dream B-school if your essays are poorly written and fail to position your candidacy in the right manner. Essays are a critical part of your application package, yet some candidates approach them casually. Following are the  common mistakes made  by some  of the B-school aspirants.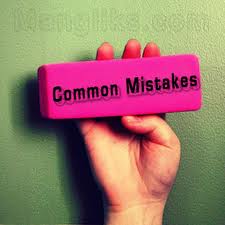 Common Mistakes:
1. Insufficient Time :
Some applicants start writing their application essays 5-6 days before the deadline and during that short period also they are at work for long hours , writing/ revising their essays only at night-when they are  exhausted from work. This prevents them from producing well -crafted essays to showcase their candidacy well. Evidently, the result is often rejection .
2. Lack of Stories/real life experiences:
Most of them  just expand their resumes and rewrite them in prose , while others compose an objective statement of purpose that reads like newspaper article that completely fails to distinguish them from other applicants. The candidates who  shy away from providing specific details about their life experiences  need  to understand that they  cannot afford to be impersonal while writing that Personal Statements or Personal essays .
3. Lack of thesis / Point :
When writing their essays, some applicants do not go deep into the essay topic and provide  details of their education, career and target school .  You read the entire essay , look beneath the surface detail, and  wonder where this essay is going and if the writer even read the essay question carefully. What I mean to say is- this essay lacks the underlying theme/ the main point of the essay
4. Failure to answer complete essay question:
Some of them skip one or two parts of the essay prompt. For example, if the essay prompt asks them to "define their short term and long term goals and why they want to do MBA from xx B-school at this stage?" they would forget to answer the 'at this stage' part without which their essays end up missing one significant piece that the Ad com are looking for. Remember, while it's important  to explain   what you have  accomplished , it's equally important to describe how you have accomplished it.
4. Failure to show impact:
Most applicants do not make enough effort to show what contribution they would make to their target school or what impact they would leave. Regardless of  the essay topic, the lessons learned or the takeaways serve to demonstrate your growth which is key to  distinguish you from other candidates.
5. Grammar and Spelling Errors
Some applicants struggle with sentence structure and compose exceptionally lengthy  4-5  lines long  sentences stretching, while some compose awkwardly phrased and grammatically incorrect sentences. The most common error I have  noticed is -missing  articles ('the', a and 'an')
Example: I was taken to  hospital, where  MRI revealed that I had broken my bone.
In the above sentence the article 'a' (before 'hospital') and article 'an' (before 'MRI')  are missing.
6. Failure to adhere to word limit :
Sometimes  applicants find it hard to figure out when to stop writing and end up writing 1400 words essay when the required word limit is 400 words . The very fact that Schools provide you specifics about word limit means they expect you to stick to it.
Suggestions to work through these issues:
1. Start Early :
Do not procrastinate. Start early ,so you have enough time to plan, draft and revise. Essay writing is an acquired skill and to attain perfection in this skill you need TIME. If you are a working professional and are planning to apply to 5-6 schools , you need to start working on your essays 2-3 months before the deadline.
2. Provide real-life examples:
Essays are NOT extended resumes, so do not elaborate and EXPLAIN your resume through your essays. Answer your essay question through real -life examples and let your voice come through your essays. B-Schools want to know you through your essays, so do not hesitate to share your personal experiences/stories that illustrate your personal and professional qualities unique to you.
3.Answer all parts of the question :
Break down all parts of the essay question and try to give equal footage to all of them. If the question has three sections, answer all of them. Prepare an outline before writing. Rewrite and make sure you have satisfactorily answered all the questions in essay prompt.
4. Be Specific:
Read the essay question carefully and answer it  precisely The 'how' part of your answer is as important as 'what' part. This is what will bring out your personal and professional qualities. If you are  discussing  your accomplishments or failures / setbacks, do not forget to describe how  you navigated through different situations and what you learned from them.
Example: In response to a question about career upon completion of an MBA degree and why, if you are only discussing your academic qualification,  your  career history, your short term goal, and   long term goal  , you are not covering enough ground that the Ad Com is looking for. They also want to know what passion drove you to your chosen field, how you  pursued  your interest/passion  and progressed along your career path, why you believe that  with your current skill set  and potential , an MBA is the next logical step in your career path, and most importantly,how an MBA from  X School  is your best bet at this time to help you achieve your goals.
5. Demonstrate your  impact:
Do not forget to state what impact/ contribution you are going t o make to the school. Whether the essay question requires you to discuss your contribution or not, make sure to briefly state what value you will be adding to the school.
5. Edit for Grammar Errors:
In case you slept through your English class ,get your essays edited for sentence structure,  punctuation,  grammar and spelling errors. These errors  reflect bad on your candidacy and can jeopardize your chances of admission despite your great GMAT, GPA  and work experience.
6. Stick to word limit :
Stay within word- limit) and try to be as precise as you can (5-10% over or below word limit is considered ok). Admission officers have thousands of applications to review, so they don't like to be frustrated with essays  filled with overly lengthy paragraphs or sentences that they need to read 2-3 times to make sense of.
Summary:
To sum up, when writing your application essays, make sure to  give yourself sufficient time to brainstorm, draft, revise and edit your essays . You should think through the essay prompt and provide specific answers substantiating it with relevant real life examples that help to set you apart from other applicants. Do not skip any part of the essay prompt, and  stay within word limit. And lastly and most importantly, make your essays error- free , precise and clearly comprehensible.
If you have any questions, contact me at poonam@myessayreview.com.
You must be logged in to post a comment.